Contents
 Welcome from Barbara Hakin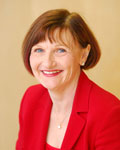 Welcome to the latest issue of the bulletin for proposed clinical commissioning groups and although we're entering holiday season for many, I know that around the country the work is continuing to ramp up as we move closer and closer to April 2013.
The volume of activity is clearly shown through the bulletin below. Although we send our bulletins out to you twice a month, there's never a shortage of news, updates and information to include and this issue is no different. Below you will be able to see that since our last communication we've published a number of key documents to help support proposed CCGs as you work towards authorisation.
As  I mentioned last time, we have updated Clinical commissioning group governing body members: Roles outlines, attributes and skills based on the newCCG regulations; and the detail included in that about the new suggested leadership naming conventions is summarised in this bulletin so do please take a look at that.
We have also just published a framework for collaborative commissioning between CCGs, a very constructive document which I know many of you have been asking for. It sets out the legal requirements for collaborative commissioning across CCGs and looks at a number of considerations that need to be taken into account when two or more CCGs are commissioning services from the same provider.
Looking forward, later in the autumn the NHS Commissioning Board will be setting out the framework by which CCGs will be able to measure the quality of services they commission and the health outcomes they achieve through commissioning. The Commissioning Outcomes Framework will be a key document for all CCGs, especially your governing body members; and will also be an integral part of the Commissioning Board's systematic approach to quality improvement. As you can see from the bulletinNICEhas just shared its proposals about the measures to be included and over the next few weeks further engagement will take place to finalise those. These workshops will be your opportunity to help shape the framework, so I would encourage you to take part.
Outside the immediate sphere of CCG development, work is also continuing at pace to create the wider commissioning landscape. You'll see that the bulletin contains news about our plans to create a number of strategic clinical networks across the country focused on particular conditions or patient groups. These will be hosted by the Commissioning Board, but managed locally, and will help develop programmes of work to drive up quality improvement in patient care and outcomes.
And with the same aims, a piece of work is currently taking place to ensure CCGs work well together with their local government colleagues and their local communities. I would urge you to take a look at the consultation on draft guidance for health and wellbeing boards. Your views will be welcomed until the end of September.
Finally, it was really pleasing to speak to so many of you on my webinar for clinical leaders yesterday. It's clear from your comments and questions that you're making real progress with the new primary care guidance and as you move towards authorisation. It's always valuable to  hear about your experiences, but if you weren't able to make the call, then the recording will be published online very soon.
As always, if you have any questions or feedback about the commissioning development programme, or you would like to be added to the mailing list to receive this bulletin directly, please get in touch at pathfinderlearningnetwork@nhs.net. For those of you taking a break this month, enjoy the relaxation because there'll be plenty to do in September!
Dame Barbara Hakin
National Director for Commissioning Development
Framework for collaborative commissioning between CCGs
Where two or more CCGs commission a single service it will be important to have appropriate robust collaborative arrangements between them.  A new framework has been published this week which draws together relevant information that proposed CCGs might  consider and sets out steps that many will want to take in their preparation for authorisation and the 2013/14 contracting round.
In some cases, a large number of CCGs might commission a single service that is organised across a large geographical area (such as ambulance services) or in other cases, a group of CCGs who are geographical neighbours may wish to work together on a contract with a single provider to which the majority of their patients flow.
The framework builds on information set out in the governance guidance for CCGs Towards establishment: Creating responsive and accountable CCGs and Clinical commissioning group authorisation: Draft guide for applicants and has been developed with input fromCCG leaders, NHS Clinical Commissioners (NHS Alliance/NAPC), the national GP Working Group and aCCG-led task and finish group.  Providers have been engaged through the Foundation Trust Network via the NHS Confederation.
The Health and Social Care Act amends the NHS Act 2006 to make provision to enable CCGs to establish appropriate collaborative arrangements with other CCGs. This document particularly draws out the legal requirements for collaborative commissioning across CCGs and the specific considerations that need to be taken into account are detailed in annex 1.
Determining which services and contracts to collaborate on will be key for CCGs.  To help these decisions, a database has been provided in technical appendix 1 which enables users to view the main providers for aCCG and the main commissioning CCGs for a provider.  Using these in combination can help establish an understanding of theCCG-provider relationships within an area or health economy and identify which CCGs might wish to collaborate on what.
It is likely that different arrangements will be necessary for different circumstances.  A range of collaborative models is provided in technical appendix 2 and describes for CCGs the possible scenarios, including some where CCGs arrange support through a commissioning support service (CSS).
Naming conventions for CCG leadership roles
CCGs have been asking us to be more consistent in our definitions and terminology when describing leadership roles, and in particular the possible combinations of roles, in CCGs.
For example we have been asked to use short titles (eg Chief Officer) rather than long phrases (eg the most senior manager who is also the accountable officer) which everyone can use and understand.
Whilst most CCGs have indicated that they would want to follow a common terminology, CCGs are free to use any terminology they wish to describe the roles and posts within their organisations.  However, we have agreed that the NHS CB will use a consistent terminology as follows:
We have emphasised that a CCG must be clinically led and hence there should be such an individual identified. We propose they are called the clinical leader. The clinical leader must either undertake the accountable officer role or be the Chair of the governing body. The clinical leader will be the individual from the CCG who is invited to take part in the NHS Commissioning Assembly.
We also wish to identify more clearly and consistently that the accountable officer is a role and not a job. The accountable officer role might be undertaken by the clinical leader, or may be undertaken by the most senior manager in the CCG. We propose using the term chief clinical officer where the clinical leader is the accountable officer; and chief officer for senior managers who are the accountable officer.
We propose using the term chief operating officer for the senior manager when they are not undertaking the accountable officer role; chief finance officer for the senior finance manager; and chief finance and operating officer, when the two roles are combined.
These new terms have been introduced in the revised editions of the Towards establishment: Frequently asked questions and the CCG governing body members: Role outlines, attributes and skills document; and we will start to use them to describe the roles and role combinations in our future communications.
Commissioning Outcomes Framework: NICE recommendations and next steps
NICE and the NHS Information Centre for Health and Social Care have published their recommendations for which health care measures are suitable to go in the Commissioning Outcomes Framework for 2013/14. The NHS Commissioning Board Authority (NHS CBA) asked these two organisations to carry out this advisory work in order to draw on NICE's access to clinical advice and the Information Centre's expertise in data collection.
These recommendations come at a key stage in the development of the Commissioning Outcomes Framework. The Framework will play an important role in driving up quality in the new system. Covering £60 billion of health services commissioned by CCGs across the NHS it will help translate the NHS Outcomes Framework into clear, comparative data on the quality of services that CCGs deliver for their local populations and the outcomes achieved for patients. The Framework will focus on quality and reducing health inequalities
Taking this set of recommendations the NHS CBA will work with the CCGs and other stakeholders to develop the Commissioning Outcomes Framework so that it can support and recognise quality improvement. The NHS CBA is organising a series of regional workshops and engagement events in August and September and a national stakeholder meeting on 12 September 2012. These events will help people find the right balance of measures to drive quality improvement and help the NHS Commissioning Board to hold CCGs to account.
The NHS CBA will release its Commissioning Outcomes Framework for 2013/14 in the Autumn so that CCGs can use it in their planning for the next year.
Ready reckoner 2
An updated version of the 'ready reckoner' has been made available this week.
The ready reckoner is an interactive running costs tool that lets CCGs consider potential options and work through the implications of different commissioning support arrangements and delivery models. It provides the flexibility to work through the potential impact that different populations have on resources and the potential costs for different internal staffing structures and commissioning support options.
It should support CCGs in discussions with PCT clusters and other CCGs about where it makes sense to share functions and enter into more federated models in order to generate better value for money and ensure that future commissioning support arrangements are:
of sound quality
affordable
responsive to their needs
It allows CCGs to consider how they can use external support options that are highly cost effective and leave the maximum resource available for clinical leadership and quality design.
The model is not a budget setting tool and should not be considered as such. However, it will help inform a range of discussions regarding the development and agreement of running cost budgets.
The tool can be downloaded from the CCG Development section of the CCG resources page of the Board Authority's website. Instructions for use are provided on the front page. A supplementary version of the tool is also available; with this version containing some illustrative costs, should CCGs wish to draw on these.
CCG authorisation: Site visit guide
A second document has been published as part of the two-part guide to the CCG authorisation assessment process. Clinical commissioning group authorisation: Draft guide for assessors participating in site visits is designed as a follow-on to Clinical commissioning group authorisation: Draft guide for assessors undertaking desk top review (June 2012) and is also intended to accompany Clinical commissioning group authorisation: a draft guide for applicants (April 2012).
Although the principle audience for this guide is panellists undertaking CCG authorisation site visits, it will also help aspiring CCGs to prepare for their site visit day and understand their role in the two-way authorisation dialogue.
All the authorisation resources can be seen on this website.
CCG authorisation: Commissioning support supplement
Further to the two guides mentioned above, a supplement is also being produced focusing on the assessment of CCGs' commissioning support arrangements. It will particularly look at the tests that will be applied for those CCGs that are providing all their support functions 'in house'.
The purpose of the supplement is to help assessors determine whether CCGs have assessed the quality and value for money of their support arrangements (whether these are in-house, shared or bought in) and that the evidence submitted is sufficiently robust and can be assessed transparently, consistently and fairly.
The document will be available shortly on our website.
CCG authorisation: Lessons learnt report
A report has been produced which draws together the most significant 'lessons learnt' from the Wave 1 application process. It is designed to help CCGs in waves 2-4 prepare and submit the best possible application for authorisation.
The report, which has been uploaded to the Authorisation Portal / Knowledge Management System (KMS), outlines the new signposting functions that will help CCGs link evidence to criteria. These have been put in place to help CCGs show themselves in the best possible light; reduce the number of documents to upload; and facilitate the initial document assessment process. The report also contains several examples of best practice for choosing and signposting documentary evidence.
All KMS users are advised to take notice of these hints and tips as it allows CCGs to take ownership of the signposting process and will help them have a more direct influence on the number of green radio buttons they receive at the document assessment stage. It also allows assessors to dedicate more time to analysing the quality of evidence, rather than spending time 'hunting out' the evidence. This in turn facilitates the domain and key assessment stage and by extension the number of Key Lines of Enquiry (KLOEs) the panel would have at the site visit stage.
Finally, there is one important urgent deadline to note: if you require changes to be made to your named 'Super User' on KMS (as per the explanation in the report), please contact  support@gpteamnet.com before 9 August so that this can be implemented.
CCG authorisation: New and improved FAQs
Following a series of very successful wave surgery events, we are updating the Frequently Asked Questions (FAQs) on authorisation that were last published in April 2012. The comprehensive set of responses in this document are based on updated FAQs and new enquiries raised by proposed CCGs during the wave events. It will be available shortly for download via the authorisation resources page on the NHS CBA website, as well as via the announcements section on the authorisation knowledge management system (KMS).
We recommend that CCGs consult this document as it draws together a wide range of questions covering the overall authorisation process, documentary evidence, the desk top assessment and the site visit as well as more specific topics such as the 360? stakeholder survey and the SHA reports.
If you have a question not covered in these FAQs, please contact the authorisation helpdesk for general enquiries (ccg.mailbox@nhs.net or 0207 804 1990), the KMS helpdesk for all technical enquiries (support@gpteamnet.com or 0191 201 2166) or the Ipsos MORI helpdesk for all enquiries related to the 360? stakeholder survey (ccg360survey@ipsos-mori.com or 0207 347 3185).
Cost of CCG estates
CCGs should be aware that the costs of their administration premises will be attributable to their new organisations and will count towards the £25 per head running cost allowances.
Where there are unavoidable continuity costs – such as a building lease which has time to run – CCGs may well be liable for these legacy costs and should bear this in mind before looking for new accommodation.
We have also agreed that we should always consider the NHS estate first and only use alternatives where there is a very sound business case.
Draft mandate consultation
The consultation on the draft mandate for the NHS Commissioning Board – Our NHS Care Objectives, continues until 26 September.
One of the core five sections is on effective commissioning, which sets a small number of objectives about the way that the Board introduces the new commissioning system: to help achieve the full benefits of clinically-led commissioning, while at the same time managing the transition in a way that safeguards service performance and finances.
Read more information and to have your say.
CCG learning network
As the responsibility for clinical commissioning moves from the Department of Health to the NHS Commissioning Board, the majority of resources and information for proposed clinical commissioning groups (CCGs) are now published by the NHS Commissioning Board Authority.
Therefore the pathfinder learning network which used to sit on the Department's website has moved and also has a new name.
The new CCG learning network contains a wealth of information about and for proposed clinical commissioning groups, including maps, directories, bulletins, authorisation resources and a comprehensive learning and support tool.
The online hub aims to promote the sharing of good practice and will support proposed CCGs and their governing bodies as they develop and implement their new roles within commissioning. It will also be of interest to the wider health and care community involved in the commissioning development programme and the clinically-led commissioning system.
Strategic clinical networks
The NHS Commissioning Board Authority has set out its plans for a small number of national networks to improve health services for specific patient groups or conditions.
Called strategic clinical networks, these organisations will build on the success of network activity in the NHS, which has led to significant improvements in the delivery of patient care over the last 10 years.
Strategic clinical networks, hosted and funded by the NHS Commissioning Board, will cover conditions or patient groups where improvements can be made through an integrated, whole system approach. These networks will help local commissioners of NHS care to reduce unwarranted variation in services and encourage innovation.
The conditions or patient groups chosen for the first strategic clinical networks are:
Cancer
Cardiovascular disease (including cardiac, stroke, diabetes and renal disease)
Maternity and children's services
Mental health, dementia and neurological conditions
These networks will exist for up to five years and will be managed by 12 locally based support teams. These teams will build and oversee effective network arrangements for their area and help networks develop an annual programme of quality improvement in local services. The support teams, funded by the NHS CB, will be located in a local area team office.
Full details of strategic clinical networks can be seen in The Way Forward – Strategic clinical networks and the supporting document The Way Forward – Frequently Asked Questions.
Maternity tool
A new tool to support CCGs in commissioning of maternity services has been published.
The Maternity Resource Pack sets out a framework for the commissioning of the discrete set of maternity services provided by acute trusts (essentially obstetric and midwifery care across the antenatal, intrapartum and immediate postnatal periods). It focuses on outcomes and brings together existing service specifications, benchmarking templates and other resources. This means CCGs can spend more time having informed discussions with providers about service delivery and redesign; focusing on matters that will make the most difference to women and families.
Download the resource pack here.
Webinar with Barbara Hakin
National Director of Commissioning Development Barbara Hakin held the latest in her series of online webinars for clinical leaders yesterday.
The 45 minutes session combined an overview of current progress within the commissioning development programme, a focus on primary care commissioning and an interactive question and answer session with the participants. The topics of questions included local enhanced services, the GMS and PMS contracts and the quality premium.
For those who weren't able to attend, the slides and a recording of the audio from the session will be available shortly from the CCG development section of the CCG Resources page.
Future sessions are scheduled to take place on:
Tuesday 18 September 2012, 12.15pm
Wednesday 17 October, 12.30pm
Wednesday 5 December, 12.15pm
Views invited on joint strategic needs assessments and joint health and wellbeing strategies  draft guidance
Joint strategic needs assessments (JSNAs) and joint health and wellbeing strategies (JHWSs) are about the NHS, local government and communities working together to improve health and wellbeing outcomes and reduce inequalities. The Department of Health has been working with its stakeholders to develop and refine draft guidance to support health and wellbeing boards in preparing their JSNAs and JHWSs, and this has now been published for consultation.
The purpose of the guidance is to support boards and their partners by:
laying out the statutory duties, which underpin the undertaking of JSNAs and JHWSs by CCGs and local authorities through health and wellbeing boards from April 2013
explaining how JSNAs, JHWSs and commissioning plans fit together in the modernised health and care system
setting out how an enhanced JSNA process and a JHWS will enable the NHS and local government, working with their community and partner organisations, to make real improvements to the health and wellbeing of local people.
Views are sought on the guidance and should be submitted by Friday 28 September 2012.
Read the draft guidance and supporting documents here.
Your chance to influence the new NHS provider licence
The Health and Social Care Act 2012 makes changes to the way health care is regulated in order to strengthen the way patients' interests are protected and promoted. Monitor's role will change significantly as it takes on a number of new responsibilities as the sector regulator for health care. Further information on Monitor's future role is available on their website.
Monitor has launched a major consultation on its new NHS provider licence. The consultation sets out the thinking behind the latest proposals and explains changes Monitor has made following feedback from its engagement to date.
Monitor's provider licence will be its key tool for regulating providers of NHS services. The licence will set out various conditions providers must meet, including conditions relating to: pricing; preventing anti-competitive behaviour which is against the interests of patients; enabling integrated care; supporting commissioners to maintain service continuity; and the governance of foundation trusts.
The Department of Health will shortly be consulting on its proposals for which providers will be required to hold a licence and which will be exempt.
Monitor expects to be ready to issue licences to NHS foundation trusts in April 2013, and other providers needing a licence from April 2014, subject to the results of this consultation.
News in brief
Comments on this page are now closed.