Contents
Welcome from Barbara Hakin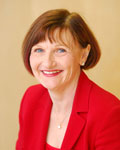 Welcome to the latest bulletin for proposed clinical commissioning groups. I'm going to be quite brief this issue as I know many people are enjoying a well-earned break at the moment. However, while we may be attending fewer meetings at this time of year, there is still plenty of work going on across the country.
The authorisation process for Wave 1 CCGs is continuing with planning for the site visits well underway. The visits are a crucial element of the process and provide a formal opportunity for representatives from the NHS Commissioning Board to meet and assess the CCG leadership team within their local environment. All 35 visits will take place in September. Meanwhile, we're also looking forward to receiving the authorisation applications from Wave 2 CCGs in the next few days, and if your group is in that wave I hope you're taking advantage of all the resources and information on the NHS CBA website and on the authorisation portal to help you navigate the course.
One thing I would like to draw your attention to is the NHS Commissioning Assembly, which we mentioned in issue 16 of the bulletin at the beginning of July. CCG clinical leads will already have received a letter from Sir David Nicholson setting out the ideas and principles behind the Assembly and I will shortly be writing out to you again with more details about the launch event. For now, please just put the date of 14 November in your diaries.
Finally, if you would like to get involved in the wider transition of the health and care system there are plenty of opportunities to have your say on a variety of different aspects at the moment. A number of consultations are currently taking place across the system and your views are essential if you want the voice of clinical commissioners to be heard. In the bulletin below you'll see there are chances to comment on the role of Monitor, how local Healthwatch will operate, and of course on the draft mandate between the Department of Health and the Commissioning Board. Please do take the opportunity to contribute and shape the way we will work in the future.
Thank you for your continued enthusiasm, commitment and hard work as we move towards the new commissioning system. If you would like to let me know about your own local progress, or have any comments, questions or feedback about the commissioning development programme, please do get in touch. You can contact me via pathfinderlearningnetwork@nhs.net.
Dame Barbara Hakin
National Director for Commissioning Development
New leadership arrangements through transition
NHS Chief Executive, David Nicholson, has written to NHS leaders this month to set out the next stage in the transition to the new health and care system.
In the letters he describes arrangements to ensure stability and resilience for the current system through transition to the new health and care system from April 2013. This means that people appointed to regional and local leadership roles in the NHS Commissioning Board (NHS CB) will take on responsibility both for the teams managing operational delivery in 2012/13 and planning the new system for 2013/14.
Leaders working in this way will be accountable to the NHS CB for future planning and development; and be accountable to the PCTs / SHAs for relevant delivery and performance in the current system.
The arrangements should be in place from 1 October 2012 and will not impact on CCGs as they prepare for their key roles in the new health and care system.
For more information and to read the letters visit the Department of Health website.
CCG leaders needed to join Leadership Programme Board
The new NHS Leadership Academy is looking for two senior CCG members to be part of its Programme Board.   The Board's role and duties will include:
informing and endorsing the Academy's strategy;
shaping a positive culture;
providing a strategic view on leadership development;
engaging with stakeholders and opinion formers; and
championing the Academy.
The Board will meet quarterly and the first meeting is on Wednesday 26 September in Leeds.  Go to www.leadershipacademy.nhs.uk to find out more.
If you are interested please email Lisa Radoje at lisa.radoje@dh.gsi.gov.uk by Wednesday 5 September.
CCG authorisation: Additional clinical panellist to join site visits
Shortly after the publication of  CCG authorisation: Draft guide for assessors participating in site visits, the NHS CB agreed plans to strengthen the proposed site visit panel composition. Therefore, there will now be an additional clinical panellist present at site visits who will focus specifically on the quality agenda – including safety and the extent to which quality assurance, monitoring and improvement is reflected in the applications for authorisation.
The Chief Nursing Officer and colleagues from the four SHA clusters are currently finalising nominations for this additional clinical representation and these additional panellists will be subject to the same robust training that all other panellists attend prior to site visits.
Although this additional clinical representative will focus specifically on quality, all panellists will refer to the evidence against all criteria – including those related to quality – as  the basis for their assessment to ensure rigour and consistency.
The authorisation process takes a holistic approach to ensuring that CCGs, as locally clinically-led commissioners, have sufficiently high levels of capability, systems and process in quality assurance, monitoring and improvement to be authorised as statutory bodies and to function effectively as commissioning organisations.
If you have any questions related to this or anything about site visits, please take a look at the updated authorisation FAQs or email ccg.mailbox@nhs.net.
CCG authorisation: Training videos for assessors
The NHS Commissioning Board Authority is currently training NHS assessors and panellists to undertake the desktop review and site visits of CCGs as part of the authorisation process.
In order to make sure as many people as possible understand how the process is being carried out a series of training videos has been produced. They will not only help the assessors, but may also give CCGs a better idea of what to expect during the process.
The three videos have been designed to communicate the purpose, principles and practices of the overall CCG authorisation process, the desktop review stage and the panellist site visits.  The videos are available here.
GP informatics
More detail has been agreed on the future of GP and primary care informatics in the new health and care system.
The NHS Commissioning Board (NHS CB) will be accountable for the delivery of primary care IT in the future, with funding and responsibility for GP IT (ie the  provision of clinical systems; associated hardware and network services; and support services – including training – to GP practices) being delegated to CCGs. Responsibility for other primary care IT systems (ie for dentistry or ophthalmology) will be managed through the NHS CB's local area teams.
CCGs as commissioners will need to own a locality informatics strategy as part of their role in driving forward transformation of services. Clinical systems and their provision are a vital part of this and important enablers in ensuring primary care quality and innovation.
Work is still ongoing with PCTs to determine the level of current spend on GP IT, after which decisions will be taken to agree the allocation of funds to CCGs in 2013/14. This will be communicated once the figures have been agreed.
Meanwhile, the Local Service Provider (LSP) contract and GP Systems of Choice (GPSoC) – the programme which enables practices to choose their GP IT system – will continue to be managed and funded at a national level.  CCGs however will be expected to provide appropriate support and training to their practices where they have made a choice to switch to an alternative system.
If you have any questions about the informatics programme please contact ccgdevelopment@nhs.net.
National Quality Board report
The National Quality Board (NQB) has this month published a report setting out how quality will be maintained and improved in the new health system.
The NQB brings together the national organisations across the health system responsible for quality including the Care Quality Commission, Monitor, the NHS Trust Development Authority, NICE, the General Medial Council, the Nursing and Midwifery Council, the NHS Commissioning Board Authority and the Department of Health.
This report, focuses predominantly on how the new system should prevent, identify and respond to serious failures in quality and provides a collective statement from NQB members about:
the nature and place of quality in the new health system;
the distinct roles and responsibilities for quality of the different parts of the system;
how the different parts of the system should work together to share information and intelligence on quality and to ensure an aligned and coordinated system wide response in the event of a quality failure; and
the values and behaviours that all parts of the system will need to display in order to put the interests of patients and the public first and ahead of organisational interests.
CCG commissioners should ensure that they understand their roles and responsibilities in relation to quality. They are responsible for commissioning care of a sufficient quality and for monitoring the quality of care being provided through their contracts with their providers.  They will be crucial members of the new quality surveillance groups and will need to work with regulators and other organisations in a culture of open and honest cooperation.
The report is in draft form, and the NQB would welcome views on the approach it describes from those working in or with an interest in the health system.  Please send any views to nationalqualityboard@dh.gsi.gov.uk by 30 September 2012.
Local Healthwatch regulations
The Government is currently seeking views from proposed CCGs, and other stakeholders, on proposals for local Healthwatch.
Healthwatch will be the new consumer champion for both health and social care.  It will exist in two distinct forms – local Healthwatch, at local level, and Healthwatch England, at national level. Local Healthwatch will replace Local Involvement Networks (LINks), carrying forward the LINks functions while taking on new, additional functions.
CCGs are now being asked to have their say on:
the proposed regulations on how commissioners should respond to requests, reports and recommendations made by Local Healthwatch
the proposed regulations on the duty on providers to allow representatives of Local Healthwatch or their contractors, to enter premises to observe the nature and quality of services.
This letter provides further information and all consultation responses should be sent by Friday 14 September 2012.
Draft mandate consultation
The consultation on the draft mandate for the NHS Commissioning Board Our NHS Care Objectives continues until 26 September.
One of the core five sections is on effective commissioning. This sets out a small number of objectives about the way that the Board introduces the new commissioning system to help achieve the full benefits of clinically-led commissioning, while at the same time managing the transition in a way that safeguards service performance and finances.
Read more information and have your say.
Monitor consultations
Earlier this month the Department of Health (DH) published detailed proposals for consultation on sector regulation and the new role of Monitor, who will regulate all providers of NHS services in the future in order to protect patient's interests. The consultations, which are likely to be of particular interest to clinical commissioners, cover the following areas:
Licensing organisations providing NHS services, including:

Who will be required to hold a licence?
How can providers challenge proposed changes to licence conditions?
What is the maximum fine that Monitor could impose for breach of licence conditions?
Procurement, patient choice and competition regulations for commissioners, which:

sets out proposals for minimum requirements in relation to procurement, choice and competition
seeks views on whether the safeguards are enough to protect the interests of patients, or if any additional requirements are needed.
You can find out more about the proposals on sector regulation and participate in the consultations here.
Alongside the DH consultations, Monitor is also consulting on guidance for commissioners on continuity of essential services and on its draft licence conditions for providers. Monitor's consultation documents, alongside details of bespoke workshops for CCGs, can be downloaded from its website.
Integrated commissioning conference, 29 October
The NHS Commissioning Board Authority (NHS CBA) and the Local Government Association (LGA) are organising a joint conference aimed at NHS commissioners, providers and local authority colleagues.
Integrated Commissioning for Better Health and Care will take place in London on Monday 29 October 2012. The conference will promote examples of shared learning around integrated services, system leadership, joint planning and sector led improvement and innovation. It will highlight the opportunities that exist to commission services in a more integrated way with emerging partners. It will also outline how the NHS and local government plan to work together at a national level to support local commissioners and will seek the views of attendees about what support would be helpful at a local level to promote integration.
Confirmed speakers to date are:
Sir David Nicholson, Chief Executive, NHS CBA
Councillor Sir Merrick Cockell, Chairman, LGA
The event is free to NHS colleagues. Click here for more details.
Innovation health and wealth: Publication of formularies
Sir David Nicholson has written to CCG leaders, along with SHA and PCT chief executives, to ask them to lead the way in reducing variation in patient access to NICE recommended medicines and technologies.
In the letter he highlights the importance of formularies and their role in underpinning the safe and effective use of medicines. He is now asking all NHS organisations, including CCGs, to publish information on which NICE Technology Appraisals are included in their local formularies by 1 April 2013. Publication will also be a standard term and condition in NHS contracts from the same date.
News in brief
Comments on this page are now closed.