The Kremlin – Johnny Marshall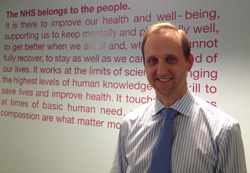 Over the past few weeks I have made a number of visits to the Kremlin, or at least that's where the taxi driver said he was taking me. Perched on a hill overlooking the city, the building screams of Stalinist tendencies with an aerial reaching skyward from a central tower broadcasting instructions for the proletariat to follow…….or suffer the consequences. Such is the external appearance of Quarry House, the home of the newly formed NHS Commissioning Board Authority. Outwardly not the most encouraging start for a new order of openness and devolved responsibility.
I was there as an advisory member of a group looking at the design of the NHS Commissioning Board (NHS CB) in the future, the NHS CB Future Design Group; at least that seemed to pass the "Ronseal" test. My original invitation arrived at the 11th hour, not an unusual experience when you work in primary care. It was perhaps less of an afterthought and more of an inevitability that, in designing the future system, a fresh perspective might be helpful. But would a CCG perspective be welcome in the deep grip of QIPP?
First up for discussion this week was "developing the insight function of the NHS CB". At face value it sounded like a rebranding of a failed public engagement policy but closer inspection, or "listening" as it is otherwise known, revealed a more ambitious desire to gain genuine insight from all in supporting the pursuit of better health outcomes. There were even some new ideas that could resonate quite well with the business end of CCGs. However, just as all seemed to be going too smoothly, it soon became clear that there was an inherent danger in the NHS CB developing such insight in isolation of CCGs. Surely it would result in NHS CB and CCGs competing for legitimacy as "THE" font of all insight, a sort of "my insight is bigger than yours" relationship, hardly a great start for a new order of shared leadership.
With a growing sense of indignation I rose to my full height on the edge of my chair with finger held high and eyes open wide seeking a meeting of eyes with the chair. Yet I went unnoticed. Then the chair himself began to mirror some of my body language and raised his own concerns. At that moment my heightened senses seemed to slow the passage of time. I'm still not sure whether my recollection was in some way impaired as a result, but it seemed that whilst I might not have caught the chair's eye there had been a thought transfer moment and the very view that I had sought to express was coming out of his lips. All I could do was echo agreement.
Next up was the communications plan. A bright young member of the team took us through an aspiration for openness in future communications from the NHS CB that threatened to put Wikileaks out of business for good, at least with respect to NHS CB business. National directors engaging in social media, even Twitter, on real issues. Surely she had gone a step too far. So young…..such a short career! But then the tension broke, self awareness turned into self-depreciation, humour replaced anxiety and the unease with which the message seemed to have been heard morphed into genuine challenge in setting out how this might actually work; recognition that it was not an area of sufficient expertise at present, "our future vision is Google's present"; and calls for the right expert external support to make this work.
One swallow doesn't make a summer but as I left Leeds was that the NHS CB senior management team I heard tweeting?
Categories: Blogs • Dr Johnny Marshall • Home