International Nurses Day – Jane Cummings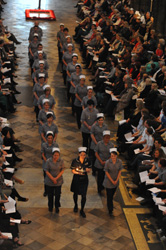 Recognised around the world Florence Nightingale's birthday on 12th May is International Nurses Day. It is always a time for nurses to gather and celebrate the role of this profession in our society, remember nurses who have died in theatres of war and reflect on what nursing means to us as individuals. This year is no exception. Hundreds of nurses gathered at Westminster Abbey for a service to commemorate Florence Nightingale's life. The former Archbishop of Canterbury George Carey spoke about his own family, which has nurses across the generations, and how he has seen personally the role of nurses develop and change alongside clinical advances. But, he also underlined the importance of care and compassion in nursing and described how nurses are uniquely placed to look out for the patient; to be kind, to listen to their worries and fears while at the same time working with the latest clinical and technical advances to deliver great care.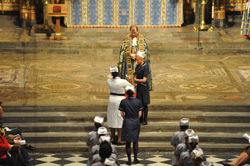 When I was a student nurse, I had a poem on my wall called 'What do you see?' The poem asks nurses to look beyond the frail and ill old woman they are treating and understand the full life she has lived and how she is feeling at the end of her life. It is a cry for compassion from the nurses who are treating her. As we celebrate International Nurses Day, I have used this poem in the form of a short film acted by Virginia McKenna, to highlight this core area of our work.
I became a nurse to make a difference, and delivering care with compassion and kindness is one area where nurses can really change the way patients feel. Florence Nightingale's work laid the foundations for a modern nursing profession. She set out to improve the care that nurses give, helping to save lives but also improve the quality of patients' lives. Today's nurses are the guardians of Florence Nightingale's vision.
Comments on this page are now closed.
Categories: Blogs • Home • Jane Cummings