Celebrating the best in student nurse education – Jane Cummings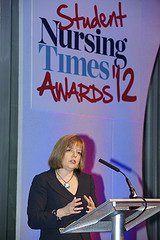 It was great to see so many student nurses, nurse lecturers and education providers at the first Student Nursing Times Awards in London. How we educate and train tomorrow's nurses is fundamental to the success of the NHS in the future, so I was really happy to be asked to say a few words after lunch. As the awards were presented it was clear we have some fantastic teaching institutions, educating the next generation of nurses. At the same time, there are some fabulous lecturers and we are arranging placements that consistently match the student nurse to the right training and the most inspiring mentors.
What it boiled down to for me is pride. I want every nurse to be proud of their profession, every time they go to work. I want nurses to be respected for the care they deliver and the difference they make to every patient they meet.
That's why I went into nursing – I wanted to make a difference and it was clear from seeing those who were shortlisted, were highly commended or who won that they are all making a real difference in their chosen professional field.
Nursing is a career with so many opportunities and these increase and diversify all the time. Thanks to the unique role that nurses occupy in the NHS there are opportunities in the fields of practice, education and research.
It is a privilege to be a nurse and the skill of today's nurses is to treat patients with compassion, dignity and respect and at the same time, ensure this is consistent wherever we deliver care and however complex or technologically advanced the treatment is. This calls for professional knowledge, leadership and vision all underpinned with a desire to put the patient's needs first.
Categories: Blogs • Home • Jane Cummings