Who's inside the tent? – Johnny Marshall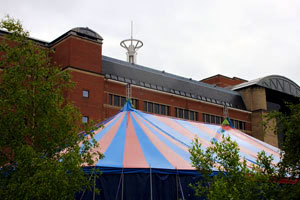 The circus was in town for the Future Design Group today! No … we are not there every week … there was a Big Top up just across the road from Quarry House. Actually, I am not sure whether it was housing a circus or not. For all I know it could have been the temporary HQ for Public Health England, perhaps symbolic of its itinerant nature. Or, perhaps a test event for all those government meetings that will not be taking place in London during the Olympics. Maybe it is going to host one of those "circus skills team-building exercises" events to support the Local Area Teams in building relationships with CCGs; teaching traditional skills such as lion taming, fire eating, strongman…….I digress.
At one low point in the meeting ambition seemed to be distinctly lacking as "improvement" was at risk of being demoted to "not getting any worse". Travel and meeting arrangements during the London 2012 Olympics briefly threatened to become the next "Millennium Bug". The "Matrix" was relegated from a major blockbuster to a major headache in trying to set up a new organisational structure in such a short period of time. The Ricardo brothers were high on the trapeze … I was being distracted by that circus again!
But, in the middle of it all, there was a searching debate about what you actually replace 'top down targets' with? Could you just call them something else? Were some of them actually quite valuable? Surely measuring improvement involves measuring something? How many indicators were there going to be in the government's mandate to the NHS CB, and how many would have to be passed on to CCGs? How about agreeing a common outcome like … an increase in life years, and agreeing with each CCG a local plan to increase life years for their population? The ambition was returning!
But what if it took several years to demonstrate that improvement? What indicators could you use to demonstrate progress along the way? What if one set of investments in the short-term delivered better value over a 2 year period, but a different set of investments in a longer-term plan would eventually reap an exponentially higher and more sustainable reward in comparison by the end of a 10 year period?  Lots of questions with few clear answers; by the end some of us were in serious need of an analyst.
This left me wondering how these questions were to be answered. The dangers of paralysis by analysis had been debated at FDG only a few weeks ago, so work is already underway to better understand how to maximise the value of any analytical function within NHS CB. The Stockholm Syndrome management plan advises that the answer is not just determined by the central authority but by all relevant parties. Shared decision making requires new behaviours in all parties and a need to demonstrate these behaviours rather than simply talking about how any of us is going to behave. We are all going to need some sensitively executed external reference points along the way to minimise the dangers of further collusion.
From a commissioning perspective, truly shared decision making between NHS CB and CCGs will require the leadership at both a national and local level to be closely connected. An effective working relationship between CCGs and Local Area Teams will be a critical success factor. Sounds like we might need to keep the Big Top up for those "circus skills team-building exercises" after all; although perhaps focusing more on balancing, plate spinning, juggling … I wonder if CCGs will be allowed in the tent?
Categories: Blogs • Dr Johnny Marshall • Home