Bulletin for CCGs: Issue 31, 28 March 2013
Contents
Welcome from Barbara Hakin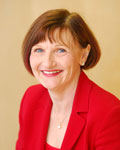 Welcome to the final issue of the bulletin for clinical commissioning groups ahead of the move to the new clinically-led commissioning system. We are now just days away from 1 April – the date when CCGs, the NHS Commissioning Board, and all our partner organisations within the new health and care system in England are fully established and take on their new statutory duties and responsibilities.
We have been working towards this day for many months now and I would like to say a huge thank you for the relentless activity, commitment and enthusiasm which has been evident across the country as we've been working towards this common goal. We are now on the threshold of taking up these new roles – bringing the benefits of clinical commissioning to our local communities and creating a new NHS which is focused on delivering improved health outcomes, quality, patient safety, innovation and public participation.
As you will see from the stories in this issue of the bulletin, this month we have authorised the fourth and final wave of CCGs, so we now have all 211 groups ready to take on their new responsibilities. This is a tremendous achievement by CCGs and they have made fantastic progress in a very short time.
It has always been clear that some of the new organisations would be at different stages to others at the point of authorisation, and they are continuing to develop their capabilities. This can be shown in the progress that has been made across CCGs in waves 1 to 3 in the months since their authorisation. The outcomes from the re-assessment panel can also been seen below, but even this is just the beginning – these new organisations will continue to develop, grow and mature, bringing real, tangible benefits to their patients and local communities as they do.
As many of you will be aware, I will be moving to a new role within the NHS Commissioning Board next month. More details are in the bulletin, but I am going to be taking up the role of Chief Operating Officer and Deputy Chief Executive on a temporary basis. Ros Roughton, who many of you will already know, will serve as interim National Director for Commissioning Development. I'm very much looking forward to the new position and I hope it will give us the opportunity to take the learning and relationships we've developed during CCG set up into the new 'business as usual' and ongoing assurance phase.
Talking about relationships, it was good to see some of you at the Health Innovation Expo earlier this month. The two day event was very well attended and had a range of exhibitions, seminars and speakers. I hope those of you who were there found it useful. The NHS CB launched a number of initiatives and work programmes at the event including a health app library and online health hubs, so please take a look at our website to find out more about these exciting pieces of work.
Finally from next month, the CCG bulletin will have a different look and feel and you will be able to subscribe or unsubscribe to the mailing list via our website. But if you have any comments, questions or feedback about any aspect of our work here at the NHS Commissioning Board, I'm always happy to hear from you.
Dame Barbara Hakin
National Director: Commissioning Development
All 211 CCGs authorised
The new clinical commissioning system is now set up across England, with all 211 new organisations ready to take up their statutory responsibilities on behalf of local communities from next week.
The final wave of 48 clinical commissioning groups (CCGs) were authorised earlier this month following in-depth assessment by experts. This follows on from the first three waves which were authorised between December 2012 and February 2013.
CCGs will be responsible for £65 billion of the £95 billion NHS commissioning budget. The members of CCGs are GP practices meaning that all of England's 8,000-plus GP practices will be involved in commissioning healthcare. Every CCG's governing body will also include at least one secondary care doctor, nurse and member of the public.
In total, 10 of the 48 CCGs in wave 4 were fully authorised, meaning they met all 119 authorisation criteria. The remaining 38 have been authorised with conditions, many of which they should be able to discharge within a short timeframe. Of these, seven CCGs – NHS Basildon and Brentwood CCG; NHS Croydon CCG; NHS East Surrey CCG; NHS Enfield CCG; NHS High Weald Lewes Havens CCG; NHS Thurrock CCG; and NHS Waltham Forest CCG – have also received legal directions, meaning they have higher-level support requirements, and that they will receive formal, legally-underpinned support from the NHS CB.
CCGs will have wide-ranging responsibilities with regard to patient safety and will manage very large budgets, so it is vital that they are robust and capable of making important decisions. The NHS Commissioning Board has a duty to ensure CCGs have made arrangements to deliver their responsibilities.
CCG authorisation: Formal review of waves 1 to 3
Over half of all CCGs will begin commissioning healthcare on behalf of their local communities next week with no requirement of on-going national support.
The NHS Commissioning Board's Authorisation Sub-Committee's review of the progress made by CCGs in the first three waves of authorisation has resulted in 63 more CCGs formally discharging all conditions on their authorisation, bringing the total of fully-authorised CCGs to 106.
A further 47 CCGs have formally discharged some of their conditions, while two have had legal directions lifted from their authorisation. Of those CCGs with remaining conditions on their authorisation, the majority (55 out of 105) have fewer than five conditions, and none requiring high-level support to improve.
CCGs authorised in wave four will be reviewed in June 2013.
NHS CB: Interim management arrangements
The NHS Commissioning Board has announced interim arrangements for the post of Chief Operating Officer and Deputy Chief Executive.
Dame Barbara Hakin, currently the Board's National Director for Commissioning Development, will take up the role on a temporary basis from the second half of April. The role includes leadership of the Board's Operations Directorate
The Directorate, which includes the Board's four regional and 27 area teams, is responsible for direct commissioning of some services including primary care. It is also responsible for the ongoing assurance of CCGs.
Rosamond Roughton, the Board's Director of Commissioning Systems and Strategy, will serve as interim National Director for Commissioning Development. Alex Morton, Ros's deputy, will serve as interim Director of Commissioning Systems and Strategy.
The current Chief Operating Officer and Deputy Chief Executive Ian Dalton CBE announced last month that he is to leave the NHS to be President of Global Health at BT Global Services. The Board will advertise for a permanent replacement later this year.

NHS Commissioning Assembly: Views from CCGs
Following the call for volunteers in December, the steering group for the NHS Commissioning Assembly has now been established, comprising 11 CCG clinical leaders and NHS Commissioning Board members. The steering group has already been a useful source of soft intelligence about issues and concerns for CCGs and Peter Melton and Barbara Hakin, as co-chairs, will be writing out shortly to all Assembly members.
In addition the NHS Commissioning Assembly has now established a Rapid Reference Group (RRG). It consists of 20 members who have agreed to provide a rapid CCG perspective on issues of national policy and guidance to the NHS CB. The group comprises a mixture of chairs and chief clinical officers from large and small CCGs with good geographical representation.
The group has already commented on issues as varied as the process to support Bruce Keogh's mortality review; a draft national concordat to support implementation of NICE guidance; and draft guidance on commissioner requested services by Monitor. The RRG is not a replacement for effective co-production and engagement across the system, but does provide a ready route to gather views from across the country and is vital in this regard.
At the NHS Commissioning Assembly Steering Group earlier this month it was agreed that a sister group to the RRG of chief officers, both managerial and clinical, should be established.  This group would reach out to a broader leadership community in CCGs beyond just clinical leads and would give a further opportunity for CCGs to give views and provide a perspective in the new health system.  We are now seeking volunteers for this new group, so if you are interested in learning more about joining, or if you would like further information on the RRG or its sister group, please e-mail alexmorton@nhs.net.
CCG set up
Pay arrangements for CCG lay members: Just a reminder that if CCGs have any office holders or lay members who have been receiving payroll services from a PCT during set up, that these services will cease on 31 March 2013. If CCGs wish to retain these office holders or lay members they will need to establish new arrangements and ensure that these people are moved to the CCG's new payroll provider for April onwards.
Transfer of assets: CCGs should be making final arrangements to operate from 1 April including receipt of transfers from senders. Although CCGS have responded positively to the likely outcome of the transfer of assets through transition, we know that with such enormous changes it is unlikely that all assets will end up in the right place first time. CCGs may wish to consider reviewing transfers, particularly assets, they have received early in the new financial year.  The wider transition programme is looking at what might need to be in place to support all new organisations in this and more information will be shared when it is available.
New timeframes for equality duties
Timeframes for CCGs to meet the specific duties of the public sector Equality Duty have been announced.
Each CCG is required to publish in a manner that is accessible to the public:
(i)  information to demonstrate its compliance with the public sector Equality Duty at least annually, starting by 31 January 2014. This information must include, in particular, information relating to people who share a protected characteristic who are its employees (public authorities with fewer than 150 employees are exempt), and people affected by its policies and practices;
(ii) equality objectives at least every four years starting by 13 October 2013.
A two-page supporting guidance document can be found on the NHS Commissioning Board website.
New operating model for armed forces health care IT services
The NHS Commissioning Board has published a document setting out how the management of IT systems will be organised for health care for armed forces and their families.
Securing excellence in IT services: Operating model for armed forces and their families health services provides a system which ensures the safe transfer of armed forces health IT from primary care trusts (PCTs) to the NHS CB so there is clarity for all stakeholders, safety for patients and business continuity for the NHS.
It follows the recent publication of other IT services operating models including those for GP IT services, primary care IT services and offender health IT services.
From 1 April 2013 the NHS CB will be responsible for the commissioning of secondary care and community services for armed forces serving personnel and families registered with a Defence Medical Services (DMS) practice. The Ministry of Defence (MoD) will continue to provide GP, dental and some specialist community services for armed forces serving personnel and GP services only for those families registered with a DMS practice.
CCGs will be responsible for commissioning all services for veterans, reservists and families not registered with a DMS practice as they are best placed to commission these services.
For more information visit the NHS Commissioning Board website.

Emergency preparedness, resilience and response
The NHS CB's Chief Operating Officer, Ian Dalton has written to colleagues regarding the transition of emergency preparedness, resilience and response (EPRR) responsibilities in the new commissioning system. The letter highlights that the responsibilities for EPRR have been set out in the:
Information about these new arrangements for local health EPRR – including, but not limited to, CCGs – has also been published on the EPRR page of the NHS Commissioning Board website.
Risk sharing for direct commissioning
A joint approach to risk sharing for all aspects of direct commissioning, including specialised services, is being discussed between CCGs and area teams on a local basis.
This recognises the complex pattern of commissioning accountabilities and the need to work in real partnership if the new commissioning system is to get the best outcomes for the populations that are jointly served.
Any queries about direct commissioning should be raised with the area teams in the first instance.
Revised England –Wales cross border protocol
From 1 April 2013, the NHS Commissioning Board will take over responsibility from the Department of Health for the detail and implementation of cross-border health policy between England and Wales.
A protocol has been developed between the NHS in England and Wales to secure cross-border health care provision in a way that supports improved outcomes and avoids the fragmentation of care.
The protocol, including a dispute resolution process, provides clarity for patients, GPs and commissioners on the practical implications of the differences in health policy between the two countries for people who live on one side of the border and use NHS services on the other.  It will be available from 1 April on the NHS CB website.
Supporting guidance will also be made available via the link above in due course.
Please refer to the protocol to understand the implications for the commissioning and accessing of services across the border.
Monitor workshops on CRS guidance and risk pool funding
Monitor and the NHS Commissioning Board are holding four full day regional events during May and June 2013 to help CCGs and area teams work through Monitor's guidance on commissioner requested services (CRS), and to inform and engage on risk pool funding.
The workshops will help CCGs continue to develop their understanding of:
their role in continuity of service
how to apply the guidance to make sure their patients have continued access to the health care services they need
how the process complements their strategic planning in the provision of services for their patients
The sessions on risk pool funding will describe the potential mechanism that Monitor may establish to provide financial assistance for providers that are subject to a special administration order. Under the Health and Social Care Act, Monitor may impose levies on providers and, subject to secondary legislation, may also impose charges on commissioners to raise funds for the risk pool. The nature of this has not yet been decided and would be subject to detailed consultation, should a proposal emerge.
The risk pool sessions will enable commissioners to feed into current thinking on the development of funding options for 2015/16 onwards, including the potential for charging commissioners. CCGs can take this opportunity to consider the options and to raise any concerns.
The workshops are taking place in London, Birmingham, Leeds and Bristol. Registration information with dates is available here.
For further information please contact libby.metselaar@monitor-nhsft.gov.uk.
Increase in NHS charges and Universal Credit arrangements
From 1 April 2013 there will be an increase in prescription, dental, wig and fabric supports charges, and in optical voucher values. Full details are available from NHS Choices.
Additionally, a new benefit, Universal Credit, will be introduced in four pathfinder areas (Oldham, Tameside, Warrington and Wigan) in April 2013. Anyone receiving Universal Credit from 29 April to the end of October 2013 will be entitled to exemption from prescription and other charges. More information on this and the process for declaring exemption is also available on NHS Choices.
Relevant CCG staff will need to be made aware of the increase in charges and the arrangements in place for those patients in receipt of Universal Credit. Financial systems will also need to be amended to reflect these changes.
Winterbourne View Improvement Programme: Framework for individual care reviews
As noted in the previous bulletin, the NHS CB and the Local Government Association (LGA) have established a Joint Improvement Programme following the abuse at the Winterbourne View hospital. CCGs will have a vital role in ensuring that services meet the needs of local people and in working with local partners to ensure a fundamental shift in care. The current focus of the programme is to review the implementation of the short term commitments made in the national programme of action and to design a programme of support for local commissioners.
As part of this, a report has been developed that sets out the principles that should inform reviews of care plans, one of the key commitments for local partners. The report – and more information about the programme – is available here. It is not intended as a definitive guide but intended for everyone who is involved in the current reviews and those who will develop future service plans across health and social care.
For more information about the programme please contact the programme lead via chris.bull@local.gov.uk.
Be Clear on Cancer: Plans for 2013/14
The NHS Commissioning Board, Department of Health and Public Health England have written to the NHS and local authorities to announce provisional plans for the Be Clear on Cancer campaigns in 2013/14, and to provide an update on the latest campaign results.
The 2013/14 programme will begin with a national reminder lung cancer symptom awareness campaign in July 2013, with a further national campaign planned in autumn 2013 and two regional campaigns in early 2014. The decision on which campaigns will run, following the lung campaign, will be taken once further evaluation data from this year's campaigns become available.
The letter contains information on how these bodies will be supporting the NHS to prepare for the campaigns and contact details for comments or questions. Read the letter here.
Cardiovascular disease outcomes strategy
The government has published the cardiovascular disease (CVD) outcomes strategy this month.
The strategy identifies for commissioners and providers of health and care services the ten key actions that will make a difference in improving outcomes for CVD patients. This is a key document for CCGs as the outcomes strategy provides information for commissioners on the costs and benefits of improving services/reaching the performance of the best and leaves it for them to decide the priority they attach to delivering them depending on their local needs.
For more info please visit the Department of Health website.
NHS Clinical Commissioners conference
CCG leaders are being invited to the first national event from NHS Clinical Commissioners.
Building our future together takes place on Tuesday 23 April in London and keynote speakers include Rt Hon Jeremy Hunt, Secretary of State for Health.
The day will focus on discussing common issues, providing an opportunity to share what is working well, and giving CCG leaders an opportunity to network with peers.
The draft programme and more information about booking a place are available on the NHS CC website.
Categories: Bulletin for CCGs • Home • Publications