Chief Nursing Officer bulletin: June 2013
Publications gateway number: 00187
Welcome to the latest edition of my Chief Nursing Officer's Bulletin – Jane Cummings, Chief Nursing Officer, NHS England
CNO Conference – 2013
I am pleased to announce that my 2013 Annual CNO Conference is to be held on the 26 and 27 November 2013.
Building on the success of last year's event in Manchester, we are working in partnership with the Nursing Times to produce an even bigger and more successful conference for 2013.
We are busy developing another packed agenda and will hopefully have some extremely high profile speakers. The focus for the event is the implementation of Compassion in Practice – looking at new models of care and best practice in embedding the 6Cs. We will be sharing our learning on how the 6Cs and Compassion in Practice has delivered positive outcomes for patients and staff.
We will also be looking at examples of excellence in practice across Health and Social Care and how great leadership is essential to changing culture and behaviours.
The event is designed to attract an audience of up to 500 senior decision makers and nursing leaders and will be special invitation only.
Compassion in Practice
This edition we focus on action Area 3 – Delivering high quality care and measuring the impact
The priorities within this area of work are:
Identifying indicators and measures of high quality care across all health and care settings
Working with the National Support Centre to collect data across England on quality of care provided and share examples of excellence in practice through channels including the 6Cs Live! Communications Hub.
The 6Cs Live! Communications Hub
The Hub is a web based resource that will provide a one-stop shop for nurses, midwives and care staff to access a range of tools, resources and best practice guidance. Signing up will enable you to stay up to date with news, webinars and events and share ideas and examples of excellence. The site will be launched in early July 2013.
6Cs Live! 'Week of Action'
Watch out for more information about our first 6Cs Live! Road Show event, being delivered as part of our first 6Cs Live! 'Week of Action'. This week of action will begin on Monday 19th August and will focus on Action Area 3, exploring measurement, transparency of care and the benefits of investing in behaviours. It will provide opportunities to engage with the experts, connect with colleagues and share excellence in practice. For more information please email the 6Cs Live team.
Care Makers at the NHS Confederation 2013 annual conference
This conference was attended by five influential Care Makers and other NHS leaders were keen to hear about their role as ambassadors of compassionate, patient-centred care. The Care Makers were eager to talk to as many people as possible to ensure the 6Cs and Compassion in Practice message reaches the highest levels in the NHS.
Sir David Nicholson, Sir Keith Pearson, Chair of Health Education England; Jan Sobieraj, Managing Director of the NHS Leadership Academy and I were just some of the people who wanted to hear what the Care Makers had to say. The Care Makers Claire Flatt, David Smith, Matthew Bolton, Jenn Rawles and Jessica Partington also joined myself, Sir David and Marie Batey Head of Acute and Older People on the NHS England stand as well as attending workshop and speaker sessions to hear the latest strategic thinking on healthcare.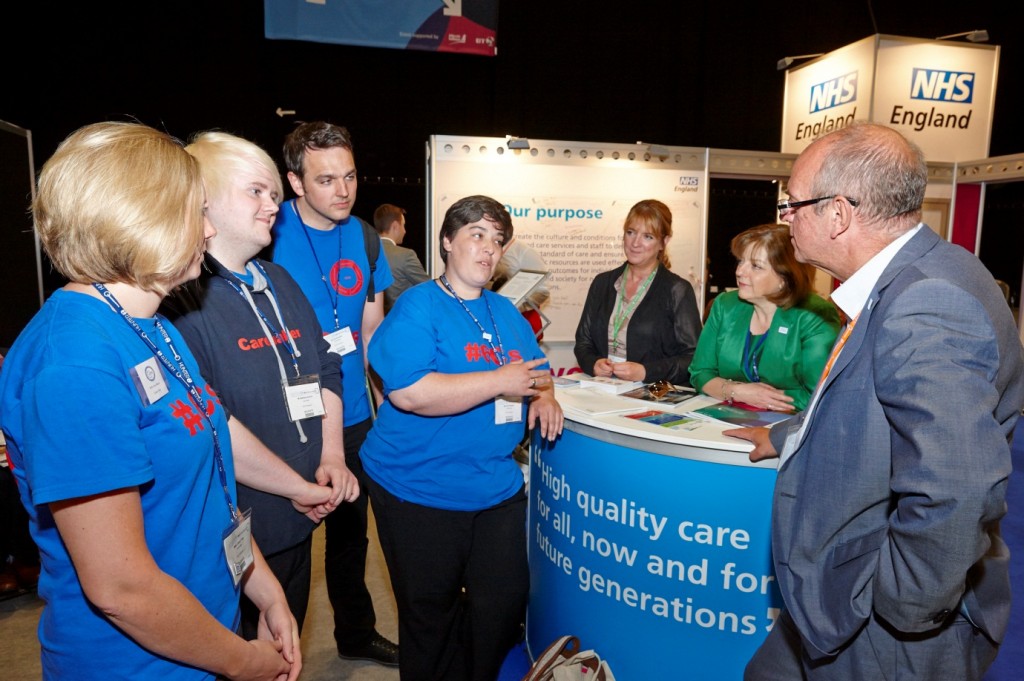 Community Nurse Development Programme
I will be leading a national two year programme for greater commissioning development and innovation in community nursing including primary care work to enable delivery of care closer to home. To be able to move care from an acute setting to home, commissioners need to have clear and robust plans for community nursing services, both now and in the future.
I will lead the programme in partnership with the Department of Health, Health Education England and the Queens Nursing Institute and we will have several key workstreams. I will update you with more detail in the next edition.
As preliminary support for this work, the Nursing Directorate at NHS England is mapping the impact of commissioning practice on community, district nursing and general practice nursing since Transforming Community Services to identify where good models of commissioning practice for this exist. Nurse commissioners can contribute to this review by contacting Stacey Mccan.
Confidential Inquiry into the deaths of people with learning disabilities (CIPOLD)
CIPOLD recognises the significant role and value of nursing in health services for those with learning disabilities and reviews care received prior to a death in hospital to support and improve achievement of high quality care. Inquiries identify contributory errors and provide evidence of good practice on avoiding premature death.
Good Practice in Learning Disability Nursing
The UK steering group for Strengthening The Commitment: The Report of the UK Modernising Learning Disabilities Nursing Review are collecting examples of good practice in learning disability nursing, demonstrating how health and social care organisations are meeting the 17 recommendations of the Review. Ministers are due to receive a progress report on the implementation of the review in the Autumn. To contribute please complete this form.
£150,000 dementia prize fund launched
Frontline health and care professionals are being invited to bid for a share of the £150,000 NHS Innovation Challenge Prize for Dementia. The competition is open to anyone working in dementia care including GPs, specialist nurses, social workers, support workers, charities and patient support groups.
£260 million technology fund to make the NHS safer
The Secretary of State for Health, Professor Sir Bruce Keogh and I have launched a £260 million Technology Fund to enable doctors and nurses to access better information about patients and provide safer care. The fund will be available to NHS providers, supporting the rapid progression from paper-based systems for patient notes and prescriptions to integrated electronic care records and the development of e-prescribing and e-referral systems.
Heatwave plan for England 2013 published
The Heatwave plan for England 2013 has been published as a joint document between NHS England, Public Health England and other partner agencies. The plan's purpose is to enhance resilience in the event of a heatwave and to describe the actions which can be taken to protect and improve health before and during such an event.
NHS Improving Quality – driving improvements
NHS Improving Quality has published a strategic intent document which includes details of the improvement programmes it is focussing on. NHS Improving Quality improve health outcomes across England by providing improvement and change expertise, building on the success of previous NHS improvement programmes. Professionals from all disciplines who would like to share their suggestions for improving quality should get in touch.
Issue of Healthcare Professional Alert Notices
NHS England has written to NHS Trust Medical Directors, Area Team Medical Directors and Regional Medical and Nursing Directors setting out interim arrangements for issuing Healthcare Professional Alert Notices. In the letter, the Secretary of State has directed the National Health Service Litigation Authority to operate the Healthcare Professional Alert Notices (HPAN) system from 1 April 2013. NHS organisations who wish to request the issue of an Alert Notice should notify the National Clinical Assessment Service (NCAS), part of the NHS LA.
New disability benefit: PIP
Personal Independence Payment (PIP) has replaced Disability Living Allowance (DLA) for people aged 16-64 on 8 April 2013. This means they can make new claims to PIP but not for DLA. The Department for Work and Pensions will start inviting existing DLA claimants to claim PIP from October 2013.  However, most existing claimants won't be affected before October 2015
Categories: Chief nursing officer bulletin • Home • News