Twitter: it is worth the effort – Clare Helm
Clare Helm, a Network Support Manager based at Quarry House in Leeds, explains how tweets are vital to helping spread the NHS message
When I tweeted a request for ideas on what to include in my first (and potentially last, dependent on how this is received!) blog a few weeks ago, I was re-tweeted to over 20,000 people  – thanks @NHSEngland, @EHealthinsider & others.
I had an amazing response offering words of support and advice on topics to cover. I hope that future blogs will incorporate many of the topics suggested.
When I asked my husband (who knows me best!) what he thought I should talk about, he was surprised I hadn't considered starting with a blog about my use of Twitter.
Several colleagues have expressed to me their hesitancy towards the use of Twitter and, therefore, I want to take this opportunity to explain why I think Twitter is such a useful tool that more NHS staff should use to connect.
I have to admit, although I am a Network Support Manager for the NHS England CCG Development team, and therefore an "expert" in networks and networking, I am still only relatively new to Twitter. Having said that, joining Twitter around 6 months ago was probably one of the most sensible moves I have made in terms of my personal and career development.
Twitter has helped me to understand the new system, how colleagues and patients are feeling and some of the steps we can take to really ensure we provide "high quality care for all, now and for future generations".
Where else can you connect with nurses, midwives, doctors, ambulance crews, CCGs, CEOs, Chairs, senior managers and most importantly patients and the public all in one week, or even one day!?
Visit my Twitter profile, @ClareHelm2, and you will see that to date I have posted or re-tweeted close to 3,000 times. Yes, I admit, this has involved quite a time commitment (with my hubby wondering what on earth I am doing most evenings!) But I can honestly say it has been well worth it.
I have made new connections with all sorts of organisations, from CCGs to voluntary sector organisations, from Health and Wellbeing Boards to my local café – yes, really, I no longer need to leave my desk to find out what the "soup of the day" is.
I know it is not quantity of followers that counts, rather than quality, but I am quite proud of my (almost) 700 followers, especially those who are an inspiration to us all such as @GrangerKate.
Kate is a doctor suffering from terminal cancer who is tweeting and blogging about her experiences as a patient. Following a stay in hospital, where she found that not every staff member introduced themselves to her, she began a campaign to raise awareness across the professions of the importance of a simple "hello, my name is…"
Since then there has been much conversation and use of #hellomynameis across Twitter, raising awareness of this small, but significant, aspect of care. Kate's amazing story is available here.
I am also absolutely in awe of @AgencyNurse who has set up such a brilliantly large network of nurses (10,000+), who undertake extremely insightful "tweet chats" every week (#WeNurses). I wonder what other networks like this we could potential develop for other healthcare professionals?
One of my most surprising connections was with another NHS England colleague, @Jessica Barlow, who is looking at how we can most effectively collate and use the wealth of information collected everyday on Twitter. I say most surprising as she sits about three rows away from me at work in Quarry House and yet we first met online.
To all those who have said to me in recent times: "I can't join Twitter, I don't have time" or "I'm too nervous to tweet as I might say the wrong thing" all I would say is this:
It is absolutely worth the effort, you get out what you put in, you don't have to tweet about absolutely everything but the more you get involved, the more connections you will make.
Someone once said to me, as long as you only tweet things which you would say to your boss and your parents you are probably fairly safe. People do like you to have opinions on Twitter but if you prefer to just "lurk" that is ok too, you will still learn.
There are so many tips I could give you about Twitter but all you have to do is join and ask around, there are plenty of people willing to condense their tips into 140 characters! Here is a helpful quick guide to Twitter from the Society for Acute Medicine.
I look forward to the day when the majority of people – both staff and patients – tweet.  At the moment it still feels like NHS staff who tweet are in the minority and this amazing tool is under-utilised. The more staff tweet, the better chance we will have of sharing the really great practice out there in the NHS and helping others to improve their service.
Please join our conversation about CCG Development using #ccgdev and follow me (@ClareHelm) and my colleagues @Rachel_CCGDev, @AWalkerNHS, @SarahPudney, @NicolaMKing, @GillRooke, @Illingworth_S, @HelenBfdCCGs
PS: I am still accepting requests for my next blog, so please tweet me your ideas.
---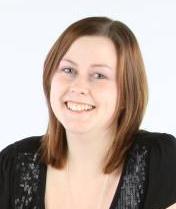 Clare Helm has been Network Support Manager within the CCG Development Team at NHS England since March 2013. She also has five years' experience working in quality improvement and clinical audit at a local and national level. She lives in Leeds with her husband and three-year-old son. In her spare time (when not tweeting) she loves to attend Zumba classes and keep up to date on reality TV.
Categories: Guest blogs • Home • News