Rolling thunder – Jane Dwelly
Ask me what Expo is and you get the elevator pitch.
I'll tell you that Expo is essential for people who feel strongly about improving health and care, it speaks to people who want to use new ideas, inspirations and technologies to make things better for patients and those who serve them. It's a talking shop, it's a big networking event, it's fun, it's lively, it's surprising (in a good way).  There's learning and real tangible take-away stuff.
It is a two-day event, in Manchester on 2 and 3 September. When it happens it's big and energetic and hard to ignore.
It will be a loud thunderclap over Manchester.
But, it's more than that. It has legs. It exists before September and lives on afterwards. Expo is a way of sharing innovation, finding those pockets of brilliance and making sure as many people as possible know about them, copy or adapt them and just make things better.
What Expo proves is that there are huge benefits to face-to-face interaction and it works because of the way we do this and the attitude of the people who share and interact and demonstrate what we are working on.
At Expo 14 we launched Camp Expo, an unconference, no agenda, led by delegates. It was good, and people liked it. It was democratic and benevolent and it felt right for the people who were there. People really understood it and dared to take the mic and talk and share. They put their vulnerability on the line and we loved them for it.
Of course, we didn't invent the unconference, and it's no surprise to me, having seen Camp Expo in action, that this method gaining currency is a way of capturing as much good stuff as possible, from the people who are actually doing it.
To get this sharing going before and after Expo we're kicking off Wild Camp Expo. Like wild camping, where you pitch your tent somewhere perfect: high on a fell or by a rushing river; Wild Camp Expos happen wherever the conditions are right. So, at team meetings, away days, another conference, a summit: Wild Camp Expos are easy to set up and run.
The first Wild Camp Expo will be at a digital health summit at the University of Salford on 7 July and there are many fully funded tickets available.
And here are the early designs for Camp Expo 15 in Manchester. We're excited: let us know what you think. Would you pitch here?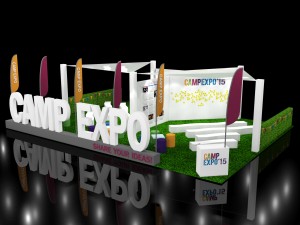 ---
Jane Dwelly is head of Health and Care Innovation Expo 2015. Previously as head of programme communications at NHS England she led the communications and marketing team for Expo 14.
Before joining NHS England, Jane was head of communications for the NHS Medical Director Bruce Keogh in the Department of Health.
Jane has led communications on a number of high-profile NHS programmes including Professor Lord Darzi's Next Stage Review in 2007/8 and the NHS Future Forum in 2011.
In the early part of her career, Jane trained and worked as a financial journalist.
Follow Jane on Twitter @janedwelly.
Categories: Blogs • Expo • Guest blogs • Home • News