Helping people to ESCAPE the misery of chronic joint pain – Michael Hurley
Professor Michael Hurley, Clinical Director for the Musculoskeletal Programme at the Health Innovation Network South London, provides an update on the work taking place to tackle chronic joint pain.
Along with many others in the musculoskeletal community, I get tired of hearing about other long term conditions which continuously feature in the headlines – both in national media and NHS policy. Poor old 'common' joint pain  – or osteoarthritis – is neither sexy nor headline-grabbing, but we all know how much it impairs the quality of life – none more so than the people who suffer it. Osteoarthritis is a major cause of suffering, physical and mental ill-health, and healthcare and socioeconomic expenditure.
At the Health Innovation Network (South London's Academic Health Science Network) we have been focusing on improving community management of osteoarthritis, or chronic joint pain, for the past couple of years. We have paid particular attention to promoting the spread of the ESCAPE-pain programme  – Enabling Self-Management and Coping with Arthritic Pain using Exercise. Visit the ESCAPE pain website or follow the conversation @escape_pain.
ESCAPE-pain is a group-based, six week rehabilitation programme which combines exercise and education. It has now been implemented at 27 sites in England, both in clinical physiotherapy departments, and in leisure centres. Participants learn how to manage chronic joint pain using exercise and coping techniques, and we have seen just how powerful the learning and interactions of the group are in changing health beliefs and increasing physical activity. The programme is both clinically and cost effective, is endorsed by NICE, QIPP and has received Best Practice Awards from the British Society of Rheumatology and Royal Society of Public Health.
We are also very pleased to be the first Academic Health Science Network to have been involved in ARMA's MSK clinical networks project, and to be supporting and participating in the MSK Knowledge Network.
Have a look at what some of the 2,000 participants who have undertaken the programme say. We are currently finalising an app that will allow many more people to access and benefit from the programme.
If you would like to find out more about ESCAPE-pain please register for the How to help people ESCAPE the misery of chronic joint pain webinar taking place on Friday 14 October at 12.00 – 13.00pm using the registration link. Once registered you will receive a calendar invite containing joining details.
You can also contact us at the Health Innovation Network Andrea.carter@nhs.net, MSK Programme Director, or visit our website.
---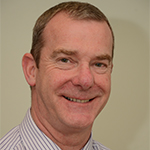 Professor Michael Hurley, Clinical Director – Musculoskeletal Programme
Health Innovation Network (Academic Health Science Network for South London)
Mike Hurley qualified as a physiotherapist in 1985. He was Lecturer, Reader and Professor in Physiotherapy at Kings College London until moving to the School of Rehabilitation Sciences at St George's University of London in 2010.
His areas of interest are devising and evaluating exercise-based rehabilitation chronic joint pain, rheumatic conditions, falls and dementia. He has conducted several large trials in primary and secondary care. He works closely with healthcare users, clinicians and commissioners to ensure the interventions developed are clinically practicable, in order to facilitate wide clinical implementation.
He has published over 65 papers. In July 2013 he was appointed Clinical Director for the Musculoskeletal Programme of the Health Innovation Network South London (an Academic Health Science Network) to promote implementation of best practice for people with musculoskeletal conditions across the twelve South London boroughs.
ESCAPE-pain is a rehabilitation programme for people with chronic knee and/or hip pain. It has an extensive evidence base that shows it is effective, cost-effective and popular, with large potential savings in healthcare. As of August 2016 it was being delivered in almost 30 centres across the UK and over 2000 people had benefitted.
Categories: Blogs • Guest blogs • Home • Long term conditions