NHS England accelerates national reviews of vital specialist services for children – Dr Jonathan Fielden
Welcome to the first of what I hope will be a series of regular blogs, keeping you updated about the progress being made in NHS England's work to secure sustainable specialist surgical and critical care services for children.
Today we have formally announced more details of our accelerated national reviews of both paediatric critical care, and specialised surgery for children.
Good progress has been made since the reviews began earlier this year, and some positive engagement has already taken place with a number of professional organisations.
It is clear that, from the discussions held so far, there is an appetite amongst those working in these service areas to engage with our review process, plus some tangible support for working collaboratively to develop workable solutions for the future delivery of services. This is very encouraging.
Reviews such as these would usually take up to two years to complete, but we are accelerating the paediatric critical care, and children's specialised surgery reviews, as both of these services are inextricably linked with another critical piece of work.
In July this year, we announced our 'minded' proposals for the future delivery of congenital heart disease services for both adults and children. We have stated from the outset that final decisions about the future of these services need to be understood in the light of any potential changes to a number of other services on which congenital heart disease care depends.
Paediatric critical care and specialised children's surgery are just two such services. Our reviews will also look at (paediatric) Extra Corporeal Membrane Oxygenation (ECMO), which delivers care to children with life-threatening respiratory and cardiac conditions, and paediatric transport – vital road and air services, which provide children with a mobile critical care service whilst transferring them between hospitals ensuring we can always get children to the right specialists at the right time.
The care currently provided by these services is good, and young lives are being saved every single day, thanks to the work of NHS staff in these areas.
However, as NHS England's Director of Specialised Services, and Deputy National Medical Director, I need to think not just about the 'now', but about the future. We need to be sure that in years to come, children are able to access high-quality, safe and effective care, in the most appropriate setting, and as close to their homes and families as possible – Care that keeps up with the ever improving evidence of how best to achieve world class outcomes.
We know that the current configuration of many of our specialist children's services varies across the country, which means that we are unable to guarantee consistent standards of care, regardless of where our patients live. We know, for instance, that children are sometimes looked after in the wrong setting, and are being treated in specialised intensive care units, when they could be treated closer to home, if there were suitable services or support in more local settings. Similarly we know that some children are transferred to specialist hospitals for surgery, when they could have their operations nearer home, if only their local acute hospital was supported in a different way.
We also know from our early discussions that there are a number of potential solutions to the problems I have outlined, and our review process will explore all of those in more detail. We will be directly engaging with colleagues who are working in these services, as well as with those patients and families who have first-hand experience of specialist children's surgery and/or critical care.
We are also establishing an Expert Stakeholder Group, which I will chair, to oversee the work. We are currently recruiting to this group, but anticipate that it will include colleagues from organisations such as the Paediatric Intensive Care Society, the Royal College of Anaesthetists, the Academy of Medical Royal Colleges, the Children's Alliance and the Royal College of Paediatrics & Child Health, as well as other key experts and representatives from patient organisations/expert users.  Membership of this group will be posted on the NHS England website shortly, but the Terms of Reference for the reviews has been published.
We expect to see some early findings from the reviews this winter, in particular regarding demand and capacity. This work will, in turn, inform the public consultation on our proposals for congenital heart disease services, which we expect to launch in mid-December.
I hope you have found this blog useful in bringing you up to date on progress so far. Over the next few weeks, my team will be developing plans for engagement with key stakeholders, as part of the service reviews. I will update you about opportunities for you to get involved in this work as soon as I can, the aim being to ensure that all children in England, their families and carers, achieve the best outcomes and experience within the resources available.
---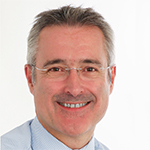 Dr Jonathan Fielden is the Director of Specialised Commissioning at NHS England. He leads the national specialised commissioning directorate within NHS England reporting to Simon Stevens and the development of the national strategy for specialised services. He also serves as a Deputy National Medical Director to Sir Bruce Keogh. Dr Fielden was previously Medical Director at University College London Hospitals NHS Foundation Trust and Royal Berkshire NHS Foundation Trust, Secondary Care Specialist and Governing Board Member at Aylesbury Vale Clinical Commissioning Group and has also worked on numerous national bodies. He is a consultant in anaesthesia and intensive care medicine by background and currently a Board Trustee at Nuffield Trust.