Joined up plans for local mental health services – Dr Jonathan Fielden
In the second of two blogs on mental health, NHS England's Director of Specialised Services, and Deputy National Medical Director, considers the 123 Local Transformation Plans and their impact on mental health services:
We are currently working closely with Claire Murdoch, NHS England's national director for mental health, on the Mental Health Services Review Programme.
This includes five CAMHS Tier 4 service specifications, as well as Adult Secure – low and medium – draft service specifications and perinatal procurement, where we are providing four extra specialist mother and baby units.
Expanding capacity in mother and baby units is a key element of NHS England's transformation programme for perinatal mental health services, as part of integrated pathways of care. This covers both the creation of new units in areas with the most severe access issues, as well as reviewing capacity in existing units.
We are aware the NHS is putting more money than ever before into children and young people's mental health.
Improving mental health for children and young people is an absolute priority for the NHS, and councils, third sector organisations, schools and social care all have a role to play in this. The additional £1.4bn – between 2016 and 2021 – is helping us to make progress on our ambition to treat 70,000 more children and young people each year by 2021.
However, to successfully transform mental health services we must look beyond organisational boundaries to join up services across primary and secondary care; not just across the NHS but the wider public sector too.  The Mental Health Taskforce was clear: mental health is everyone's business and public services must pull together across health, social care, education, employment and welfare.
The implementation plan lays out a roadmap for achieving the vision of the Five Year Forward View for Mental Health and delivering the commitments made to people who use services and the public.
This is a plan for all ages, and will be challenging for many.  It outlines the expectations of the NHS and others, sets out how national partners will work together to provide the right enabling structures and frameworks, and the support we will offer localities over the coming years.
NHS England is supporting delivery of 123 Local Transformation Plans – now linked to NHS England's 44 Sustainability and Transformation Plans – drawn up by commissioners in clinical commissioning groups (CCGs) and local authorities, children and young people, parents, carers and providers in both the statutory and non-statutory sector.
For the first time, every area of the country has a coordinated plan to improve mental health services for children and young people, supporting them to get well and stay well in the best way possible.
These local plans aim to ensure local services are transformed to meet the needs of children and young people, their families and carers.  They are all involved in the development of these plans and are encouraged and empowered to challenge where local services need to improve.
We know one in ten of all 5-16 year olds are thought to have a mental health disorder, with 50% of lifetime mental illness starting by the age of 14, and 75% by the age of 18. Investing in mental health care in early life may not only minimise the negative effects on the lives of children and their families but also save public money.
CCGs have been given an extra £149m this year, 2016-17, to drive changes to the way mental health services for children and young people are commissioned and delivered, with a further £1.08bn until March 2020. This funding is not an optional extra.  It must be focused on delivering local plans to transform the availability of mental health treatment, locally, for young people.
Equally importantly as the work we are delivering on CAMHS, is our work with Adult Secure Services. We are currently testing two new specifications for adult (low and medium) secure services – with the aim of holding a 90-day public consultation in the new year, with our partners Rethink, the Adult Secure Clinical Reference Group and colleagues from NOMS (Named Offender Management Service) at Ministry of Justice supporting us.
If you aren't familiar with this work, I encourage you to get involved.
---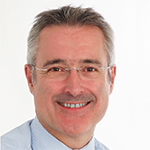 Dr Jonathan Fielden is the Director of Specialised Commissioning at NHS England.
He leads the national specialised commissioning directorate within NHS England reporting to Simon Stevens and the development of the national strategy for specialised services. He also serves as a Deputy National Medical Director to Sir Bruce Keogh.
Dr Fielden was previously Medical Director at University College London Hospitals NHS Foundation Trust and Royal Berkshire NHS Foundation Trust, Secondary Care Specialist and Governing Board Member at Aylesbury Vale Clinical Commissioning Group and has also worked on numerous national bodies.
He is a consultant in anaesthesia and intensive care medicine by background and currently a Board Trustee at Nuffield Trust.
Categories: Guest blogs • Home • Mental health • News