Board members bring a range of complementary skills and experience in areas such as finance, governance and health policy.
NHS England non-executive directors
NHS England's current non-executive directors are:
Chair
Lord David Prior
Lord Prior was educated at Cambridge University and subsequently qualified as a barrister. He trained in finance at Lehman Brothers and Lazard Freres in New York before holding a number of senior positions within the industrial sector, including British Steel, where he was Commercial Director. He was elected MP for North Norfolk in 1997.
He served as Chairman of Norfolk and Norwich University Hospitals NHS Foundation Trust from 2002 – 2012 before becoming Chairman of the Care Quality Commission.
In 2015, he was appointed Parliamentary Under Secretary of State for Health and created a Life Peer. In December 2016, he was appointed as Parliamentary Under Secretary of State at the Department of Business, Energy and Industrial Strategy, with specific responsibility for developing industrial strategy. He stepped down from this role in December 2017 to become Chairman of University College London Hospitals.
He is a Commissioner of the UCL Institute for Innovation and Public Purpose Commission on Mission-Orientated Innovation and Industrial Strategy (MOIIS), is a member of the BEIS Industrial Strategy Implementation Group and a Senior Advisor to Lazard.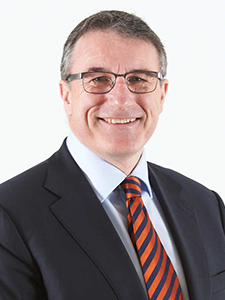 Non-executive Director, Vice-Chair
David Roberts, CBE
David Roberts is the Chairman of Nationwide Building Society and Beazley plc. From 2010 to 2014 he was on the Board of Lloyds Banking Group, where he was Group Deputy Chairman and Chairman of the Board Risk Committee.
David has many years of experience at board and executive level in retail and commercial banking in the UK and internationally.  He joined Barclays in 1983 and held various senior management positions culminating in Executive Director, member of the Group Executive Committee and Chief Executive, International Retail and Commercial Banking, a position he held until December 2006.
He is a former Non-Executive Director of BAA plc and Absa Group SA, and was Chairman and Chief Executive of Bawag PSK AG, Austria's second largest retail bank. David has a degree in Mathematics from Birmingham University and holds an MBA and Honorary Doctorate in Business Administration from Henley Business School.
He is a fellow of the Chartered Institute of Financial Services and a Member of the Strategy Board of Henley Business School at the University of Reading.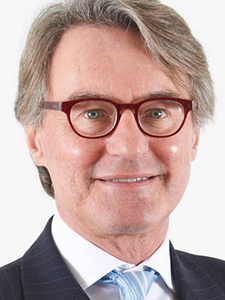 Non-executive Director
Noel Gordon
Noel is a non-executive director of NHS England and Chair of Healthcare UK's Advisory Board. He was formerly Chair of NHS Digital, a member of the Life Sciences Industrial Strategy Board, the Accelerated Access Review and Chair of NHS England's Specialised Services Commissioning Committee.
Previously an economist and a banker, Noel spent most of his career in consultancy. He was Global Managing Director of the Banking Industry Practice at Accenture from1996 until his retirement in 2012 and before that a partner in Booz Allen and Hamilton based in both London and New York.
He has extensive practical experience of restructuring complex organisations across technology and business cycles and driving fundamental innovations in transforming industries through big data, analytics, mobile and digital technologies.
Non-executive Director
Joanne Shaw
Joanne Shaw joined the board in October 2016. She is a qualified accountant and has chaired the audit committees of the NAO and the Money Advice Service. Her experience in the health sector includes: urgent care; commissioning; remote and digital health assessment, advice and information; medicines; and prevention. She currently sits on the board of Vitality Health.
As past chair of NHS Direct, Joanne has a strong interest in the use of mobile and digital channels for health and medicines. In her professional roles and in her writing for health publications she is known for advocating partnership between patients and health professionals and supporting people to make better-informed choices about their health.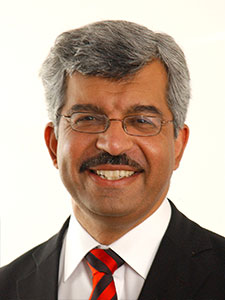 Non-executive Director
Sir Munir Pirmohamed
Professor Sir Munir Pirmohamed is currently David Weatherall Chair in Medicine at the University of Liverpool, and a Consultant Physician at the Royal Liverpool University Hospital.  He is Director of the MRC Centre for Drug Safety Sciences, and Director of the Wolfson Centre for Personalised Medicine. He is also an inaugural NIHR Senior Investigator, and Fellow of the Academy of Medical Sciences in the UK. He is also Commissioner on Human Medicines for the MHRA. He has authored over 500 peer-reviewed publications, with research focusing on genomic and non-genomic technologies that can be developed and used to progress the field of personalized medicine in an evidence-based, cost-effective and equitable manner.
Non-executive Director
Professor the Lord Ara Darzi of Denham
Professor Darzi is Director of the Institute of Global Health Innovation at Imperial College London. He also holds the Paul Hamlyn Chair of Surgery at Imperial College London, and the Institute of Cancer Research and is Executive Chair of the World Innovation Summit for Health in Qatar. He is a Consultant Surgeon at Imperial College Hospital NHS Trust and the Royal Marsden NHS Trust.
Professor Darzi leads a large multidisciplinary team across a diverse and impactful portfolio of academic and policy research. His work drives the identification, development and adoption of innovation across international healthcare systems and champions high quality care. He has published over 950 peer-reviewed research papers to date and has developed his status as a leading voice in the field of global health policy and innovation. In recognition of his achievements, Professor Darzi was elected a Fellow of the Academy of Medical Sciences, an Honorary Fellow of the Royal Academy of Engineering, a Fellow of the Royal Society and most recently, a foreign associate of the Institute of Medicine.
He was knighted for his services in medicine and surgery in 2002. In 2007, he was introduced to the United Kingdom's House of Lords as Professor the Lord Darzi of Denham and appointed Parliamentary Under-Secretary of State at the Department of Health to lead a major review of the NHS, which culminated in the publication of his report, 'High Quality Care for All: NHS Next Stage Review', in 2008. Upon relinquishing this Ministerial role in 2009, Professor Darzi was appointed by the Prime Minister as the United Kingdom's Global Ambassador for Health and Life Sciences until March 2013. He currently sits as a Council Member for the UK's Engineering and Physical Sciences Research Council and has been a member of Her Majesty's Most Honourable Privy Council since June 2009. In January 2016, Professor Darzi was awarded the Order of Merit by Her Majesty the Queen for exceptionally meritorious service towards the advancement of medicine.
NHS England executive directors
NHS England's Executive Group are: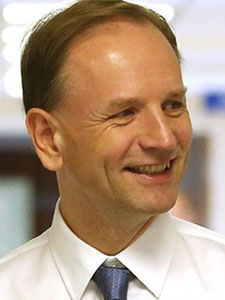 NHS Chief Executive
Sir Simon Stevens
Simon Stevens is Chief Executive Officer (CEO) of NHS England, which leads the NHS' work nationally to improve health and ensure high quality care for all. He is also accountable to Parliament for the NHS' £120 billion of annual funding.
Simon joined the NHS through its Graduate Training Scheme in 1988. As a frontline NHS manager he subsequently led acute hospitals, mental health and community services, primary care and health commissioning in the North East of England, London and the South Coast. He also served seven years as the Prime Minister's Health Adviser at 10 Downing Street, and as policy adviser to successive Health Secretaries at the Department of Health.
Simon also spent a decade working internationally at UnitedHealth Group, including as its Medicare CEO and as president of its global health division, leading health services in the United States, Europe, Brazil, India, China, Africa, and the Middle East.
Simon was born in Birmingham, and was educated at Balliol College, Oxford University; Strathclyde University, Glasgow; and Columbia University, New York where he was Harkness Fellow at the New York City Health Department. He is married with two school-age children, and volunteers as a director of the Commonwealth Fund, a leading international health charity. He has also been a trustee of the Kings Fund and the Nuffield Trust, visiting Professor at the London School of Economics and a local councillor for Brixton in South London. He is an honorary fellow of The Royal College of General Practitioners and holds an honorary doctorate from The University of Birmingham.
NHS Chief Operating Officer
Amanda Pritchard
Amanda Pritchard is the NHS' Chief Operating Officer (COO). The NHS chief operating officer post is directly accountable to the NHS chief executive Simon Stevens, and serves as a member of the combined NHS England/NHS Improvement national leadership team.
The COO oversees NHS operational performance and delivery, as well as implementation of the service transformation and patient care improvements set out in the NHS Long Term Plan. The COO is also accountable to the NHSI Board as NHS Improvement's designated accountable officer with regulatory responsibility for Monitor.
Amanda was previously Chief Executive of Guy's and St Thomas' NHS Foundation Trust from January 2016 to July 2019, having been Acting Chief Executive since October 2015. Prior to that she served as Chief Operating Officer at the trust for three and a half years.
Amanda joined Guy's and St Thomas' from Chelsea and Westminster NHS Foundation Trust where she spent six years as Deputy Chief Executive having previously held a variety of senior strategic and operational management roles there, including Director of Strategy and Service Development. Amanda joined the NHS through its graduate management training scheme in 1997 and has held a variety of other NHS management positions since then. She has also served as health team leader in the Cabinet Office's delivery unit.

National Medical Director
Professor Stephen H Powis
Stephen Powis is the National Medical Director of NHS England and Professor of Renal Medicine at University College London.
Previously he was Medical Director (and latterly Group Chief Medical Officer) of the Royal Free London NHS Foundation Trust from 2006 to 2018. Professor Powis was also a member of the governing body of Merton Clinical Commissioning Group for five years and a Director of Healthcare Services Laboratories LLP. He is a past Chairman of the Association of UK Universities (AUKUH) Medical Directors Group and has been a member of numerous national committees and working groups, including the Department of Health Strategic Education Funding Expert Group. He is a past non-executive director of the North Middlesex University Hospital NHS Trust, including a period of eight months as acting chairman.
He is a past chairman of the Joint Royal Colleges of Physicians Training Board (JRCPTB) Specialty Advisory Committee (SAC) for Renal Medicine and a former board member of Medical Education England. He was Director of Postgraduate Medical and Dental Education for UCLPartners from 2010-13.
He is a past treasurer and trustee of the British Transplantation Society and a former member of the UK Transplant Kidney Pancreas Advisory Group. He has also served as a member of the Renal Association Executive Committee. He was Editor of the journal Nephron Clinical Practice from 2003 to 2008. In 2017 he became the inaugural Editor-in-Chief of the journal BMJ Leader. He has been a trustee of several charities, including the Royal Free Charity and the Healthcare Management Trust.
Chief Nursing Officer, England
Ruth May
Ruth is the Chief Nursing Officer for England and an executive / national director at NHS England and NHS Improvement. She is also the national director responsible for infection prevention and control.
Ruth was appointed following her roles as Executive Director of Nursing at NHS Improvement, which commenced in April 2016, and Director of Nursing at Monitor, the healthcare sector regulator.
Prior to joining Monitor, she was Regional Chief Nurse and Nurse Director for the Midlands and East region of NHS England, where she championed the 'Stop the Pressure' campaign, which nearly halved the number of pressure ulcers in the region, improving care for patients, as well as delivering cost savings to the NHS.
Ruth is passionate about nurturing the next generation of NHS nursing, midwifery and AHP leaders, encouraging professional development opportunities and working across the health system to put in place the optimal cultural conditions for all NHS employees to thrive. This includes advocating for improved mental health awareness in the workplace, championing volunteer activity to support the frontline workforce and being a vocal supporter of the WRES agenda and increased diversity across the NHS.
Ruth began her career with a variety of nursing roles before becoming a theatre sister at Frimley Park Hospital. She was Acting Director of Nursing at Barnet Hospital before being appointed the substantive Director of Nursing and Deputy Chief Executive with Havering Primary Care Trust.
In October 2005, she became Chief Executive of The Queen Elizabeth Hospital, King's Lynn, a post she held for two years. She has also been Chief Executive of Mid-Essex Hospital Services NHS Trust.
Chief Financial Officer
Julian Kelly
Prior to joining the NHS Executive Group, Julian was Director General Nuclear, leading the Defence Nuclear Organisation at the Ministry of Defence.
Previously he was Director General of Public Spending and Finance at HM Treasury, and has held a number of other senior roles including with the UK Border Agency, and in the private sector with HSBC.
He is a qualified chartered accountant and member of Chartered Institute of Management Accountants (CIMA).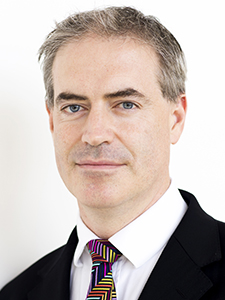 National Director: Strategy and Innovation
Ian Dodge
Ian Dodge joined NHS England in July 2014. His directorate leads the organisation's work on: NHS strategy; sustainability and transformation; planning and implementing the Five Year Forward View; vanguards and the new care models programme; giving power to patients through personalisation and choice; commissioning strategy and development; and prioritising science and innovation.
Ian was Director of the NHS Group and Head of Policy Profession for the Department of Health. In 2005/06 Ian was the Prime Minister's senior adviser on the NHS. Ian is currently an Adjunct Professor at the Institute of Global Health Innovation, Imperial College, London.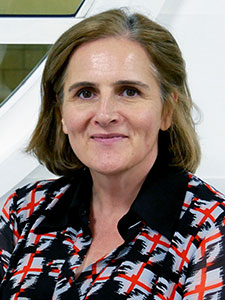 Chief Commercial Officer
Dr Emily Lawson
Emily Lawson joined NHS England in November 2017. Her directorate has a range of enabling corporate functions which support the effectiveness and efficiency of NHS England. These functions include leading the transformation agenda for the organisation; people, workforce and organizational development capabilities; internal communications; corporate planning functions; bespoke programme delivery; corporate ICT and Estates. In addition, her directorate is responsible for managing a number of key relationships and externally delivered services, such as the HR and OD Shared Service, Occupational Health and working with NHS Property Services.​
A Molecular Geneticist by background, Emily has recently led a number of large-scale organisational transformations, most recently with Morrison's. Before this, she worked with McKinsey for 14 years. Emily is also a steering committee member of the 30% club, which aims to increase representation of women on UK plc boards, and to research and support greater diversity in the UK and global institutions.