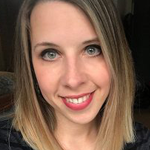 @NHS from 3/07/17 to 7/07/17
Twitter Handle: @abbiesbrooks
Job title: GP
Place of work: Priory Medical Group, York (Vale of York CCG)
I am a 6 session salaried GP and mum of two little ones working in a large practice across York. I trained at the newly opened Hull York Medical School and then went on to foundation and GP training locally. I chose general practice as I love the varied nature of the job along with the ability to really build relationships with our patients and their families. When I started in general practice I never imagined I'd work for a larger practice, but being a trainee with Priory really opened my eyes to the benefits for staff and patients alike.
Outside of family life and medicine I love films and TV, I would call myself a bit of a geek in that sense.  I am an identical twin; I have three sisters who I love spending time with, despite them all living in different corners of the country. Life is hectic looking after the little ones, my husband and my patients, so I try to squeeze in some me-time usually going to cinema with friends. I have recently taken up running, am definitely still a novice but I am enjoying the escape! I am currently trying to build up to 10k as signed up for the York 10k in August. Team Priory is entering three teams for the York team marathon in October too. Wish us luck!!
My work related interests include women's health, mental health and more recently IBS and its management. I am involved in various working groups; helping to set up a new urgent care system, leading a new anticoagulation/warfarin service and leading our local Significant Event meetings. Every day I see such a wide variation of conditions and presentations, we look after a lot of social issues as well as medical illness which can be a real challenge but no two days are ever the same. I am keen to get more involved with medical education over the coming years, we are lucky to have an excellent local medical school and teaching hospital.
Relevant links