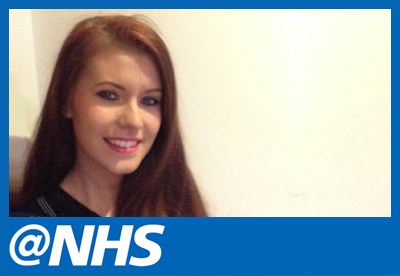 @NHS from 11/09/17 to 15/09/17
Job title: Carer and NHS Health Champion
Twitter: @Camillaball_94
Before becoming a Health Champion for the NHS I worked with a successful local legal firm, gathering experience in criminal law and family law, where I became the Crown Court and Magistrates Clerk. During this time, my mum fell ill with multiple sclerosis, closely followed by significant mental ill health. As a result of her health conditions, my Mum became reliant on alcohol as a coping mechanism.  This meant that I gave up her work within the legal profession to focus on providing care for my mum.
Through my experience as a carer, I became involved with a local charity that supports unpaid carers, Blackpool Carers Centre. Each year the charity employs a Young Carers Champion for 12 months employment. I was successful in applying for this post and this opportunity has led to further employment opportunities within the organisation that is close to my heart. I am now responsible for facilitating respite activities for Young Carers and champion Young Carers across the nation by sharing my experiences with others.
I'm truly passionate about creating a better life for unpaid carers across the nation. I am dedicated to voice the opinions of young people, especially views and opinions related to health. I'm keen to raise awareness of the impact a caring role can have on the health and well being of the carer and create solutions to alleviate this in future. I'm also dedicated in ensuring that Young Carers are better equipped with knowledge of the health needs of the cared for to ensure they are better able to manage and reduce the negative aspects of their caring role.
Relevant links