Ilan Ben-Zion, Clinical Psychologist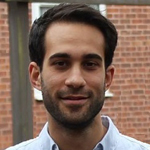 @NHS from 14/08/17 to 18/08/17
Job title: Clinical Psychologist
Place of work: Monday-Wednesday (St Pancras Rehabilitation Unit – Inpatient Wards), Thursday-Friday (Hertfordshire Neurological Service – Community team – Outpatients)
Twitter: @drilanbz
Hi! I'm Ilan and I'm a Clinical Psychologist. For those of you who don't know what that is, I hope you will by the end of my week running the @NHS account!
I feel very privileged to be able to say I love what I do and always have, ever since I started volunteering for ChildLine in 2007. Following this, I've had experience working with a wide variety of individuals including children, young people, adults, older adults, military personnel, individuals with learning disabilities, neurodevelopmental disorders and neurological conditions.
Currently, I'm based across two teams, one at St Pancras Rehabilitation Unit, where we support individuals to recover from various difficulties from strokes and brain injuries, to falls and occasionally unknown conditions. In my other post, I work at Hertfordshire Neurological Service where we see individuals as outpatients in order to support them with a variety of neurological conditions such as Multiple Sclerosis, Parkinson's Disease and strokes.
Away from my work, I'm an avid sports fan. I love to play and watch a variety of sports, and employ many of the skills I help others develop whilst watching my frustrating team, Arsenal, play football. I am very close to my mum, dad, sister, two brothers, nephew and brother in law, as well as my amazing 96 year old(!) grandma and cousins. Aside from all this, I still manage to spend plenty of time with my friends and if not spending time with them, I can often be found messaging them! My party trick is being able to get my leg over my head, and was most recently demonstrated at a leadership away day with one of the teams I work within. They were very impressed.
Finally, I wanted to add that I feel fortunate to work for what I believe to be the greatest organisation in the world, the NHS, and look forward to sharing my week with you.
Relevant links