Buckinghamshire Integrated Care System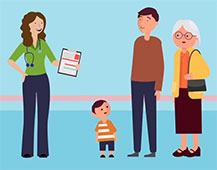 Buckinghamshire integrated care system is part of the wider Buckinghamshire, Oxfordshire and Berkshire West sustainable transformation partnership (STP). The partners include:
NHS Buckinghamshire Clinical Commissioning Group (CCG) (previously Aylesbury Vale and Chiltern CCGs);
Buckinghamshire Healthcare NHS Trust;
Oxford Health NHS Foundation Trust;
South Central Ambulance Service NHS Trust;
Buckinghamshire County Council;
FedBucks GP federation.
The health and life expectancy of the population of 534,000 in Buckinghamshire is generally better than the England average. However, in the most deprived areas people will die on average up to 5.4 years earlier than those in the least deprived areas. The population is expected to grow by 12 per cent by 2030 (with increases of 39 per cent in people aged 65+ and 78 per cent aged 85+). Unhealthy lifestyles present a major challenge for the population's health and future demand for services.
The vision
The Buckinghamshire integrated care system is committed to creating 'one Buckinghamshire, one integrated health and care system', working together under the banner of 'Your community, your care: Developing Buckinghamshire together'. This will be delivered through more joined-up care close to home, making it easier for people to get urgent care when they need it, improving and simplifying care for diabetes and musculoskeletal problems, improving access to mental health services and improving the prevention, diagnosis and treatment of cancer.
What this means for local people
Services will provide better care with easier access, helping people to stay healthier;
Individuals will be more able to manage their own conditions and plan their care, with an increased emphasis on promoting good health;
The right care will be delivered at the right time and in the right place – often closer to people's homes and out of hospitals;
After hospital treatment, patients will be supported to recover at home or as close to home as possible;
Local teams will bring together the expertise of health and care professionals to cater for people's physical, social and mental health needs, especially those with high levels of need and long-term conditions;
It will be easier for staff to work together, with more local control and freedom to make decisions, and extra support to go further and faster in improving services;
Staff will have opportunities to develop professional skills through working in a range of settings.
The changes being made
Case study
Over 75s community nursing project
The over 75s community nursing project involves delivering appropriate care interventions for older patients before they hit a crisis, to prevent unnecessary hospital admissions and support them to maintain their independence. The service includes:
A trusted first point of contact to reassure elderly people and link with other services
A nurse who is knowledgeable about the normal ageing process and disease progression who can identify areas of concern or challenge within physical, functional, psychological, social, environmental and financial aspects of an individual's health and welfare
A local community resource to integrate with other service providers including health, social and voluntary care, family and carers
Improved medicines management and advanced care planning for end of life
Achievements so far include:
Increased referrals to memory clinic services
A 54 per cent reduction in A&E attendances
Average length of hospital stay of 9.2 days (national average is 10 days)
Find out more about the changes being made locally to deliver their vision.
Looking ahead
Find out about the projects that will be happening in 2018/19 to help the integrated care system deliver on its ambitions.
Contact
You can get in touch with the integrated care system in the following ways: