Assessment, monitoring and management of symptomatic COVID-19 patients in the community
Contents
Classification: Official
Publication approval reference: C1514
Version 3, 28 June 2022
Context
This guidance has been developed to support frontline clinicians with the assessment, monitoring and treatment of patients who present to general practice with symptomatic COVID-19.
There may be local variation in the pathways to access community monitoring and therapeutics. This guidance aims to provide a high-level overview on which patients are eligible, as well as information on how to support your patients to access these interventions.
Adult primary care COVID-19 assessment pathway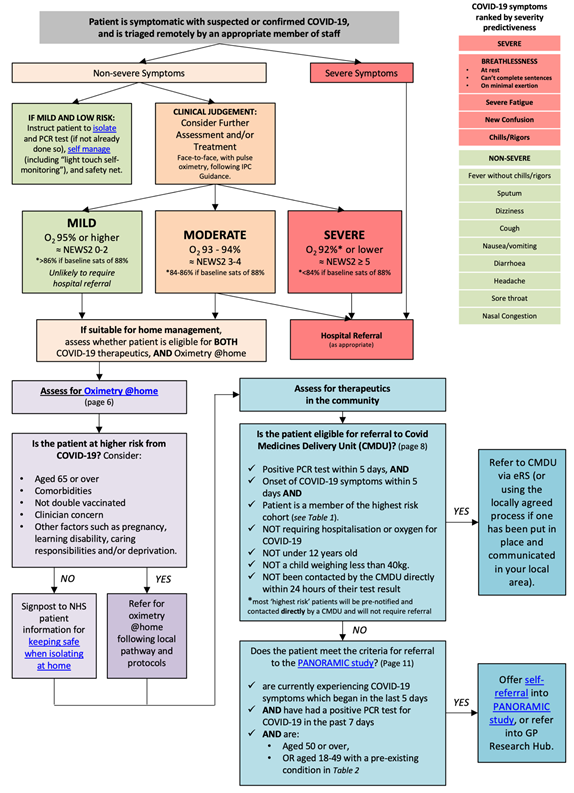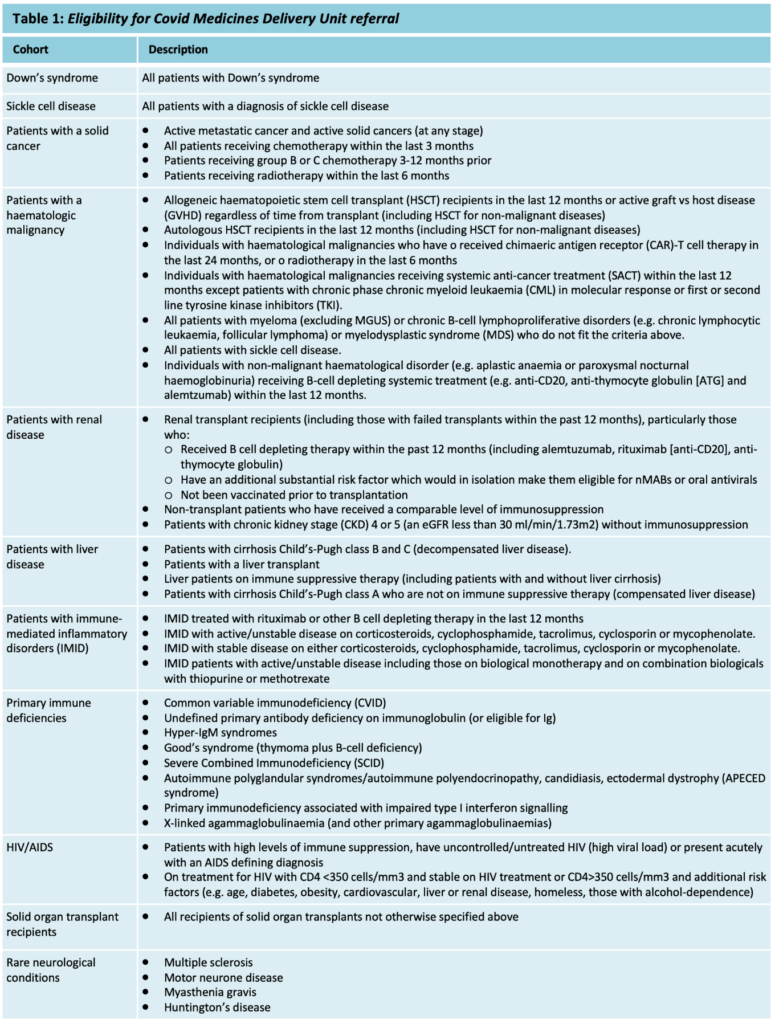 This table was correct at the time of publication. The latest information can be found here.
Table 2: Eligibility for PANORAMIC study
All patients aged 50 or over OR
Patients aged 18-49 with one of the following:

Chronic repiratory disease (including chronic obstructive pulmonary disease (COPD), cystic fibrosis and asthma requiring at least daily use of preventative and /or reliever medication)
Chronic heart of vascular disease
Chronic kidney disease
Chronic liver disease
Chronic neurological disease (including dementia, stroke, epilepsy)
Severe and profound learning disability
Down's syndrome
Diabetes mellitus (Type I or Type II)
Immunosuppression: primary (e.g. inherited immune disorders resulting from genetic mutations, usually present at birth and diagnosed in childhood) or secondary due to disease or treatment (e.g. sickle cell, HIV, cancer, chemotherapy)
Solid organ, bone marrow and stem cell transplant recipients
Morbid obesity (BMI >35)
Severe mental illness
Care home resident
Considered by recruiting clinician to be clinically vulnerable
This table was correct at the time of publication. The latest information can be found here.
COVID Oximetry @home monitoring
[Further info: https://www.england.nhs.uk/coronavirus/publication/novel-coronavirus-covid-19-standard-operating-procedure-covid-oximetry-home/
As per the flowchart on page 3, patients who are at higher risk and are well enough to be managed at home should be considered for COVID Oximetry @home (CO@h).
Pulse oximetry can help with earlier detection of silent hypoxia, where people have low oxygen levels in the absence of significant shortness of breath. This is intended to help reduce mortality, ensure timely hospital treatment, and potentially free up critical care beds.
The COVID Oximetry @home pathway should be available to people who are:
Diagnosed with COVID-19: either clinically or positive test result AND
Symptomatic AND EITHER
Aged 65 years or older OR
Under 65 years and at higher risk from COVID-19, or where clinical judgement applies considering individual risk factors such as pregnancy, vaccination status, learning disability, caring responsibilities and/or deprivation. Further information about clinical judgement can be found on our website.
Pregnant women being referred to a COVID Oximetry @home service should also be asked to contact their maternity team for specific advice around pregnancy and COVID-19.
These criteria were correct at the time of publication. The latest information can be found here.
COVID Oximetry @home is a self-monitored and self-escalated pathway, unless there is a clinical need for additional support. Patients are provided with a pulse oximeter, and a supporting pack including instructions on self-monitoring, and clear guidance on safety netting and escalation.
General practices should have received information on how to refer patients for COVID Oximetry @home from their local commissioner. If it is unclear how to refer patients to this service, please contact your local commissioner.
For those patients in whom a self-monitored pathway is not clinically deemed to be sufficient, a referral to local COVID Oximetry @home services providing proactive telephone calls to support patient monitoring should be considered.
Please note that all patients who are eligible for COVID-19 therapies should also be considered for COVID Oximetry @home monitoring as they are in high-risk groups
COVID-19 treatments
As per the flowchart on page 3, the highest risk patients with mild to moderate symptoms should be considered for treatment with new antibody and antiviral treatments if they are within five days of symptom onset.
Two types of COVID-19 treatments are available:
Neutralising monoclonal antibodies (nMABs) usually given by infusion or injection in a local hospital or health centre.
Oral antiviral treatment – currently molnupiravir (Lagevrio) in capsule form that can be taken at home.
Patients who are eligible for these treatments should be referred to COVID-19 medicines delivery units (CMDUs). The full list of eligible patient criteria is here.
Patients who are not eligible for COVID-19 treatments could be eligible for the PANORAMIC trial.
The detailed policy can be found here.
CMDUs
Most of the highest risk patients have received a letter or email telling them in advance they may be eligible for these treatments in the event they test positive for COVID-19. They should also have lateral flow tests to keep at home.
Patients can demonstrate coronavirus infection via a positive lateral flow test result that has been registered via gov.uk or 119. If a patient was previously sent a PCR test kit they can keep it, but are being asked not to use it for routine testing. They might instead be asked to use the test as part of surveillance arrangements following treatment.
Many 'new entrants' to cohorts (e.g. new diagnoses of multiple sclerosis) will be made aware of the policy via their hospital specialists and will be able to request lateral flow tests. If you become aware of eligible patients who have not yet received an initial supply of test kits, please encourage them to request a supply via gov.uk or 119.
Each integrated care system (ICS) has established one or more local CMDUs to roll out nMABs or antivirals as a treatment for COVID-19. Your local ICS will be able to advise you of the site of the local CMDU(s).
There are two routes by which eligible patients may access treatment:
NHS outreach: In the event of a positive registered lateral flow, a local CMDU will contact the majority of patients directly to discuss the treatment and confirm eligibility. The CMDU will arrange treatment if appropriate.
Patient in-reach: A small proportion of registered lateral flow results cannot be matched to a patient's health record. We are encouraging patients not contacted directly by the NHS within 24 hours of a positive registered lateral flow result to phone their GP practice (in hours) or 111 (out of hours) for an urgent referral to a CMDU. GPs and 111 can refer these patients to CMDUs via eRS (or the locally agreed alternative if applicable). GP practices will not need to prescribe treatment; only refer.
GP practice teams can still refer potentially eligible patients if they have tested positive for COVID-19. COVID-19 treatments must be delivered quickly following symptom onset. Practices and 111 should use the clinical policy document to help identify if a symptomatic patient is potentially eligible. GP teams should check the patient meets the criteria for referral. The CMDU will confirm eligibility and discuss treatment options.
Therefore, if you are assessing a patient who is at highest risk (as listed in table 1 on page 4), has not been contacted by a CMDU, and meets the criteria for referral below, you should refer to a CMDU. If your area is using eRS to refer patients to CMDUs, we have asked commissioners that their CMDU services are listed in the infectious diseases specialty, under a non-specific ("not otherwise specified") clinic type, but to include in the service name, the words 'COVID-19 medicine delivery unit (CMDU)'. Some services may have been established with the service name 'COVID MABS delivery unit (CMDU)'.
Referral criteria for CMDU:
Positive PCR test within 5 days, AND
Onset of COVID-19 symptoms within 5 days AND
Patient is a member of the highest risk cohort (listed in table 1 on page 4)
NOT requiring hospitalisation or oxygen for COVID-19
NOT under 12 years old
NOT a child weighing less than 40kg
These criteria were correct at the time of publication. The latest information can be found here.
The main message for everyone is that vaccination is key and is still the mainstay of protecting people against COVID-19.
The next page contains a flowchart that displays the system-wide routes into CMDUs, with the general practice-relevant steps highlighted.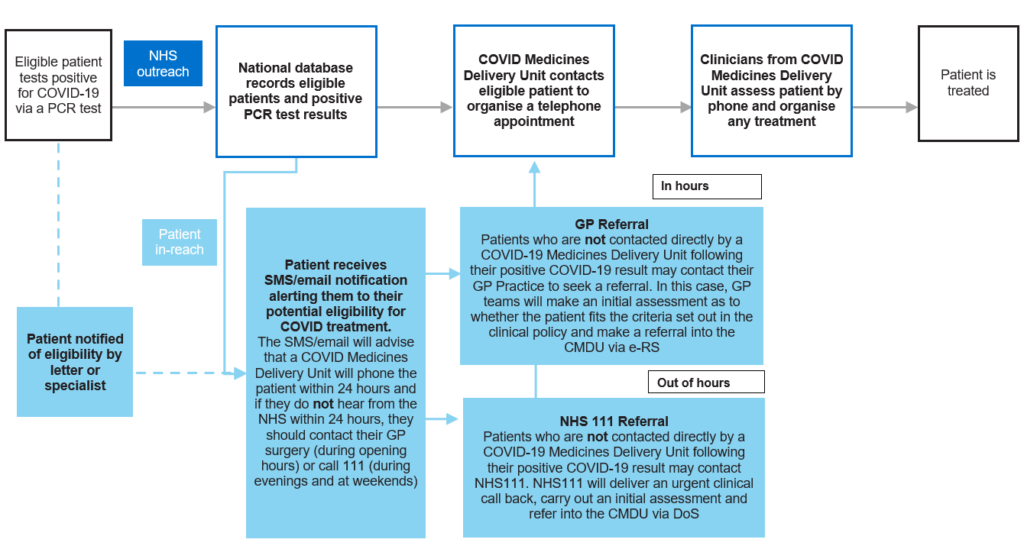 PANORAMIC study
[Further info: https://www.panoramictrial.org/]
PANORAMIC is a UK-wide clinical study to discover whether new antiviral treatments for COVID-19 in the community reduce the need for hospital admission, and reduce illness duration.
It is open to patients who:
are currently experiencing COVID-19 symptoms which began in the last 5 days
AND have had a positive PCR test for COVID-19 in the past 7 days
AND are:

Aged 50 or over,
OR aged 18-49 with a pre-existing condition listed in table 2 on page 5.

Note this study is not open to patients who are pregnant, or who require hospitalisation for COVID-19.
These criteria were correct at the time of publication. Live information can be found here.
Patients who are referred to the PANORAMIC study have a 50% chance of receiving an antiviral treatment (molnupiravir).
GPs are encouraged to support eligible patients with enrolling on the PANORAMIC study in one of two ways:
Through signposting to online self-referral.
Through referring into a local GP Research Hub.
GPs must not prescribe molnupiravir. Community pharmacies will not have access to any stocks of molnupiravir at this stage, and therefore patients will not be supplied with the medicine. Please therefore support eligible patients to access the PANORAMIC study through the methods outlined above.
Additional resources
Clinical Assessment
Patient-facing Resources
COVID @home Monitoring
COVID-19 Therapeutics
IPC and Isolation Guidance