Interim Clinical Commissioning Policy: Therapies for patients with symptomatic hospital-onset COVID-19 – clinical guide
UK Interim Clinical Commissioning Policy
Therapies for patients with symptomatic hospital-onset COVID-19
Consider access to this clinical pathway under the following conditions:
Hospitalised for indications other than for the management of acute symptoms of COVID-19
Onset of symptoms of COVID-19 within the last 5 days (for PF-07321332/ritonavir* and sotrovimab) or 7 days (for remdesivir),  remains symptomatic and with no signs of clinical recovery
SARS-CoV-2 infection is confirmed by either PCR or lateral flow test
The patient is a member of a 'highest' risk group (see page 2) OR COVID-19 infection presents a material risk of destabilising a pre-exist condition or compromising recovery from a procedure (as determined by MDT assessment)
The patient is not requiring new supplemental oxygen specifically for the management of COVID-19 symptoms.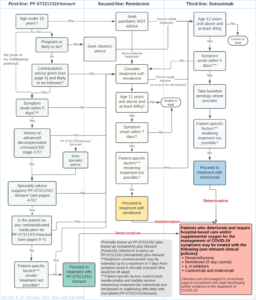 Clinical Guide: The 'highest risk' cohort for access to treatment
The following cohorts were determined by an independent advisory group commissioned by the Department of Health and Social Care (DHSC). Patients in these cohorts are determined to be at highest risk of adverse outcomes from COVID-19 and are to be prioritised for treatment with nMABs and antivirals.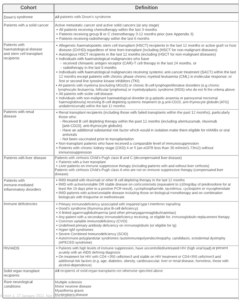 Clinical Guide: The 'highest risk' cohort for access to treatment
Use this guide to assist in decision making on which therapeutic option to use:
Three products have relative risk reduction of reducing hospitalisation: PF-07321332/ritoniavir, remdesivir; and sotrovimab
Molnupiravir has a substantially lower level of efficacy – reserve when the others cannot be used
Medicines availability will be monitored nationally and regionally, so unless otherwise directed do not consider supply issues in your decision making.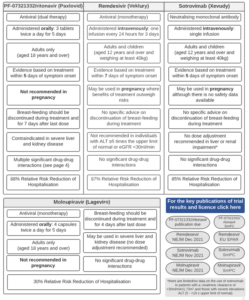 Clinical Guide: Specialty advice for 'highest-risk' cohorts
Specialty-specific advice on the management of patients within each of the highest-risk cohorts (particularly around the use of PF-07321332/ritonavir) may be found in the table below. Contact your local specialist team for further guidance on issues not covered by this advice.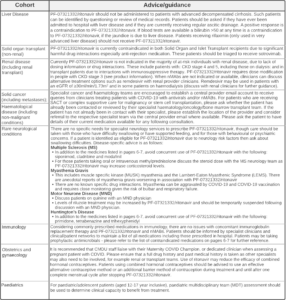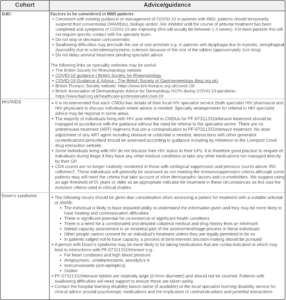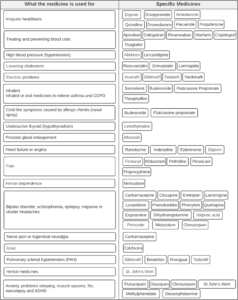 Clinical Guide: Medicines where PF-07321332/ritonavir is NOT an appropriate option
These tables show where the medicines are contraindications with PF-07321332/ritonavir and cautions that are not easily managed. If a patient is currently prescribed any of these medicines, then PF-07321332/ritonavir is NOT a treatment option. Please refer to SPS Guidance here.