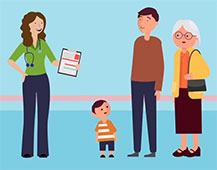 Dorset's integrated care system, known locally as 'Our Dorset' has evolved from years of partnership working to improve services. The partnership includes:
Dorset Clinical Commissioning Group
Foundation trusts: Dorset County Hospital, Poole Hospital, The Royal Bournemouth and Christchurch Hospitals, Dorset Healthcare University and South Western Ambulance Service
Bournemouth Borough Council, Borough of Poole Council and Dorset County Council
Public Health Dorset
The population of some 787,000 is expected to grow to above 800,000 by 2023, with between 20 and 30 per cent aged over 70. 7.8 per cent of the population live in the most deprived areas of England and life expectancy for men varies by more than 11 years. More people are living longer with long-term conditions.
The vision
'Our Dorset' wants to change the system to provide services to meet the needs of local people and deliver better outcomes. The ambition is to see every person in Dorset stay healthy for longer and feel more confident and supported in managing their own health. Find out more at www.dorsetsvision.nhs.uk.
What this means for local people
A number of programmes will close the gaps in health and wellbeing and lead to improved health outcomes, a better patient experience, the same standard of care across all health and care settings, more choice about when and where to receive treatment and less time travelling to attend appointments.
Prevention at scale will help people to stay healthy and avoid getting unwell
Integrated community services will support individuals who are unwell, by providing care at home and in community settings
One acute network will help those who need the most specialist support
Leading and working differently will help shape the workforce of the future
Digitally-enabled Dorset will increase the use of technology.
The changes being made
Case study
Joined-up care at the Weymouth Community Hub in Dorset improved the lives of Dennis, who suffered from multiple complex conditions, and his wife Jennifer, who cared for him. Dennis had a series of falls, suffering a number of serious injuries, and his health went downhill very fast. The community hub brings together a number of services that were able to support Dennis and Jennifer, with individual staff engaging the services of the rest of the team to solve the problem.
At the time the film was made, Jennifer said: "Dennis's care coordinator, Rebecca, came into our lives and we haven't looked back. Immediately, things started to improve. We finally have a diagnosis – Dennis has pulmonary fibrosis. He can't be cured but Rebecca and the hub have arranged everything to manage the treatment. We feel like people care now; we're not just a number; we've got help."
Sadly, Dennis has passed away since the film was made.
Find out more about the changes being made locally to deliver their vision.
Looking ahead
Find out about the projects that will be happening in 2018/19 to help the integrated care system deliver on its ambitions.
Contact
You can get in touch with the integrated care system in the following ways: