Urgent and Emergency Care zone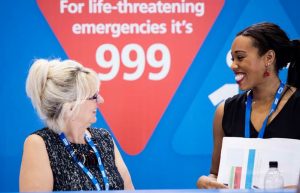 Led by NHS England in partnership with NHS Improvement, the Urgent and Emergency Care Zone demonstrated how urgent and emergency care is being transformed locally and nationally.
Leaders from both organisations detailed the latest developments in NHS 111, such as pilots to manage safer and more effective care for children and the expansion of its online services. Visitors were also able to try out the different NHS 111 online platforms currently being tested and rolled out.
Experts spoke on the Ambulance Response Programme and discussed the changing role of ambulance services, including a pilot scheme being run by the North East Ambulance Service which has introduced a triage tool that enables paramedics to recognise symptoms rather than make a definitive diagnosis. Attendees had a chance to test their skills with the resuscitation challenge.
Delegates were given a demonstration of Flight Deck; software which has been tested in the north east to help hospitals manage emergency care. It displays the current status of emergency care across a region and also predicts the likely scenario for four and 12 hours ahead. The software can reduce handover times at accident and emergency departments, reduce delays in patient care and allow better use of hospital resources. It is hoped Flight Deck will be rolled out across the north of England to help alleviate pressure this winter.