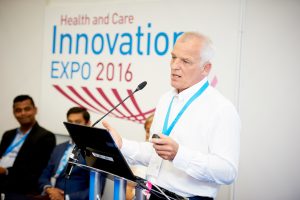 Our first group of pop-up university workshops have now been approved  and are listed below.
NHS teams and partner organisations are invited bid to lead pop-up university workshops, and the deadline for the third and final wave of submissions is 16 June 2017.
You can submit your pop-up university leadership bid here.
The pop-up university provides a unique opportunity for delegates to hear directly from national and regional experts from all over the health and social care sector. It is also a highly-valuable opportunity for health and care leaders to spread best practice and introduce new ways of working to a strongly-engaged, focused audience.
There are around 100 pop-up university workshops over the two days of Expo, each around 45 minutes in length. Delegates register in advance to attend workshops, and are encouraged to build programmes of learning tailored to their own individual needs.
Workshops are fully led by professional groups, NHS partner organisations, and local trusts and CCGs, who are all invited to submit proposals. All workshop content is approved through the Expo Steering Group, with the focus on high quality learning opportunities, sharing best practice and providing delegates with the tools, knowledge and resources to implement change in their organisations.
More details of our Expo 2016 pop-up university
Expo 2017 pop-up university workshops
You must book your place to attend a pop-up university workshop. Booking for these workshops will open in late July.
Devolved Health and Social Care in Greater Manchester: The makings of Dementia United
Led by: Greater Manchester Health and Social Care Partnership and the Alzheimer's Society
This session will set out the the learnings, challenges and opportunities so far in the ambitious Dementia United system transformation programme under Greater Manchester's devolved health and social care system, and its new approaches to integration. It will explore the lessons for other parts of the country, with first-hand insights from a person with dementia and from clinicians in Greater Manchester, and also discuss key practical questions around integrating health ans social care and harnessing community assets.
How patient and staff feedback drives service improvements – The Friends and Family Test Awards
Led by: National Insight and Feedback Team, with award-winning organisations
Winners of the awards, to be announced in March 2017, will present their work and discuss how their successes can be replicated at other organisations.
Designing and implementing a successful and sustainable centralised 7-day hyper acute stroke service: lessons from Greater Manchester
Led by: Greater Manchester Stroke Operational Delivery Network
The workshop will focus on sharing the learning from the Greater Manchester experience of implementing a 7 day service for hyper acute stroke care. Regions are increasingly exploring this model, following evidence demonstrating improved outcomes and also to meet new NHS England requirements for 7 day working in urgent care. This type of pathway is also relevant for other types of urgent care such as major trauma.
Developing a whole system approach to delivering better services for older people
Led by: Institute of Public Care, Oxford Brookes University
This workshop will illustrate recent work undertaken by the Institute of Public Care (IPC) Oxford Brookes University to understand where potential lies to improve or reconfigure services to meet demand and improve care for older people. Based on a high-level self assessment model developed from research in collaboration with the NHS and social care, attendees will be able to reflect with others on the evidence of what works well in the context of their own current strategic models, and how they might offer leadership and support to make the required changes.
Integrating Pharmacy into Urgent Care
Led by: Office of the Chief Pharmaceutical Officer, NHS England
The Pharmacy Integration fund (PhIF) is supporting the integration of pharmacy into urgent care, prioritising the key areas of: urgent supply of medicines through community pharmacy; access to minor illness assessment in community pharmacy including referral from NHS 111 ; and development of the multidisciplinary team in the Integrated Urgent Care clinical assessment service (IUC CAS). This workshop will update attendees on the latest developments in all three key areas, with Q&A and discussion on each topic.
Rethinking commissioning for End of Life Care
Led by: Dr Bee Wee, National Director for End of Life Care, NHS England
This session will outline two innovative commissioning models that have been developed and implemented to transform their End of Life Care services through integration: Coastal West Sussex and Dudley, who have commissioned and delivered centralised co-ordination for all adults in or entering the last year of life and a new model of care, focusing on delivering care at home.  The workshop will offer tangible tips on how to go about system-wide change and will enable local commissioners and service providers to consider replication of these innovative care models.
Your Leadership Development and its role in realising the NHS Five Year Forward View and GP Forward View
Led by: NHS Leadership Academy
This workshop will encourage participants to reflect on what they need to learn and do differently to accelerate progress in pursuit of a vision for 21st Century health and care. Attendees will learn how to manage their leadership development and personal change for better outcomes for patients and staff. They will be helped to explore a number of options for their development and how they can be realised.
Learning from the implementation of an NHS 111 Integrated App in the West Midlands
Led by: NHS Sandwell and West Birmingham CCG
Following the launch of the first NHS app that technically integrates with the NHS 111 Clinical Hub in the West Midlands, the CCG and Providers will share their experiences and lessons learned from introducing this new product to patients. The will give a candid insight into the challenges of developing the app and working with multiple stakeholders to enable a successful implementation.
Enhancing care for people living with frailty and multiple long term conditions
Led by: Long-Term Conditions, Older People and End of Life Care Team, NHS England, with patient and clinician representatives
This workshop will demonstrate how taking a whole-person approach to frailty and multimorbidity can improve people's health and wellbeing, through improved quality of care and better use of resources. It will show the human and financial costs of focusing on single conditions, and how this compares to taking a more holistic and person-centred approach. It will also explain the role and importance of NICE's recent Multimorbidity Guideline (NG56) and how participants can successfully implement this on the ground. This will be a fully interactive session,  with participants asked to work through practical examples and to feed back on how they will take their learning back to the workplace.
The General Practice Development Programme: The Impact Story
Led by: Sustainable Improvement Team, NHS England
This workshop will share learning so far from delivery of the General Practice Development Programme, including its success in releasing time to care, and its wider impact. It will share examples of good practice from practices participating in the programme, and challenge participants' thinking about what evaluation can achieve, particularly when applied to complex innovation programmes, and when developed beyond traditional evaluation approaches.