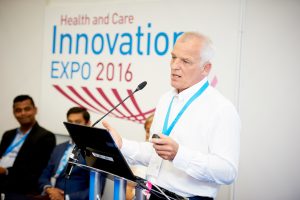 We have had an overwhelming response to our call for pop-up university workshop proposals, with a huge number of relevant, high-quality sessions submitted.
Workshops are fully led by professional groups, NHS partner organisations, and local trusts and CCGs. All workshop content is approved through the Expo Steering Group, with the focus on high quality learning opportunities, sharing best practice and providing delegates with the tools, knowledge and resources to implement change in their organisations.
All pop-up university workshops are linked to the health and care priorities highlighted within the landmark document Next Steps on the Five Year Forward View.
Expo 2017 pop-up university workshops
The Expo 2017 team is now in the process of confirming final details of each session with our pop-up university workshop leaders, and we will publish details of newly-finalised workshops every week.
Delegates must book your place to attend a pop-up university workshop. Booking for these workshops will open in July.
You can find details of our confirmed pop-up university workshops, sorted according to their key focus areas, via the links below.
Did you attend one of over 100 expert-led pop-up university workshops at Health and Care Innovation Expo 2016? If so, we want to hear from you! How have you made a difference following your attendance at the workshops at Expo 2016?
Please tweet us @ExpoNHS or contact the Expo team at england.expo@nhs.net