Let's get creative with how we view population health and wellbeing ​
​​​Amy Lamb, Business Coordinator, Intervention and Support Team​ (North).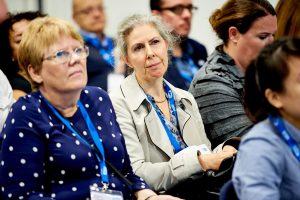 With NHS services stretched and an ageing population, working together with other organisations to ensure the best outcomes for patients is becoming ever more vital. I knew before I went to Expo 2017 that integration of services was something that I wanted to find out more about and I wasn't disappointed!
One talk I went to in the pop-up university was particularly interesting. It looked at how making connections between NHS services and housing associations can make a huge difference. In one area, a housing association had successfully bid for £10,000 of funding to make alterations to homes for patients whose homes were deemed 'unfit' for them to return to. The housing association works closely with the local hospitals and will make repairs to any home – regardless of whether it is part of their housing stock or not.
It was staggering what a difference such a common-sense approach could make! So far, the housing association had spent only a third of the funding and the average repair took less than a day to complete, with an average cost of £400 (that's the equivalent cost of one night's stay in hospital according to the Department of Health's figures from 2015). And their success hasn't gone unnoticed, with the housing association now securing a further £50,000. 
So, if there's one thing I have taken away from Expo, it's this: the future of NHS healthcare relies upon integration of, and communication between, various services within our communities.

Let's get creative with how we view population health and wellbeing!