Partners, supporters and exhibitors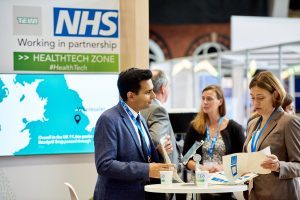 Expo 2018 took place over two days on 5 and 6 September 2018 at Manchester Central, welcoming almost 5,000 delegates.
Health and Care Innovation Expo is a highly significant annual event in the health and care calendar. It is a unique celebration of innovation, enterprise and collaboration, uniting NHS and care leaders, commissioners, clinicians, voluntary sector partners, innovators, private-sector media and many more.
Its aim is to make the case for change, renewal and improvement in the NHS and social care, and activate people to do something new and different when they return to their organisations or communities. The ultimate goal is to improve health and care delivery.
Many thanks to all our 2018 exhibitors, supporters and partners!
Expo offers a wide range of commercial opportunities to raise your profile with 5,000 of the most influential people across the health and care sector. Our packages offer tailored support to everyone, from SMEs and non-profit organisations to large multinationals.
For full details of sponsorship packages for Expo 2019 on 4-5 September 2019, call 0207 593 5500 or email healthexpo@dods.co.uk