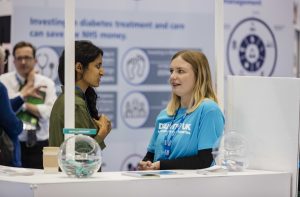 Our feature zones are key building blocks of Health and Care Innovation Expo. They provide targeted focus and deep discussion of major NHS-led innovation and development, celebrating and sharing success as well as exploring issues and challenges.
All of the feature zones run mini-conferences from their areas throughout the two days, focused on learning, collaborating and networking. National leaders lead talks and discussions, while pioneering local and regional leaders are available for in-depth chats about their work.
Applications are now open to lead sessions of up to 30 minutes in our Feature Zone mini-theatres. 
This year, we are inviting applications to run 20-30 minute sessions in the Feature Zone mini-theatres. These short sessions, with audiences of a maximum of around 30 people. They particularly lend themselves to promoting and sharing great local case studies of individual improvement projects.
Our Expo 2019 Feature Zones are:
Digital Transformation
Chapter Five of the NHS Long Term Plan sets out a wide-ranging and funded programme to upgrade technology
and digitally enabled care across the NHS. Over the next ten years these investments will result in an NHS where digital access to services is widespread. Where patients and their carers can better manage their health and condition. Where clinicians can access and interact withpatient records and care plans wherever they are, with ready access to decision support and AI, and without the administrative hassle of today. Where predictive techniques support local Integrated Care Systems to plan and optimise care for their populations. And where secure linked clinical, genomic and other data support new medical breakthroughs and consistent quality of care. This zone will demonstrate best practice from around England, and explore how digital transformation is happening across the sector.
Primary Care Networks
This zone will explore how the sector will use the £4.5 billion of new investment in primary and community care will fund expanded community multidisciplinary teams aligned with new primary care networks. Expanded neighbourhood teams will comprise a range of staff such as GPs, pharmacists, district nurses, community geriatricians, dementia workers and allied health professionals such as physiotherapists and podiatrists/chiropodists, joined by social care and the voluntary sector. Primary care networks will also work with emergency services to provide emergency support, including where advice or support is needed out of hours. We will support easier, secure, sharing of information between care homes and NHS staff.
Integrated Care Systems
The NHS and our partners will be moving to create Integrated Care Systems (ICSs) everywhere by April 2021, building on the progress already made. ICSs bring together local organisations in a pragmatic and practical way to deliver
the 'triple integration' of primary and specialist care, physical and mental health services, and health with social care. They will have a key role in working with Local Authorities at 'place' level, and through ICSs, commissioners will make shared decisions with providers on population health, service redesign and Long Term Plan implementation. This feature zone will demonstrate best practice from around the country and explore how ICSs will roll out across England.
Personalisation and Choice
When the NHS was set up seventy years ago, the first choice patients were offered was which GP practice to register with, and that choice continues today. In the intervening seven decades, informed consent and changing social attitudes have significantly expanded the choices and control that people have over their own care – from maternity to end-of-life.
Advances in precision medicine also mean treatment itself will become increasingly tailored to individuals, and patients will be offered more personalised therapeutic options. But the NHS also needs a more fundamental shift in how we work alongside patients and individuals to deliver more person-centred care that really recognises the individual needs of patients. This feature zone will set out and explore the new partnerships and approaches that are achieving this.
Workforce
The NHS is the biggest employer in Europe and the world's largest employer of highly skilled professionals. 1.3 million people across the health service in England are devoting their working lives to caring for others. Working in the NHS demands the highest levels of skill and compassion, and the NHS attracts some of the very best people from home and abroad. But, over the past decade, workforce growth has not kept up with need, and the way staff have been supported to work has not kept up with the changing requirements of patients.  New NHS roles and careers will be shaped to reflect the future needs and priorities set out in the NHS Long Term Plan. As we invest in our workforce, we need to ensure
the NHS has primary care and generalist skills, to complement what has been a major move to more specialised hospital-based care in recent decades. To date workforce planning has been too disjointed at a national and local level. This zone will explore how we are developing our workforce together.
Innovator Zone
The Innovator Zone, led by the Academic Health Science Networks, will return in 2019. Innovators from across England will demonstrate and discuss their products, with mini-theatre presentations throughout the day. To get involved in this zone, please e-mail the Expo team at england.expo@nhs.net and we will connect you with the national AHSN Network.