Our feature zones were key building blocks of Health and Care Innovation Expo. They provided targeted focus and deep discussion of major NHS-led innovation and development, celebrating and sharing success as well as exploring issues and challenges.
All of the feature zones ran programmes of speakers and activities from the mini-theatres in their areas throughout the two days, focused on learning, collaborating and networking. National leaders led talks and discussions, while pioneering local, regional and national leaders were be available for in-depth chats about their work.
Our Expo 2019 Feature Zones were:
Digital Transformation Zone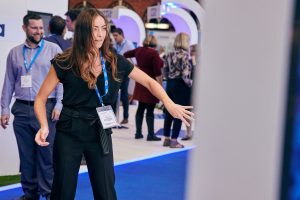 Chapter Five of the NHS Long Term Plan sets out a wide-ranging and funded programme to upgrade technology and digitally enabled care across the NHS. Over the next ten years these investments will result in an NHS where digital access to services is widespread. Where patients and their carers can better manage their health and condition. Where clinicians can access and interact with patient records and care plans wherever they are, with ready access to decision support and AI, and without the administrative hassle of today. Where predictive techniques support local Integrated Care Systems to plan and optimise care for their populations. And where secure linked clinical, genomic and other data support new medical breakthroughs and consistent quality of care. This zone demonstrated best practice from around England, and explored how digital transformation is happening across the sector.
Primary Care and System Transformation Zone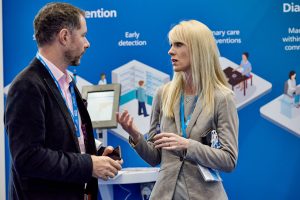 This was the place to find out all the latest about integrated care systems and the development of primary care networks at this year's Expo.
Visitors the zone across the two days and heard from a wide variety of people from across the country including GPs, clinicians, system leaders and NHS staff. They learned about why health and care partnerships across the country are coming together to join up services and work together to improve people's health and what practical improvements they have already made.They also found out all about primary care networks and why they are central to the delivery of integrated care and at the heart of all successful integrated care systems.
Personalised Care Zone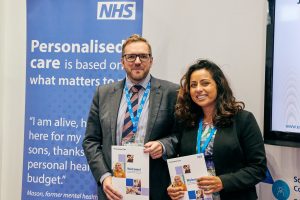 Showcasing what Personalised Care means from a local perspective and what effective implementation looks like,sessions on the zone involved those who are crucial to work around Personalised Care; from close partners in the voluntary and community sector, to people with lived experience, to all who are involved in implementation, including commissioners, system leaders and practitioners.
The zone was designed to facilitate varied and interesting sessions with three spaces – an activity area, a theatre area and space for networking. Sessions included physical activity and music sessions related to social prescribing, panel sessions and workshops.
The zone also hosted a networking event to celebrate the 10th birthday of Personal Health Budgets, showcasing latest stats, facts and news related to this key component.
Stay in touch with the latest updates by following @Pers_Care and #PersonalisedCare
People Zone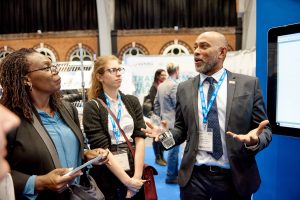 The NHS Long Term Plan sets out an ambitious vision for healthcare in England.  It recognises that our population is changing – there are more of us and we are ageing.
It's clear that we will need more people working in health and social care to deliver this vision – more people working across different professions and roles, both in the NHS and in social care.
But more of the same will not be enough. Our patients and our staff tell us loud and clear that they need us to work differently if we are to create the NHS we all want to see.  The way we work needs to be more collaborative, more agile and flexible, more multidisciplinary. And together we need to face into the current workforce shortages honestly and urgently.
We need to make the NHS the best place to work so we can attract and retain the very best people. We need to make people, recruitment, retention and development a higher priority.  Focusing on our people, their working environment, career development and ways of working isn't a nice to have: its critical to the success of the NHS as a whole.
The People Zone focused on three main areas:
Making the NHS the best place to work – what really matters to staff working in the NHS – how can we make it better?
Leadership and culture – how can we equip leaders to create caring, compassionate cultures where people feel empowered?
21st century care – how can we do things differently? Looking at different skills, working in different locations and across organisational boundaries, and what will the workforce of the future look like? How will we use technology?
Clinical Improvement Zone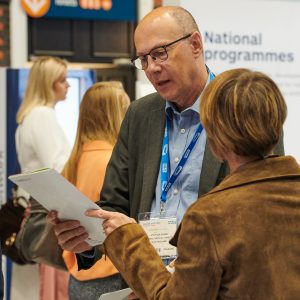 The Clinical Improvement Zone explored how the NHS Right Care and Getting It Right First Time (GIRFT) programmes are translating into big improvements for patients and more efficient services across all areas of the NHS. It showed how NHS commissioners are identifying and tackling health inequalities at local and regional level, and how providers are working with individual patients to focus on the things that matter most to them.
There was also a look at how the programmes will support the implementation of the NHS Long Term Plan, and how they will continue to develop their collaboration with social care and local government.
AHSN Network Innovation Exchange
Innovators from across England demonstrated and discuss their products, with mini-theatre presentations throughout the day.