Our Arena and Forum stages featured a fantastic line-up of speakers, announcements and discussions over the two days.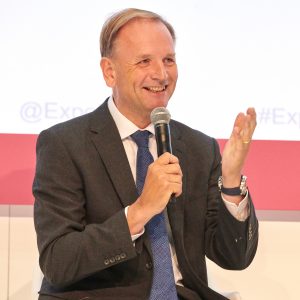 Simon Stevens, Chief Executive of NHS England and NHS Improvement, announced that a revolutionary new gene therapy, which restores sight, will be provided by the NHS. Babies born with inherited retinal dystrophies disorder have poor sight which swiftly deteriorates, with most losing their vision completely in childhood. Until now no treatment has been available.
The life-changing treatment for children and adults – voretigene neparvovec – is the first in a new generation of gene therapies that can be directly administered to patients, in this case through an injection. Simon Stevens said: "Loss of vision can have devastating effects, particularly for children and young people, but this is truly life changing treatment restores the sight of people with this rare and distressing condition.
"This latest deal reinforces the benefits for companies willing to engage with us and be pragmatic with their pricing – which is good news for patients, tax payers and industry."
He also confirmed the NHS will review making statins available direct from pharmacists, as part of the NHS Long Term Plan, to cut heart disease.
---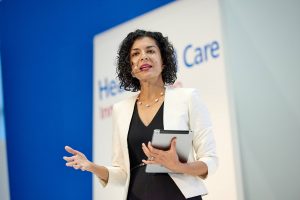 During her keynote speech at Expo, Prerana Issar, Chief People Officer for NHS England and NHS Improvement: said: "by making unwieldy paper staff schedules a thing of the past and introducing passporting, we are supporting our world-class staff so they can not only continue to give patients brilliant care, but further build their careers as they do so."
Following successful pilot projects, all hospitals in England are being urged to sign-up to passporting agreements, which will cut the need for up to two-day inductions and other admin when staff move between organisations.Supporting flexible working for staff is seen as a cornerstone of helping to improve retention rates as outlined in the NHS Long Term Plan and interim People Plan.
---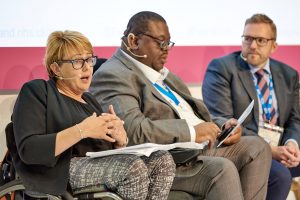 Baroness Tanni Grey-Thompson,  Paralympian, Peer and Chair of the not-for-profit health body, ukactive, along with an expert panel that included Crystal Oldman, Chief Executive Officer of Queens Nursing Institute, Clenton Farquharson, Chair of the Think Local Act Personal partnership board, Dr Mohan Chandan, a Birmingham GP, and James Sanderson, Director of Personalised Care at NHS England and NHS Improvement, spoke about what personalised care means to them and how it is about moving away from "what is the matter with me" to "what matters to me".
They also explained how personalised care helps a range of people to make the decisions about managing their health so they can live the life they want based on what matters to them. A recent study released also indicated that personal health budgets provided 18% cost reductions compared to conventional care.
---
Claire Murdoch, National Director for Mental Health at NHS England and NHS Improvement,  and NHS Youth Forum member Hope Gorton, spoke on the impact of the online world on our mental health with experts from the advertising and marketing industries.
They called on social media companies to take action to protect young people and promote positive mental health messages. Professor Steve Powis, National Medical Director at NHS England and NHS Improvement, was on the panel and highlighted the NHS must embrace digital innovations to improve the way we deliver care for our patients and deliver the NHS Long Term Plan.
---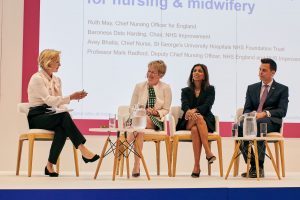 England's Chief Nursing Officer Ruth May, launched the drive to find 10 passionate NHS ambassadors including nurses, midwives, allied health professionals and doctors to promote the use of the NHS App, which marks a step change in how people are able to engage with the NHS and access their medical records.
Ruth May said: "The best advert for our NHS is our extraordinary staff who continue to be the envy of the world, and with some of our leading lights soon to be promoting the next generation of health care tech across social media, the benefits of the NHS App will be experienced by even more people across England.
Staff can apply at digital.nhs.uk/AppAmbassador.
---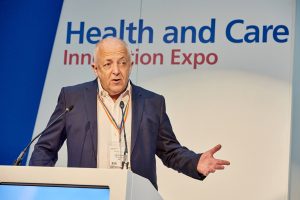 BBC journalist Jeremy Bowen spoke about his experience of bowel cancer and encouraged people to seek early diagnosis as soon as possible.
He explained that being less prudish about poo can help save lives. Speaking about his own bowel cancer experience, Jeremy said that talking more openly about poo will make people more comfortable in seeking advice when something is not right.
When bowel cancer is diagnosed at the earliest stage, more than nine out of 10 people survive but it if it is diagnosed late this drops to one in 20. Jeremy's cancer revelation in April this year prompted a doubling in the number of visits to the main NHS bowel cancer advice page, helping thousands more people to seek help.
The session also gave an overview of the Targeted Lung Health check programme.  "Lung cancer is one of the most common causes of death and the targeted lung health check programme will help save my patients lives" said Dr Neil Smith, GP from Blackburn and Darwen CCG.
---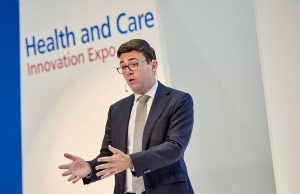 Simon Stevens and Mayor of Greater Manchester Andy Burnham announced plans for NHS England and NHS Improvement and Greater Manchester to work together to reduce the NHS's Carbon Footprint They confirmed a joint expert partnership board will be set up to inform policy and coordinate the implementation of interventions, as part of the NHS Long Term Plan.
The board will look at methods to reduce emissions on the road and how to drive down the number of single-use plastics used in the NHS as well as introducing more energy-efficient drainage systems in health service sites and places to plant more trees on health service land.
Simon Stevens said: "We are at a point where we need a major wake up call. We, the NHS, the single biggest organisation in this country, are a part of the solution, but we're also part of the problem."
---
Senior healthcare leaders reaffirmed their commitment to race equality across the NHS workforce. A panel chaired by Yvonne Coghill, director of the Workforce Race Equality Standard (WRES) programme, focused on the Interim NHS People Plan and its ambitions to make the NHS the best place to work for all, with a diverse leadership.
The panel was made up of Prerana Issar, Dr Habib Naqvi, WRES deputy director, Raj Jain, chief executive of Salford Royal NHS Foundation Trust and John Brouder, former chief executive of North East London NHS Foundation Trust.
---
Professor Steve Powis, National Medical Director at NHS England and NHS Improvement,  and Dr Simon Eccles, Deputy Chief Executive of NHSX, discussed how digital technology is supporting people with cardiovascular and respiratory disease as well as saving lives, with Prof Mark Wilson, Dr Binita Kane, Prof Tony Young and Hugh McCaughey.
Their session included a demonstration of the GoodSAM app which enables qualified bystanders to provide life saving care by sending an alert to their phone about any emergencies they are nearby.It can also send live video to Ambulance Control Centres through a bystander's phone, while also prompting them to call emergency services. Following the demonstration all of the panel members agreed to register as qualified bystanders.