The main stages are our highest-profile platforms at Expo. They feature the most senior leaders from across the health and social care sector.
At Expo 2019, our Arena stage will focus on individual keynotes and panels, in a traditional theatre layout.
In a new development for 2019, our Forum Stage main will be specifically designed for collaborative panels of leaders to lead meaningful discussion and engagement with their audience.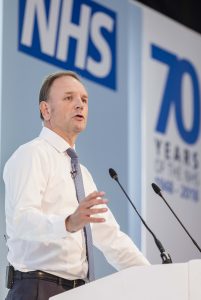 Speaker sessions on our main stages will include:
Keynote speeches by Simon Stevens, Chief Executive of NHS England, and Matt Hancock MP, Secretary of State for Health and Social Care
Andy Burnham, Mayor of Greater Manchester, in conversation with Simon Stevens on Clearing the air: how can organisations work together to tackle the effects of air pollution
Dr Amir Khan, from Channel 5's GPs Behind Closed Doors, in conversation with Dr Nikki Kanani, Acting Director of Primary Care, NHS England and NHS Improvement, on Lessons from the frontline: maximising multi-disciplinary teams in general practice
Prerana Issar, Chief People Officer, NHS England and NHS Improvement, in a panel chaired by Simon Stevens on Challenges of today, successes of tomorrow
Dr Simon Eccles, Chief Clinical Information Officer for Health and Care and Professor Stephen Powis, National Medical Director, NHS England and NHS Improvement, discussing From the wireless to the wearable: How digital technology is supporting preventative and personalised care
Duncan Selbie, Chief Executive, Public Health England, leading a panel discussing Health Inequalities – from data to delivery
Claire Murdoch, National Clinical Director for Mental Health, NHS England and NHS Improvement, leading a panel titled Swipe left – how is social media affecting our mental health?
Kate Terroni, Chief Inspector of Adult Social Care at the Care Quality Commission, with her colleague Rosie Benneyworth, Chief Inspector of Primary Medical Services and Integrated Care, exploring the question of How can primary care and social care collaborate, integrate and modernise to achieve higher quality care for adults in our communities?
Dr Ruth May, Chief Nursing Officer for England at NHS England and NHS Improvement, leading a panel titled We are the NHS: workforce plans for nursing & midwifery
Matthew Gould, Chief Executive of NHSX, introducing NHSX – a better eXperience