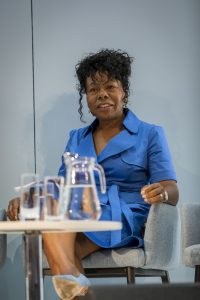 The main stages are our highest-profile platforms at Expo. They feature the most senior leaders from across the health and social care sector.
At Expo 2019, our Arena stage will focus on individual keynotes and panels, in a traditional theatre layout.
In a new development for 2019, our Forum Stage main will be specifically designed for collaborative panels of leaders to lead meaningful discussion and engagement with their audience.
Attendees will be able to share their own experiences and opinions with the people leading transformation of all aspects of health and social care services.
Speeches by the NHS England Chief Executive Simon Stevens and the Secretary of State for Health and Social Care are always major highlights of Expo, and they will be returning to this year's event. Further speakers will be announced in summer 2019.