For 2016, our informal Camp Expo space had a new twist, with illustrators and animators from Creative Connection turning
attendees' views and experiences into colourful and engaging visual art.
The park-style Camp Expo space was host to dynamic conversations around one central question: "What is your dream for a healthy nation?"
The answers from attendees varied enormously, but all responses had one thing in common: they all focused on positive, innovative ideas of how we can improve healthcare across the country.
Video "instamations" of Camp Expo participants' views are now available!
A number of suggestions were around physical health, including Fitbits and other health trackers being made available through prescription on the NHS and encouraging children to get active using apps like Pokémon Go.
Many people also spoke about how we can improve mental health, including offering mindfulness sessions in the work place, increasing the number of mental health first aiders through the Mental Health First Aid England Network and using  apps like Headspace. All this tied in well with Ruby Wax's dream, which she announced in her session on the Innovate stage, of 'Frazzled Cafes' being set up around the country for people with mental health problems to share their experiences and to support each other.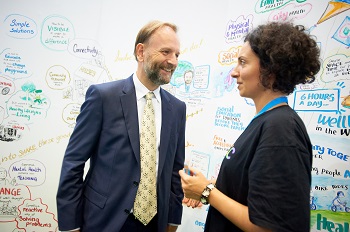 Simon Stevens, chief executive of NHS England, visited Camp Expo to share his dream for a healthy nation, which was for good health to start in the workplace. He wanted to see a higher uptake of staff offers around physical and mental health and wellbeing.  His parting words to Camp Expo were: "let's put the 'H' back in 'NHS'.
All of these dreams were beautifully brought to life by the Creative Connection team, who created some stunning mural, digital images and animations all visually depicting the conversations that took place.