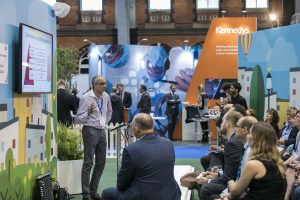 Our feature zones are key building blocks of Health and Care Innovation Expo. They provide targeted focus and deep discussion of major NHS-led innovation and development, celebrating and sharing success as well as exploring issues and challenges.
All of the feature zones run mini-conferences from their areas throughout the two days, focused on learning, collaborating and networking. National leaders lead talks and discussions, while pioneering local and regional leaders are available for in-depth chats about their work.
Our Expo 2018 Feature Zones will be:
Mental Health Zone
For the first time, Expo will present a mental health feature zone. It will showcase the actions being taken across the health and care sector to deliver the Five Year Forward View for Mental Health and transform services to meet the needs of people with mental health problems. By 2020/21, our goal is to invest £1bn additional funding each year by 2020/21 to provide access to high quality care for an extra million people.
Diabetes and Obesity Zone
This zone will focus on the Healthier You: Diabetes Prevention Programme (NHS DPP); the first national diabetes prevention programme anywhere in the world. It will also explore the challenges presented to health and social care services by obesity, and the ways the NHS and Public Health England are working together to help people live healthier lives. This zone will be sponsored by Roche Diabetes Care.
Digital Technology Zone
We will once again showcase the best new digital innovations in health and care and demonstrate how they help patients and the public to live healthier lives and support the work of frontline staff. We will illustrate the value of digital innovation in sustaining the NHS for the next 70 years. We will celebrate patient-centred use of technology and information to improve health and care, and support visitors to adopt and implement the innovations they have seen at the show in their own organisations. The Digital Zone will also demonstrate the progress that has been made over the last 12 months to implement Digital Transformation programmes throughout England. This zone will be sponsored by Teva UK.
Improving Care Zone
NHS RightCare is working closely with two other national programmes, NHS Elective Care and NHS Improvement's Getting it Right First Time (GIRFT) to provide full system patient care that ensures the best possible outcomes for patients while securing the most efficient use of resources. Their feature zone will showcase how the three programmes complement one another across commissioning and provision to build better outcomes for patients by ensuring that people see the right person in the right place, first time. This zone will be sponsored by Roche.
Transformation of Care
NHS organisations and local councils in England are joining forces to coordinate services around the whole needs of each person. Their aim is that people can live healthier lives and get the care and treatment they need, in the right place, at the right time. This zone will articulate why health and care needs to change and showcase how this is working in practice via the integrated care systems and System Transformation Partnerships. It will explore topics including clinical leadership, patient engagement, and partnership working with both local government and the third sector. This zone will be sponsored by Janssen UK