Health and Care Innovation Expo 2017 mobile app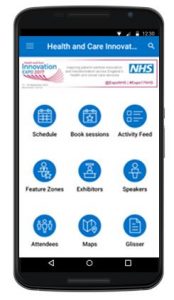 A new and improved app is now available to download for Health and Care Innovation Expo 2017, giving registered attendees everything they need to plan and get the most out of the event.
The app, which is available free of charge, can be used on a range of devices and is the perfect tool to navigate the packed schedule planned for 11 and 12 September 2017 at Manchester Central.
Via the app, you can:
View the Expo 2017 agenda: this year we have tagged workshops and sessions by themes to help you quickly find relevant content.
Build your personal agenda for the event: your booked sessions will automatically appear in your personal agenda. You can then add non-bookable sessions and personal appointments.
Receive important news and updates prior to and during the event.
Get the most out of workshops and sessions – we'll be using Glisser so you can access presentations on your mobile, make notes, post questions to speakers and vote in live polls.
Network with other delegates, connect, share your contact information and arrange meetings.
View speaker information: learn more about who is speaking at Expo 2017 and where and when their workshops and sessions are.
The app can be downloaded on iPhones, iPads and Android phones.   A web version is available for Windows and Blackberry phone users.
Anyone can download the app, but we recommend that registered attendees log in, following the instructions below, to access all the exclusive features that are available, such as attendee networking.
Step 1: Download the App!
The first thing you'll need to do is download the app on the device you're bringing to the event.  Visit https://crowd.cc/s/Sde4 to download the app. Once the app installs on your device, tap its icon to open it.
Tap 'Log in for more features'.  Enter your first and last name where prompted, then tap 'Next'.  Enter the email address where you'd like your verification email sent, then tap 'Next' again.
Don't have iOS or Android? Visit https://crowd.cc/hciexpo2017 to use the mobile web version.  Tap the menu icon in the top left, tap 'Log in', then 'Log in' again from the dropdown menu and enter your name and email address.
Step 2: Verify Your Account
Exit the app and open your verification email.  You'll see it includes your four-digit verification code.
Return to the app and enter the verification code, then tap 'Verify' to log into the mobile app.