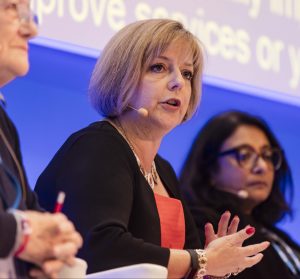 We are proud to reveal the initial line-up for our Expo 2018 main stages. Detailed timings and speaker profile information, plus further new plenary sessions, coming soon!
Health and Care Innovation Expo features two main stages: The Future NHS Stage and the Innovate Stage.
The main stages are our highest-profile platforms, where you will receive all the major organisational announcements, see the unveiling of high-level national reports and reviews, and hear from expert panels made up of leaders from across the NHS, local government, wider public and voluntary sectors, and industry partners, in discussions focusing on the most important issues facing health and care.
Appearances and keynote addresses from:
Rt Hon Jeremy Hunt MP, Secretary of State for Health and Social Care
Simon Stevens, Chief Executive, NHS England
Ian Dalton, Chief Executive, NHS Improvement
Ian Trenholm, Chief Executive, Care Quality Commission
Duncan Selbie, Chief Executive, Public Health England
Glen Garrod, President, Association of Directors of Adult Social Care
Improving perceptions of nursing and midwifery – addressing national workforce challenges
Speakers:
Prof Jane Cummings, Chief Nursing Officer, NHS England
Guests from other agencies and local health economies
This innovative main stage session will provide an overview of the national perceptions of nursing and midwifery campaign, seeking to address barriers, myths and stereotypes that exist in relation to nursing and midwifery and provide an update on the work taking place nationally to address recruitment and retention of nurses and midwives across and beyond the NHS. It will be led by Professor Jane Cummings, Chief Nursing Officer for England and supported by a number of organisations and individuals to demonstrate the huge volume of work that has taken place and what is planned over the next 12 months.
Men's mental health: a silent crisis
Speakers:
Professor Tim Kendall, National Clinical Director for Mental Health, NHS England
Poorna Bell, author, "Chase the Rainbow"
Prof Louis Appleby, Professor of Psychiatry, University of Manchester, and Director, National Confidential Inquiry into Suicide and Homicide by People with Mental Illness
Ruth Sutherland, Chief Executive, The Samaritans, and Chair, National Suicide Prevention Alliance
With World Suicide Prevention Day on 10 September, this session is dedicated to suicide prevention and men's mental health. Suicide is the most common cause of death for men aged 20 to 49. Delegates will hear about the impact of suicide on loved ones and what service providers, commissioners and the public can do to support people experiencing mental health difficulties.
Maintaining a sustainable NHS: the role of efficiency, clinical quality and productivity
Speakers:
Prof Tim Briggs CBE, Chair of Getting It Right First Time and National Director of Clinical Quality and Efficiency, NHS Improvement
Dr Linda Charles-Ozuzu, Director: National Elective Care Programme, NHS England
Dr Claire Fuller, Surrey Heartlands Partnership Lead
Tessa Walton, Director for NHS Delivery, NHS England.
NHS Leaders discuss the gains of an effective, impressive and efficient delivery of the National Health Service. As most opportunities are discovered at a local system level, commissioners and providers should find this supportive discussion extremely useful – encouraging open, whole system conversations about population healthcare and encouraging joint decision-making.
Transforming cancer care – the bigger picture and what's next
Speakers:
Cally Palmer, National Cancer Director, NHS England
Chris Harrison, National Clinical Director for Cancer, NHS England
Other clinicans and patient representatives
Cally Palmer will describe the significant progress realised in delivering the cancer strategy, while clinicians and patient representatives highlight innovations that address current healthcare challenges and will ensure the continued delivery of world class cancer services throughout the next decade of the NHS.
Why should we care about carers? The difference identifying and supporting unpaid carers can make
Speakers:
Prof Jane Cummings, Chief Nursing Officer, NHS England
Rob Webster, Lead Chief Executive, West Yorkshire and Harrogate Health and Care Partnership and Chief Executive, South West Yorkshire Partnership NHS Foundation Trust
Lynne Stafford, Lead, Greater Manchester Carers Partnership and Chief Executive, The Gaddum Centre, Manchester
Fatima Khan-Shah, Lead, Unpaid Carers Programme, West Yorkshire and Harrogate Health and Care Partnership
This panel session will showcase how some health and social care systems have succeeded in embedding integrated support for unpaid carers across their strategic priorities and what difference this makes for carers and for local care systems. We will talk about 'what works' in transforming support and experience for carers.
The power of local collaboration in delivering improved personalised care – a look at the primary care network movement
Speakers:
Dr Nikita Kanani MBE, Deputy Medical Director of Primary Care, NHS England
Further speakers TBC
Health and care professionals will describe how, across the country, they are living the vision of "The best possible health and social care, wrapped around a person when they need it". Working together in economies of scale, they are not only providing better care but also improving access to more services for people in their local communities.
Transforming Urgent and Emergency Care
Speakers: TBC
A focus on how transformation of Urgent and Emergency Care services is being progressed through seven core UEC workstreams, to ensure patients get 'the right urgent and emergency care in the right place, whenever they need it'.
Supporting Clinical Leadership at All Levels
Speakers: TBC
Hear from a key group of nurses and allied health professionals on their experiences of leadership and the behaviours needed to deliver integrated care. They will discuss how they have improved the patient experience and why it's important to develop and support clinical leaders at all levels.
Follow us on Twitter @ExpoNHS to make sure you are the first to know as we confirm further sessions, speakers and timings!