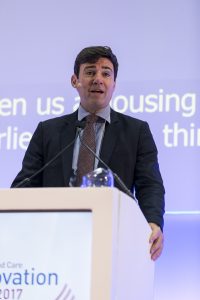 Health and Care Innovation Expo features two main stages: The Future NHS Stage and the Innovate Stage.
The main stages are our highest-profile platforms, where you will receive all the major organisational announcements, see the unveiling of high-level national reports and reviews, and hear from expert panels made up of leaders from across the NHS, local government, wider public and voluntary sectors, and industry partners, in discussions focusing on the most important issues facing health and care.
The Expo team is currently meeting with partners across the sector to begin development of the Expo 2018 main stage programme.
Details of our Expo 2017 main stage speakers are available here
Do you have a great idea for a main stage session? Contact the Expo Team by email at england.expo@nhs.net, via Twitter @ExpoNHS, or through the Health and Care Innovation Expo LinkedIn group, to discuss your proposal.