Contributing to Expo 2018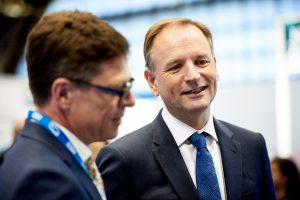 At Expo, people "vote with their feet" – whatever your area of interest, there's always something going on!
We are already working to shape Expo 2018, and once again we will be collaborating with partners across health and social care to identify the key themes for next year's event. We will also look closely at attendees' feedback from 2017, and make further improvements to our delegates' Expo experience.
Working with our NHS colleagues and partners across the public and voluntary sector helps us make sure Expo continues to focus on the most relevant, important and rapidly-developing areas of health and social care. We couldn't do it without you!
Our variety of platforms means we can offer a range of communication and engagement opportunities to health and care colleagues leading innovative work.
Contact the Expo team at england.expo@nhs.net or tweet us @ExpoNHS to discuss your ideas for Expo 2018!
Main stages
Our highest-profile platforms – the perfect places to:
Make major announcements
Unveil and explain high-level national reports and reviews
Lead expert panel discussions of the most important issues facing health and social care
Pop-up University
Targeted communication with an engaged audience – the place to introduce new concepts and developments:
Full leadership of a 45-minute workshop
High-quality, relevant learning assured through Expo Steering Group approval process
Ongoing contact with attendees after Expo, allowing you to equip the right people with the tools to make changes
View details of our 2017 pop-up university
Theatres
Flexible, quiet spaces ideal for collaborative exploration of a single key topic:
Opportunities for shared discussion and in-depth reflection
Great networking opportunities across professions and key work areas
Sessions can be restricted to private invitation lists or open for all attendees