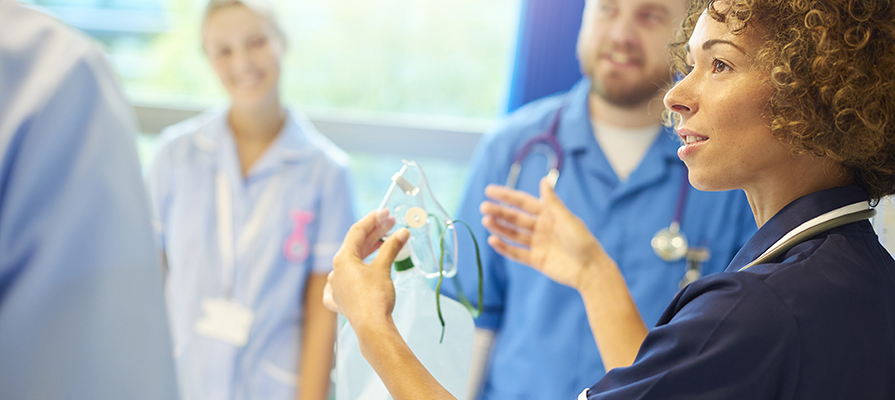 By definition a tax-funded NHS depends on a well-performing UK economy. Over the last seven decades of the NHS' life, growth in NHS funding has closely followed the ups and downs of wider economic cycles. Since the recession of 2008 the economic picture has again become more challenging. Despite real terms protection, NHS funding growth is much slower than the historic long term trend (43). The NHS Five Year Forward View set out three alternative scenarios for minimum funding levels in the year 2020, but did not specify minimum funding or efficiency requirements for each year in the run up to 2020. NHS funding has fared better than other public services, and the Spending Review provides real terms growth in NHS England revenue funding, although age-weighted real terms funding per person will go down in 2018/19 and 2019/20, and capital investment has been limited in recent years (44).
At the end of 2016, thanks to the dedicated work of local NHS commissioners and providers the NHS and its partners produced initial STP proposals, followed by operational plans and contracts for 2017/18-2018/19. These initial STP proposals are now being updated in the light of these operational plans. These will set out clear accountabilities for delivering local goals and key national milestones – including better A&E performance, improvements in cancer, mental health and primary care services, and financial balance within agreed local control totals supported by decisive action on major efficiency programmes. Substantial progress has been made but this work is not yet complete so significant risks to delivery remain such as the bed occupancy reductions required, workforce supply, capital requirements and residual financial gaps. NHS England and NHS Improvement will work with local health partners to address these and will then publish a national operational update during the first quarter of 2017/18, setting out final agreed control totals and plans for the year. Under all circumstances the NHS will benefit from creating the maximum 'headroom' from available efficiencies, and this is the approach we will be taking:
The NHS' 10 Point Efficiency Plan
The evidence from multiple sources suggests three truths:
Overall, the NHS is one of the industrialised world's most efficient health care systems, and substantially lower cost than other advanced European countries such as France, Germany, Sweden or Switzerland. The Germans spend 30 percent more per person on health care than we do (45). And since 2010 the NHS has been increasing its productivity faster than the rest of the UK economy (46).
As the Office for Budgetary Responsibility has projected in their latest Fiscal Sustainability Report, notwithstanding any action to address future cost pressures, health spending is likely to rise significantly as a proportion of GDP over the coming decades, as a result of demographic pressures but also growing technology costs and rising demand (47 & 48).
BUT despite those two truths, it is also the case that there are still substantial opportunities to cut waste and increase efficiency in the NHS, just as there are in every other country's health care system (49). In a tax-funded health service, every pound of waste saved is a pound that can be reinvested in new treatments and better care for the people of England. With 2017/18 funding fixed, substantial efficiencies are needed to create funding headroom over and above that.
Most annual efficiency gains will continue to be delivered locally taking account of the specific opportunities in different areas and organisations, for example improving staff retention, reducing sickness absence and ensuring proper staff rostering.
In addition there are some particularly large efficiency opportunities that now require concerted action right across the NHS, with national implementation support. These are part – but not the whole – of the efficiencies the NHS will be delivering in 2017/18, alongside local programmes. But they are a critical part of the NHS' ability to 'square the circle' in balancing its budget. Effective delivery against these programmes is therefore no longer optional for each NHS organisation. Instead they are now mandatory requirements for every trust and CCG in 2017/18, and NHS Improvement and NHS England will oversee their delivery.
1. Free up 2000 to 3000 hospital beds (NHS Improvement/NHS England/with local authorities)
At present around 2500 hospital beds are occupied by patients who are fit to leave hospital but are awaiting social care, and an equivalent number are occupied due to delays in community health services. This means we are not providing the most appropriate care for these individuals, who are often frail, older people; we are causing delays for other patients in A&E departments who are waiting to be admitted to a hospital bed; and we are sometimes having to delay routine operations for other patients. That is one reason why the NHS itself supported the call for well-targeted extra social care funding.
The Chancellor used his March Budget to make available an additional £1 billion for local authority-funded adult social care in 2017/18 and a further £1 billion over the following two years. In doing so he made clear that it should in part be used by councils to ensure extra home care and care home places to free up more hospital beds:
"£1 billion of this will be provided in 2017/18, ensuring councils can take immediate action to fund care packages for more people, support social care providers, and relieve pressure on the NHS locally. Building on the approach to the Better Care Fund, councils will need to work with their NHS colleagues to consider how the funding can be best spent, and to ensure that best practice is implemented more consistently across the country. This funding will be supplemented with targeted measures to help ensure that those areas facing the greatest challenges make rapid improvement, particularly in reducing delayed transfers of care between NHS and social care services." HM Treasury, March 2017 (50)
It is therefore essential that hospital trusts now work with their local authorities, primary and community services to reduce delayed transfers of care and contribute to freeing up 2000-3000 beds. We have mapped the beds blocked by delayed transfers related to social care to each hospital and responsible local authority. We are now developing improvement trajectories for hospitals to deliver in part by working with their local authorities, and we will regularly publish the progress being made against these objectives. In addition, hospitals, community services and CCGs are required now to adopt good practice to ensure appropriate patient flow, as set out in the Urgent and Emergency Care section of this Plan.
2. Further clamp down on temporary staffing costs and improve productivity (NHS Improvement lead)
Great progress has been made over the past year in cutting around £700 million from trusts' bills for agency staff, from £3.7 billion in 2015/16 to around £3 billion in 2016/17.  Applying caps on hourly rates and use of mandatory pricing frameworks, the effect has been greatest in agency nursing. But around £1 billion is still being spent on agency and locum doctors. Last year five such medical locums billed the NHS more than £2 million between them. To try and pin this on 'shortages' misses the obvious point that these are individuals who are actually available to work and are doing so – but in a way that is unfair to their permanent colleagues and is placing an unacceptable burden on the rest of the NHS.
Trusts are now being set the target of making a further cut in agency and temporary staffing costs in 2017/18, of which around £150 million should come from reduction in medical locum expenditure. NHS Improvement now requires public reporting of any individual locum costing the equivalent of over £150,000 a year, and trust chief executives are required to sign off personally on any agency shift costing more than a nationally specified amount per hour. NHS Improvement will be working specifically with the Royal College of Emergency Medicine on ways to convert A&E locums into substantive posts.  Similar controls are now in place to cut the use of expensive interim executives – in both providers and commissioners.
3. Use the NHS' procurement clout (NHS Improvement lead)
As part of the 'Carter' programme, NHS Improvement will standardise and improve trust procurement to release £350 million of savings in 2017/18 on a baseline of over £8 billion of annual expenditure on supplies and devices. Smarter and collaborative procurement will mean purchasing certain categories of product on behalf of the whole NHS. All trusts will be required to participate in the Nationally Contracted Products programme, by submitting and sticking to their required volumes and using the procurement price comparison tool to switch to better value products.
4. Get best value out of medicines and pharmacy (NHS England lead)
The NHS spends around £16 billion a year on drugs, of which about £9 billion arises from GP prescribing and £7 billion from hospital treatment (of which about half is directly reimbursed by NHS England's specialised services budget). The NHS drugs bill grew by over 7% last year, with particular growth in hospital-driven prescribing. This was considerably faster than growth in the overall NHS budget. In some cases newer medicines displace other hospital costs or older categories of treatment. However within this fast growing pharmaceutical expenditure there are also opportunities for efficiency:
NHS England is co-funding clinical pharmacists embedded in general practice to support GP prescribing and optimise medicines usage. Formulary decisions will now typically be made regionally rather than by each CCG, as recommended by the Accelerated Access Review.
NHS RightCare will be used to drive improved uptake of NICE-recommended medicines that also generate downstream savings – for example anticoagulation to reduce strokes.
Four regional Medicines Optimisation Committees will coordinate the pursuit of medicines optimisation opportunities, including in care homes, multiple prescribing, use of generics and biosimilars, and reducing medicines wastage.
NHS Clinical Commissioners and CCGs are reviewing the appropriateness of their expenditures on medicines, identifying areas of prescribing that are of low clinical value or are available over-the-counter often at a lower price – such as for minor conditions such as indigestion, travel sickness, cough remedies and upset stomachs. Following consultation, NHS England will support them in taking action on their top medicines of low clinical value that should not normally be prescribed (which cost £128 million a year) by developing national guidance with CCGs.  We will also work with CCGs, providers, patients and manufacturers to consider other medicines and products of low clinical value, to ensure that NHS funding is used on those things that have the most impact on outcomes for patients.
NHS England's new commercial medicines team will directly negotiate with pharma companies, in conjunction with NICE where appropriate, on new win/win fast track reimbursement arrangements for selected drugs, as recommended by the Accelerated Access Review.
NHS Improvement will be supporting hospitals to save £250 million from medicines spend in 2017/18 by publishing and tracking the uptake of a list of the top ten medicines savings opportunities. As savings are realised the top ten will be refreshed with further products or switches that deliver best value.
NHS Improvement is working with hospitals to consolidate pharmacy infrastructure such as medicines stores across wider geographies to deliver further efficiencies and free up pharmacists' time for clinical work.
Following public consultation, NICE and NHS England have established a £20 million budget impact threshold for further discussion on phasing and affordability of new spending, effective April 2017.
The Department of Health is continuing to drive important savings in the supply chain for dispensing medicines.
5. Reduce avoidable demand and meet demand more appropriately (PHE and NHS England lead with local authorities)
One of the greatest opportunities for increasing efficiencies in the NHS is the reduction of unwarranted variation in care.  Across the NHS there are very large variations in the number of people seeing a GP, being referred to hospital and receiving operations that are not explained by clinical need. In a financially constrained system, unnecessary care given to one patient results in needed care being denied to another.  The NHS will, therefore, be increasing its work to reduce this variation and ensure that care is delivered to those most in need and those most able to benefit from it.
Real world examples of the sort of progress that is possible have recently been shown through the RightCare programme. Locally reported results include:
Bradford CCG – 210 fewer deaths from stroke, 38,000 new people self- caring to manage blood pressure and avoid demand for services. £1.6 million saved.
Ashford CCG – 30% reduction in acute MSK demand and a 7% reduction in MSK spend through introduction of a triage service.
North Kirklees CCG – introduced new material for hospital and practice use explaining the cost of over-the-counter prescriptions, leading to £100k annual saving.
Slough CCG – new complex care case management service reducing targeted demand on A&E by 24% and non-elective admissions by 17%.
Blackpool CCG – reduced demand from frequent callers by 89% (999 calls), 93% (A&E attends), 82% (admissions). Saved £2 million.
In 2017/18 we will build on these examples, and focus work to scale up demand moderation relating to prevention, emergency care and elective services, as follows:
Prevention
Multiple programmes to prevent illness and support health have been kicked off following the NHS Five Year Forward View. These are diverse and include, for example: falls prevention undertaken by fire services during home visits to older residents; the world's largest evidence-based diabetes prevention programme now covering half of the country; and 150 dementia-friendly communities covering 18 million. We will now take action, including:
Expand the Diabetes Prevention Programme, a partnership between NHS England, Public Health England, and Diabetes UK, which provides tailored, personalised help to reduce risk of Type 2 diabetes, including education on healthy eating and lifestyle, help to lose weight and bespoke physical exercise In 2017/18 this means an estimated 130,000 referrals and around 50,000 people on programmes. In 2018/19 these figures could rise to as many as 200,000 referrals and more than 80,000 people on programmes.
Tackle obesity in particular in children through tougher action on sugar and junk food. Following our public consultation, NHS England will set out action shortly on ensuring NHS premises offer appropriate food and drink options for staff, visitors and patients. In 2017/18, PHE will publish specific targets to reduce the sugar contents of nine food categories. In addition, from 1 April 2018, the Government will introduce a nationwide levy on sugary soft drinks, which is expected to raise £385m in the first year with the proceeds to be invested in encouraging sports and exercise in schools.
NHS provider trusts will have to screen, deliver brief advice and refer patients who smoke and/or have high alcohol consumption in order to qualify for applicable CQUIN payments in 2017/18 and 2018/19. In 2017/18, all mental health trusts will become smoke-free, expanding to all acute trusts in 2018/19, leading to all NHS estates becoming smoke-free by 2019/20.
By 2018/19, Public Health England will lead work with Local Authorities to reach over 2.8 million more people with an NHS Health Check. This will identify around 280,000 people at high risk of cardiovascular disease and facilitate follow up, preventative care; 70,000 patients with high blood pressure, 14,000 patients with type 2 diabetes and over 4,600 patients with chronic kidney disease who will be diagnosed earlier and treated by the NHS.
In 2017/18, PHE will expand the childhood flu vaccination to include children in school year 4, to reduce incidence of disease. This will be delivered as part of the phased roll-out of the children's programme.
The NHS will work with employers to help people with a health condition to stay in work. About half of people with a health condition who fall out of work do so because of mental illness. Working with the West Midlands Combined Authority, we will support the trialling of a "wellbeing premium" that will encourage employers, through a fiscal incentive, to look after their employees' health and wellbeing, and to support those at risk of falling out of work. In addition to this, we are working in partnership with the Work and Health Joint Unit (a partnership between DWP and DH) to test new ways to improve the integration of and access to health and employment support to help people get and stay in work.  As part of this we are supporting three trials involving around 12,000 people in Islington, the West Midlands and Sheffield City Region.  These trials apply well-evidenced approaches derived from Individual Placement and Support – a model that helps people with severe mental illness return to work – to help people with more common physical and mental health conditions get and stay in work.  These randomised control trials will report interim findings in 2018 and final results in 2020, providing a strong evidence base on which to consider wider roll-out.
Prevention of cardiovascular disease. Cardiovascular disease (CVD) mortality has fallen dramatically over the last 30 years, but it remains the second highest cause of premature death, as well as being a major contributor to health inequalities. CVD is highly preventable through proven treatments for high risk conditions, recommended in NICE guidance. For example, anticoagulation for patients with atrial fibrillation (AF) reduces stroke risk by two thirds. Yet half of the people with known AF who suffer a stroke have not received anticoagulants. If everyone diagnosed with AF who could benefit from anticoagulants received them, then 5,000 strokes could be prevented each year (51). In 2017/18, NHS RightCare will work with CCGs covering an additional 13 million people to identify and implement optimal value CVD interventions, deploying electronic audit tools such as GRASP-AF and new models of care to improve detection and treatment of people with high risk conditions. Public Health England will work with STPs and NHS England, including the RightCare programme, to support the implementation of identified preventative interventions at scale. Effective progress on this will also reduce the risk factors associated with dementia.
A programme to promote healthy communities and support disabled people and those with long-term conditions to manage their own health, care and wellbeing. Through an extension of the Integrated Personal Commissioning model, we will reach over 300,000 people by the end of 2018/19, including in the best ACS and STP geographies, and then if successful scale it substantially thereafter. We will work collaboratively with the voluntary sector and primary care to design a common approach to self-care and social prescribing, including how to make it systematic and equitable.
Further action to identify and support carers. We will develop quality markers for Carer Friendly GP practices that promote carer identification, health checks, flu jabs and referral/signposting to advice and support, in order to reduce carer breakdown and improve carer health-related quality of life. We will also help health and social care organisations to support carers, including young carers, to avoid reaching breaking point, so that they, and the cared-for person, will be less likely to end up in hospital. This is being done in partnership with Greater Manchester Health and Social Care Partnership, West Yorkshire, Surrey Heartlands and others, and with a cohort of 15 new care model vanguards.
Support disabled people and people with complex health needs to benefit from a personal health budget, with expansion to over 20,000 people in 2017/18 and 40,000+ in 2018/19. We will provide 10,000 Personal Maternity Care Budgets to new mothers by end of 2017/18 through the seven Maternity Pioneer areas.
We will also continue to maintain focus on diagnosis and post-diagnostic support for people with dementia and their carers. These are key drivers to keeping in their own homes, preventing crises and avoiding unnecessary admission to hospital.
We will support eight STP areas to take part in our new one year Building Health Partnerships programme to facilitate strong engagement with the voluntary sector and local communities on actions that improve wellbeing and self care.
Reduce avoidable demand for emergency care and meet demand more appropriately
In both 2015/16 and 2016/17, cost-weighted acute activity commissioned by CCGs has grown, at around 2.5% a year. Within that total, emergency admissions and delayed discharges have crowded out inpatient elective activity. While acute hospital bed days are up by about 1% over the latest twelve month period, within that total, non-elective bed days are up by double that at around 2%.
Although these emergency growth rates are in line with the medium term trend, cost growth has exceeded income growth. Additional funding has been provided in the form of £1.8 billion from the STF. Taken together with the £800 million of system reserve which commissioners were required to set aside to cover risks in the provider sector, the NHS has, therefore, been locked into a cycle where the extra funding needed to pay for hospital services could not be used to invest in extra services that could moderate growth in this demand. The NHS is starting to break out of this cycle, both by increasing hospital productivity and – as the new care models are starting to demonstrate – using existing resources more effectively to reduce rates of emergency admissions and lengths of stay.
Looking to 2017/18, it is vital that we accelerate progress in both these areas.
Chapter Two sets out our comprehensive plan to reduce the growth in 'minor' cases that present in A&E department This includes: better access to GP care; a more standardised 'urgent treatment centre' offer to the public; a higher proportion of 111 calls handled by a clinician; more flexibility for ambulance services to decide how patients need looking after, including on site by paramedics without the need for conveyance to hospital; better support for frail older people in care homes; GP streaming alongside A&E departments; and beefed up mental health services in A&Es.
Every part of the country – be it an STP or ACS (see Chapter Six) – will from April be measuring and managing emergency hospitalisation rates. There is a meaningful opportunity for improvement. By comparison with other countries, our figures show that "While admission rates for congestive heart failure are around a third of the EU average and point to effective treatment at the primary care level, the same is not the case for asthma and chronic obstructive pulmonary disease, where hospital admissions were well above the average." (52) In July 2017, NHS England will publish metrics for each STP benchmarking their emergency admission rates and bed days. CCGs will be held to account for improvement.
Vanguards are entering their third year and now need to take clearer financial accountability for reducing emergency hospitalisation growth in their area. To that end, 2017/18 national funding for each PACS, MCP or UEC vanguard will be available to STPs as a funding source to pay for excess emergency admissions growth in their area. The STP in which they operate will be able to use the vanguard funding provided by NHS England to pay for the lower of a) emergency admissions growth above the vanguard's agreed local emergency 2017/18 contract volumes or b) any emergency admissions growth for the vanguard's patients above the 2017/18 national emergency admissions growth rate in 2017/18. That way we can be sure that vanguards are explicitly focused on demand management and delivering better performance than the rest of the country. They now need to fulfil their early promise and demonstrate how they 'earn their passage'.
Reduce avoidable demand for elective care
30 years ago over 200,000 people were waiting over a year for an operation; today it is well under 2,000. Compared to 15 years ago, the NHS has doubled the number of hip replacements (53) and nearly tripled the availability of knee replacements. And over the past fifteen years the maximum waiting time standard has fallen from 18 months to 18 weeks. Where ten years ago just under half of patients waited more than 18 weeks for treatment, now only around one in ten patients do.
Looking out over the next two years we expect to continue to increase the number of NHS-funded elective operations. However given multiple calls on the constrained NHS funding growth over the next couple of years, elective volumes are likely to expand at a slower rate than implied by a 92% RTT incomplete pathway target. While the median wait for routine care may move marginally, this still represents strong performance compared both to the NHS' history and comparable other countries.
During 2017/18 CCGs and trusts will also step up their work to get more value out of the NHS' growing, multi-billion pound investment in elective care. For GPs and CCGs this will mean tackling clinical practice variation in referrals. For trusts this will mean tackling variation in clinical quality and productivity revealed by the Getting it Right First Time (GIRFT) programme. And for CCGs and trusts jointly it will mean redesigning care pathways to promote optimal patient care in line with RightCare. Specifically:
Building on recent progress which has seen GP referral growth slow to a modest 1.6% year-to-date, NHS England will work with upper quartile higher referring GP practices and CCGs to benchmark clinical appropriateness of hospital referrals using CCG dashboards and a new tool from NHS Digital, and then deploy clinical peer review. In doing so we will look to increase the impact of the Academy of Medical Royal Colleges' 'Choosing Wisely' initiative (54).
CCGs will review their referral management processes and guidance, where appropriate redesigning patient pathways for example to allow speedier access to physiotherapy for musculoskeletal patients with back pain.
GPs practices and hospitals are moving to universal use of e-referrals by October 2018. This offers a new specialist 'advice and guidance' option avoiding the need to default to an outpatient referral. It also embeds decision prompts on local providers with the shortest waiting times, to help with demand/capacity 'smoothing'.
GIRFT will work direct with consultants on the appropriateness of certain procedures of questionable clinical value such as some spinal surgery procedures.
Detail on the IT changes to support these approaches is included in Chapter Nine.
6. Reduce unwarranted variation in clinical quality and efficiency (NHS Improvement lead)
The Getting it Right First Time (GIRFT) methodology drives quality and productivity improvement in over 30 clinical specialties that cost trusts over £45 billion a year.  The primary objective of GIRFT is to improve quality of care and outcomes for patients.  By doing this, it will also deliver savings by reducing complications and litigation and improving outcomes, to the value of £400 million in 2017/18.
Since most elective hospital admissions are daycases and so not dependent on beds, hospitals will work to improve theatre productivity in line with GIRFT benchmarks. They also need to free up 2000-3000 inpatient beds with local councils which can then partly be used for additional funded elective inpatient admissions.
Subject to appropriate local public consultation, we will in principle support well-designed and affordable STP proposals that seek to split 'hot' emergency and urgent care from 'cold' planned surgery clinical facilities so as to allow efficient use of beds for planned surgery, avoiding the risk of cancelled operations from emergency admissions. STP schemes that are proposing this include the South East London elective orthopaedics centre, the 'restack' of services between Bournemouth and Poole hospitals, and a number of other proposals to redesign services across neighbouring district general hospitals across the country.
Differential availability of services and functions in hospitals and community settings across the week leads to variation in care for acutely unwell patients, and delays in progressing treatment. The Academy of Medical Royal Colleges has endorsed four priority clinical standards. The aim is that the proportion of the population for whom they are available seven days a week should reach 50% by April 2018. By November 2017 the whole population should be covered by five specialist services – emergency vascular surgery, stroke, major trauma, heart attacks and paediatric intensive care – meet the standards seven days a week.
Action will continue to be taken to reduce the inappropriate hospitalisation of people with learning disabilities. Hospitals are not homes, and the aim is to improve the quality of people's lives, their ability to control the services they are offered, and tackle premature mortality.  Since the 'Transforming Care' programme began implementation in Spring 2015 the number of people in inpatient units has fallen by 11%. Over the next two years it will fall at least a further 25% points, as better community alternatives are provided across England.
CCGs commission NHS Continuing Health Care for over 150,000 people with long term care needs each year. Together with the Department of Health in 2017/18, we will be consulting on the National Framework, ensuring that assessments and decisions around care packages are taken with patients and their carers within no longer than 28 days.
7. Estates, infrastructure, capital, and clinical support services (NHS Improvement lead and DH lead)
Clinical support services such as diagnostics laboratories and imaging services are vital in supporting patient care.  The NHS spends over £2.5 billion a year on these services. We need to ensure pathology services across England deliver the fastest and highest quality possible support to trusts.  By improving the deployment of pathologists and imaging services, the NHS can both improve services and save up to £130 million annually.
The NHS also needs to protect and improve its estates and facilities. Facilities management has a direct bearing on patient experience, for instance by ensuring that premises are safe, warm and clean environments for staff and patients and by preparing high quality and nutritious hospital food. The NHS spends over £6.5 billion maintaining and running its estate and facilities.  Here too there are opportunities to achieve efficiency savings, for example through reducing unwarranted variation in energy costs. NHS Improvement will support hospitals to achieve over £100 million in savings in 2017/18.
The NHS and Department of Health are aiming to dispose of £2bn of surplus assets over the Spending Review period, so as to create headroom for investment and to free land sufficient for 26,000 homes. The forthcoming Naylor review will set out the action plan for doing so. This principally relates to land and assets held by provider trusts and NHS Property Services and Community Health Partnerships, since the majority of premises used by GPs, other family health services, and third party providers are not owned by the NHS. The Naylor review also recommends a new NHS property organisation, a key function of which will be to provide a single, strengthened source of strategic estates planning expertise for the NHS.
In the March 2017 Budget the Chancellor said "At Autumn Budget I will announce a multi-year capital programme to support implementation of approved high quality STPs." And "In the Autumn a further round of local [STP] proposals will be considered, subject to the same rigorous value for money tests. Investment decisions will also consider whether the local NHS area is playing its part in raising proceeds from unused land to reinvest in the health service." An initial down-payment of £325 million divided evenly over the next three years has been announced for well-developed STPs "where there is the strongest case to deliver real improvements for patients".
8. Cut the costs of corporate services and administration (NHS England and NHS Improvement)
NHS administrative costs are already far lower than other comparable major countries. Latest OECD data show that on a like for like basis we spend only 2p in the pound on administration, compared to 5p in Germany and 6p in France (55).
Like the rest of the public sector, the health service needs to concentrate its resources on front line service delivery as much as possible.  At the same time, administration and back office functions play a vital role in keeping the NHS going, from payroll and HR facilities through to sourcing medical supplies and keeping GP practices and hospitals well stocked.
NHS administration therefore has an important role to play, but its costs need to be managed carefully. The scale of the NHS makes it possible to achieve substantial efficiencies. In 2017/18, we will take action on the following areas:
NHS provider trusts are spending over £3.2 billion a year on back office administration for finance, payroll and similar services. If all trusts reduced their costs to the current average they could save £400 million a year. NHS Improvement is targeting savings of over £100 million in 2017/18, as trusts move to consolidate these services, where appropriate across STP areas. NHS Improvement is establishing a set of national benchmarks across the key corporate services functions to enable individual trusts to compare their performance and identify where improvements can be made.
The NHS Litigation Authority, now known as NHS Resolution, is also contributing to cost reduction. As part of a new five-year strategy, NHS Resolution will provide support closer to the time of incidents, and facilitate local resolution and learning.  For example, NHS Resolution will use an early notification model for cases of severe brain injury at birth from April 2017.  NHS Resolution will aim to reduce costs by identifying and investigating these incidents earlier, providing the opportunity to resolve disputes in a less adversarial way, possibly through deploying alternative models for dispute resolution.  The approach will also support learning with the aim of reducing the actual incidence of harm and its associated costs to the system.   NHS Resolution will also continue to save money for patient care from claims when no compensation is due, and by challenging over-charging, fraudulent and excessive claims.  From 2017/18 the NHS Standard Contract is being amended to prevent law firms from operating from or touting for business in NHS premises.
NHS England and CCGs have cut more than £250 million in real terms from running costs over the past three years. We will now cut another £150 million in real terms by the end of 2019/20, in addition to savings made by other ALBs. As STPs and ACSs ramp up we will work with them to make further efficiencies by combining management support across providers, CCGs and CSUs.
NHS England and NHS Improvement have distinct and enduring statutory responsibilities under current law. In addition to our shared local work with local CCGs and trusts, NHS England's statutory duties include independently allocating £110 billion of NHS resources to different parts of the country and across programmes of care, directly managing £16 billion of national specialised services including pharmaceuticals, and overseeing over 30,000 contracts with GP practices, pharmacists, dentists and opticians. However our ways of working and cultures need to evolve and change. There are opportunities to streamline aspects of our joint work in 2017/18:

Each Regional Director and their team will act on behalf of both organisations in overseeing implementation of the Urgent and Emergency Care plan in a certain number of STPs.
The two organisations will create unified programme management groups to deliver key clinical priorities in this Plan. These will have a single jointly appointed leader, including for urgent and emergency care, mental health, cancer, maternity, and technology implementation. We also intend to promote closer collaboration between RightCare and the broader Operational Productivity programme, of which GIRFT is a major clinical component. This will better support the shared aim of reducing unwarranted and costly clinical variation across primary and secondary care and strengthen the clinically-led approach that is vital to its success. We will also look to share certain functional resources.
As STPs become designated Accountable Care Systems, they will – within the scope of current law – have a single 'one stop shop' relationship with NHS England and NHS Improvement.
9. Collect income the NHS is owed (NHS Improvement lead)
In respect of cost recovery from non-UK residents, the National Audit Office says that "the best available estimates suggest that the NHS is recovering significantly less than it could" (56). The Government has set the NHS the target of recovering up to £500 million a year, up from £97 million three years ago. Twenty trusts will now pilot new processes to improve the identification of chargeable patients. As agreed with GP representatives, by Autumn 2017 the Department of Health will amend the General Medical Service regulations to require GP practices to ask all new patients whether they hold a non-UK issued EHIC card, and then pass this information to NHS Digital so that these patients can more easily be identified in secondary care and appropriate recharging to other EEA countries can automatically occur.
10. Financial accountability and discipline for all trusts and CCGs (NHS Improvement and NHS England)
The Government's Mandate to the NHS for 2017/18 requires it to "ensure overall financial balance in the NHS" with "all parts of the system – commissioners and providers – meeting their control totals" (57). This is going to require tough decisions and decisive action.
Financial performance has improved across the NHS over the past year. Commissioners have generated an £800 million managed underspend, and most trusts are on track to meet their control totals. But as the NHS goes in to the next two years of intensified financial challenge, financial success will require managing a number of important risks and dependencies, including reducing both NHS-related and social care-related blocked acute beds as set out in the chapter two; the level of emergency admissions growth; effective deployment of available capital to unleash trust efficiencies; and workforce availability in key staff groups. In 2017/18, funding has been allocated up-front to frontline services so there is no substantial national 'bail out' fund that can cover off poor financial control by individual trust boards or CCG governing bodies. The importance of individual trusts and CCGs meeting their financial control totals and sticking to their budgets is critical. So in 2017/18:
Each provider trust and CCG will again be set a financial control total (which may by prior agreement be flexed between organisations within an STP or ACS system control total) and which they must meet.
70% of the national Sustainability and Transformation Fund will again be tied to delivery against trust-specific financial control totals.
Provider trusts not agreeing control totals will lose their exemption from the default fining regime in the NHS standard contract, and CCGs missing their financial goals will lose access to the CCG Quality Premium. From August 2017 CQC will begin incorporating trust efficiency in their inspection regime based on a Use of Resources rating.
Trusts and CCGs missing their individual (or, where applicable, system) control totals may be placed in the Special Measures regime. CCGs in that status will be subject to legal directions and possible dissolution.
Some organisations and geographies have historically been substantially overspending their fair shares of NHS funding and their control totals, even taking account of access to the STF. In effect they have been living off bail-outs arbitrarily taken from other parts of the country or from services such as mental health. This is no longer affordable or desirable. So going into 2017/18 it is critical that those geographies that are significantly out of balance now confront the difficult choices they have to take. Where necessary this may mean explicitly scaling back spending on locally unaffordable services, so that they go in to the next two years with a viable and balanced income and expenditure plan, delivering locally the Government's Mandate requirement for the NHS to balance its books.
---
References
IFS UK health and social care spending, February 2017 – The last five years saw the lowest growth rate in public spending on health since at least 1955. OECD Health at a Glance: Europe 2016. How does the UK compare? November 2016. – "Tight budget constraints have characterised the NHS in England in recent years, with close to zero growth in health spending per person in real terms between 2009 and 2015." OBR Fiscal Sustainability Report January 2017 table 3.7 – Over the next five years, OBR projects that health spending will fall from 7.3% of national income to 6.9%.
Office for Budget Responsibility (November 2016). Economic and Fiscal Outlook. Page 146. And House of Commons Committee on Public Accounts. Financial Sustainability of the NHS. Evidence session, 11 January 2017.  Around £1 billion a year of the NHS £4.8 billion capital budget being used to fund revenue pressures. In the March 2017 Budget the Chancellor announced £325 million of capital over the next three years, and consideration of further proposals in the Autumn. http://obr.uk/efo/economic-and-fiscal-outlook-november-2016/
OECD (November 2016). Health at a Glance: Europe 2016. Table A.6, page 198. http://dx.doi.org/10.1787/888933430298
Office for Budgetary Responsibility (September 2016). Fiscal sustainability and public spending on health. Chart 2.8
Written Statement to Parliament by the Chief Secretary to the Treasury on the OBR Fiscal sustainability report 2017, 17 January 2017. http://www.parliament.uk/business/publications/written-questions-answers-statements/written-statement/Commons/2017-01-17/HCWS416/
HM Treasury (March 2017). Spring Budget 2017. http://www.gov.uk/government/publications/spring-budget-2017-documents/spring-budget-2017#public-services-and-markets
NHS RightCare has defined a list of optimal value interventions in CVD prevention, including identification of people in need of anticoagulation and blood pressure treatment.  It is working to implement these in 39 CCGs, with a total population of 11.5 million people.  In Bradford, following RightCare intervention, 1000 people with atrial fibrillation began anticoagulation treatment, 7000 people at high risk of CVD received statin treatment and 2000 people were diagnosed with high blood pressure, leading to 200 fewer strokes and heart attacks in 15 months.  The programme cost a total of £300,000, and saved £1.6 million in treatment costs for strokes and heart attacks. Other areas, including West Hants and Lambeth and Southwark, have deployed similar schemes to and similarly reduced stroke numbers.
The age-standardised rate has also increased by nearly 50% for cataracts, 50% for hips and 100% for knees since 2000
http://www.aomrc.org.uk/quality-policy-delivery/healthcare-policy/choosing-wisely/
and  http://www.choosingwisely.co.uk
http://www.nao.org.uk/wp-content/uploads/2016/10/Recovering-the-cost-of-NHS-treatment-for-overseas-visitors.pdf
Under Sections 223B, 223BC and 223D of the Health and Social Care Act 2012 NHS England has statutory responsibility for ensuring commissioner expenditure does not exceed its allocation. NHS Improvement comprising the Trust Development Authority and Monitor has statutory responsibility for provider trust financial performance. The Department of Health has responsibility for the combined Departmental Expenditure Limit. Together the three organisations work to ensure financial balance across the NHS.