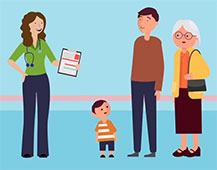 One Gloucestershire is made up of seven partners:
Gloucestershire County Council
Gloucestershire Care Services NHS Trust
Gloucestershire Hospitals NHS Foundation Trust
NHS Gloucestershire Clinical Commissioning Group
2gether NHS Foundation Trust
Gloucestershire primary care providers
South West Ambulance Service NHS Foundation Trust
It covers the county of Gloucestershire including the city of Gloucester and the towns of Cheltenham, Stroud, Tewkesbury, Cirencester as well as rural areas in the Cotswolds and Forest of Dean.
There are two acute hospitals in Gloucester and Cheltenham and seven community hospitals. Mental health services are provided by 2gether NHS Foundation Trust.
There is strong joint commissioning across Gloucestershire County Council and NHS Gloucestershire CCG, including disabilities, older people, children and families.
Primary care is delivered by 76 GP practices, organised into 16 clusters and seven localities. Three localities are piloting integrated locality boards which will develop health services at a place-based level with populations of at least 50,000.
The area's population of 600,000 will rise to 675,000 by 2030, with the proportion aged 75-84 increasing by 20 per cent between 2016 and 2021. Those aged over 65 with a long-term condition will increase from 47,500 to 77,000 by 2030. Gloucestershire has a high proportion of people aged 65+ and has a net movement of more than 400 people aged 18-30 leaving the county each year.
The vision
The partners believe that by working better together in a more joined up way and using the strengths of individuals, carers and local communities, they will improve health and wellbeing and transform the quality of care and support they provide to all local people.
What this means for local people
There will be more support for people to stay healthy and independent and develop active communities that promote prevention and self-care.
Local people with long-term conditions (physical, mental health or learning disability) should benefit from more joined-up care and support in their own homes, GP surgery, community or hospital.
Staff should find it easier to work with colleagues from other organisations to support shared health priorities and deliver better outcomes for patients.
Working together, the partners will have greater freedom and control to make decisions about services and use of the Gloucestershire pound, meaning services and support can be best targeted towards local needs.
The changes being made
Case study
Positive action helps those at risk of diabetes
Nearly 2,000 Gloucestershire people are being given a new lease of life thanks to a diabetes prevention programme.
The scheme targets individuals who have been identified by their GP surgery as having high blood sugar levels, which puts them at significant risk of developing Type 2 diabetes.
Sessions cover nutrition, exercise and suggested behavioural changes to maintain a healthy weight and become more physically active, as just a few simple lifestyle changes can prevent or delay the onset of the disease.
The programme was introduced in Gloucester, Cheltenham and the Forest of Dean and plans are in place to extend it across the county.
Richard, a patient, said: "I am now working my way to a better place, reducing my weight, being more active and feeling better in myself." Another patient, Ian, added: "I wouldn't say it was difficult, I'm just trying to make myself feel fitter and – the big thing – feel better."
More real life stories can be found on the Gloucestershire CCG website, on the topics of keeping people and communities healthy, care in communities and 'stronger together' (hospital performance, cancer and mental health).
Find out more about the changes being made locally to deliver their vision.
Looking ahead
Find out about the projects that will be happening in 2018/19 to help the integrated care system deliver on its ambitions.
Contact
You can get in touch with the integrated care system in the following ways: