Order materials to promote online GP services to patients
Help ordering promotional materials
Ordering materials online is easy. You will firstly need to register an account if you don't already have one. To do this:
Go to the Orderline website: www.orderline.dh.gov.uk
Click 'register' on the purple registration bar, and fill out your details.
Enter a "Customer Type" from the two drop-down menus:

choose "NHS Organisations"
and then one of "GP Surgeries/ Health centres", "Clinical Commissioning Group", or "NHS Confederation".
Once logged in you will find the GP online resources by clicking on:
"GP Online Services" in the "Campaign search" pane
This will bring up a full list of the available resources, which you can then order.
If you want to order more than the maximum number set of items in the system, just enter how many you would like and the system will send a request to the GP Online Services team for approval.
If you have any queries, please email england.pcdt@nhs.net.
You can also place your order by phone through the publication order line: 0300 123 1002 – quoting the reference numbers below.
Order online services promotional materials
Examples of promotional materials
We have produced a range of materials (appointment cards, leaflets and posters) and templates to help GP practices, CCGs and other NHS bodies to promote GP Online Services to patients.
You can order all of the materials below on the Department of Health website. The posters are all available in A4 or A3 sizes, and with or without a white box at the bottom for you to add your practice's own details.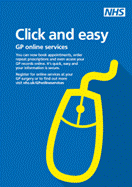 Poster – Click and easy, blue with yellow mouse
A3 with textbox: GPPCEA3WB
A3 no textbox: GPPCEA3
A4 with textbox: GPPCEA4WB
A4 no textbox: GPPCEA4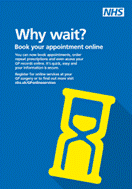 Poster – Why wait, blue with yellow sand timer
A3 with textbox: GPPWWA3WB
A3 no textbox: GPPWWA3
A4 with textbox: GPPWWA4WB
A4 no textbox: GPPWWA4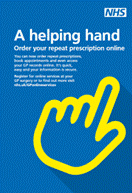 Poster – A helping hand, blue with yellow hand
A3 with textbox: GPPHHA3WB
A3 no textbox: GPPHHA3
A4 with textbox: GPPHHA4WB
A4 no textbox: GPPHHA4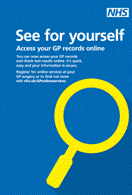 Poster – See for yourself, blue poster with yellow magnifying glass
A3 with textbox: GPPSYA3WB
A3 no textbox: GPPSYA3
A4 with textbox: GPPSYA4WB
A4 no textbox: GPPSYA4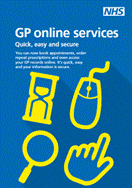 Leaflet – GP online services, with yellow icons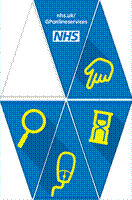 Display material
Five metre indoor bunting: GPBNT
Stand-up cardboard display: GPSC

Appointment cards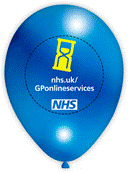 Latex Balloons
Mouse: GPBALM
Pointer: GPBALPH
Timer: GPBALT
Magnifying glass: GPBALMG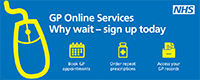 PVC Banner (outside or inside use) – 2000mm x 800mm