Improving nursing care and reducing variation across 11 practices – Leeds CCG, Yorkshire and Humber
Note: Some sections of this case study refer to clinical commissioning groups (CCGs). On 1st July 2022, integrated care systems (ICSs) took over statutory commissioning responsibilities in England, and CCGs were closed down. You can learn more about integrated care systems (ICSs) here.
Case study summary
11 practices in Leeds wanted to provide a more consistent approach to their patients by building on their existing positive working relationship. Participating in the Productive General Practice (PGP) Quick Start programme delivered by NHS England's Sustainable Improvement team, the practices came together over three months to look at reducing variation in nursing care and admin processes. PGP Quick Start is part of the Time for Care support available through the General Practice Forward View.
The idea
Work collaboratively across 11 practices to develop more consistent nursing policies and a standard process for new patient registration.
Identifying variation across a locality footprint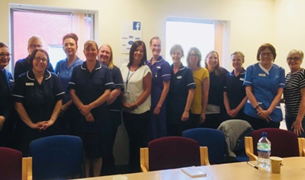 Nursing and admin representatives from each of the 11 practices initially came together to identify the areas they wanted to collectively work on, to deliver more consistent care and a standardised service.  The top three priorities for the nurses were wound care, spirometry and Sayana Press (home contraception).  For reception teams it was the new patient registration process.
Representatives from the practices split into smaller groups and attended sessions that focused on the specific areas they wanted to work on. The aim was to create best practice approaches that would be adopted by all the practices.
The first step was to identify what variation existed across the locality.  Each practice process mapped how they worked in the specific area and all maps were compared to establish where the variation existed.
Wound care – ten different templates existed for wound care, this was unhelpful for the nurses and patients.
Spirometry – the use of different guidelines meant a patient might receive spirometry in one practice but not in the neighbouring practice.
Sayana Press – this was a new service for some nursing teams who were struggling to roll it out whereas others in the locality were already implementing it successfully.
New registration process – the time it took to register a new patient varied from days to weeks. There were also inconsistencies in the size of registration packs which varied from two to eight pages long.
What was most striking to the teams was the vast variation that existed across their practices and how differently they were all working.
Bringing together what's working best across the locality
Understanding how different practice teams worked helped the groups learn what was working well, and this was incorporated into the locality wide policies and processes they redesigned.  Following on from this a number of actions were agreed and fed back to practice teams.
Wound care – a new standard wound care template was designed in collaboration with community nurses, who teams felt had the best template. The group also updated patient referral forms and self-management leaflets.
Spirometry – diagnostic methods were standardised and national registration and training requirements were clarified, potentially saving significant training costs.
Sayana Press – a standard set of policies, templates, consent forms, information sheets and best practice guidance were developed.
New registration process – a patient registration process was designed so there is a consistent approach to the information required, advice on medication supplies, a patient guidance letter, GDPR (General Data Protection Regulation) conformity and links to online services.
As all practices had contributed to the changes there was a strong commitment from all teams to implement the new standardised approaches.
Impact
Collaboration and consistency of approach has improved across practice and wider nursing teams. It is hoped this will lead to fewer patients being misdiagnosed across the locality due to variation in clinical processes.
The programme has built and strengthened relationships with staff across practices. Teams are now looking at other areas they can improve.
It is easier for staff to help out at different practices now that approaches and processes are more consistent.
The changes aim to reduce processing time, cut down on paper work and reduce the need for unnecessary appointments. From a clinical perspective the new approaches have sped up transfer of information to clinicians.
Patients that move to different practices now experience a smoother and speedier transfer. The time taken to complete new patient registrations in some practices has reduced from several weeks to just two days.
The programme helped us continue building on working on a wider scale, finding out what good practice is and taking the best bits to roll out across the locality.

Andrea Mann, Managing Partner, Colton Mill and The Grange Medical Centre and Head of Nursing Quality and Governance Leeds CCG Partnership
If you would like to find out more about how you can access the Time for Care programme, visit our 'Releasing time for care' web page.