Enhancing the quality of life for people living with long term conditions – The House of Care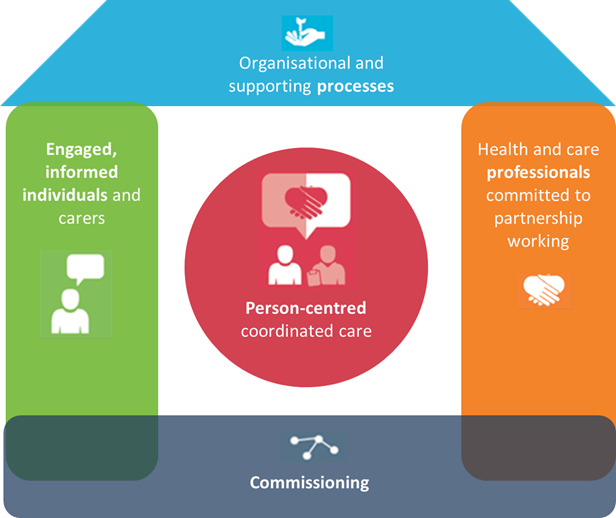 "The NHS has a lot to celebrate: it has contributed to people surviving conditions that in the last century would have been fatal and contributed to an increasing life expectancy. That success has however created a new context for the health and care system: the emergence of non-communicable diseases or long term conditions (LTCs) as the dominant challenge to health and care systems. It is estimated that LTCs consume around 70% of health and care resource expenditure. Moreover the pattern of LTCs is changing. Although great strides have been made in tackling individual conditions, increasingly individuals have to cope with multiple conditions. Society has changed as well. People have different expectations and the revolution in digital technology means the traditional role of the professional with a patient needs to be transformed as well.
Our system, designed for the 20th century, has to change and adapt to meet the challenges of the future. By listening to the experiences and feedback from people coping with LTCs it is evident that the individual needs to become central to how care is designed and implemented. Personalised care which understands and supports the individual is vital. There is no magic bullet which will support the delivery of personalised care but there is evidence that thinking systematically about the essential components does.
This is why, for Domain 2, we have adopted the House of Care as a framework to enhance the quality of life for people with long term conditions, not matter what their conditions. Implementing the intent of the House of Care will be a challenge.
We need to continue to use the best clinical and organisational evidence and practice which has emerged from the condition specific focus developed over recent decades. This is the roof of the House and is supported by two walls. The first of these walls supports professional collaboration. Long term condition management is about collaboration between professional specialists and generalists. It is about team work which puts the individual requiring support central to the endeavours of professionals. The second wall is about the individual and their carers. We need to support the potential of both the individual and their network of support to self care. Self care is not abandoned care but recognises that in the management of LTCs the individual with the conditions is an expert in their own right.
The foundations for the House are commissioning enablers. Planning, securing and monitoring investment on behalf of the individual and population to secure the best possible outcomes.
The House of Care takes a whole system approach to LTC management. It makes the person central to care. It is about aligning levers, drivers, evidence and assets to enhance the quality of life for people with long term conditions no matter what or how many conditions they have.
To make the House of Care a reality we have developed resources including an interactive toolkit, an information dashboard and a diagnostic tool which will help professionals, organisations and communities to make the changes at a local and personal level. NHS England will continue to make changes at a national level that support implementation whilst understanding where the real change happens."
Dr Martin McShane – Director (Domain 2) Enhancing the quality of life for people with Long Term Conditions, NHS England.
See here for more information about how we built house of care model.
Resources
House of Care toolkit – A resource that brings together national guidance, published evidence, local case studies and information for patients and their carers about how to access services. It includes information on what tools and resources are required to achieve person-centred coordinated care and how these can be effectively commissioned. The toolkit can be used by anyone involved in commissioning, providing or receiving long term conditions care. It aims to act as a framework to allow commissioners and providers to capture existing progress and to acknowledge gaps where further developments could be made. This toolkit currently considers the House of Care at a national level. Local and Personal Level Toolkits are in development.
Long Term Conditions Information Dashboard – A summary of metrics that will support intelligent commissioning for long term conditions across health and social care across five areas; risk factors, prevalence, quality of care, quality of life and economic activity.
The dashboard moves away from disease specific indicators towards a view of multi-morbidity and long term conditions overall. The information in the dashboard will support commissioners in understanding their current position, priorities and the impact of implementing the house of care.
We have also created a new Explorer view of the data in the LTC Dashboard. This allows two indicators to be compared across organisations (e.g. prevalence and outcomes) or different time periods for an indicator.
Long Term Conditions Info graphic – A simple demonstration of key information at a national level related to long term conditions, aimed at commissioners and health and social care providers. It gives an overview on current challenges and the impact living with long term conditions can have on a person's quality of life. The measures presented include:  the proportion of people aged over 85; the proportion of people who smoke; prevalence of LTC comorbidity; information on quality of life and on service utilisation for people with LTCs. A slide pack version is also available to download here.
Long Term Conditions Improvement Programme – Led by NHS Improving Quality. The programme aims to support local areas to through the development of a learning community to improve the quality of life for people living with long term conditions.
NHS IQ have developed a diagnostic tool as the first stage of the programme to help local commissioners to understand their current position in relation to long term condition management. The tool is an online questionnaire than can be completed before 30th June 2014.
Links to related blogs: