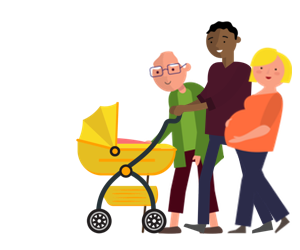 Region: North East and Yorkshire
Population: 1.7 million
Find out more about Humber, Coast and Vale integrated care system (ICS) including details of its population size, constituent organisations and priorities.
Priorities
Humber, Coast and Vale has a shared vision for its local communities. We want everyone in our area to have a great
start in life and to have the opportunities and support they need to stay healthy and to age well. We are working together to help everyone in the area to "start well, live well and age well".
Its priorities are:
Healthier People – improving the health and life expectancy of local people.
Better 'Out of Hospital' Care – creating services that are more joined-up so people only go into hospital when it is absolutely necessary and do not stay longer than they need to.
Better 'In Hospital' Care – making the best use of the resources and workforce across our system to plan and deliver good quality hospital-based services.
Better Mental Health Care – improving the care and support that is available for people with mental health problems.
Better Cancer Care – helping more people to survive cancer and supporting those living with and beyond cancer.
Balancing the Books – making the most of every penny to deliver good quality local services within the funding
available.
Constituent organisations
The following organisations are part of Humber, Coast and Vale ICS. For individual contact details for these organisations, please see the NHS website.
Care Plus Group
City Healthcare Partnership CIC
City of York Council
East Midlands Ambulance Service NHS Trust
East Riding of Yorkshire CCG
East Riding of Yorkshire Council
Focus
Hull and East Yorkshire Hospitals NHS Trust
Hull CCG
Hull City Council
Humber NHS Foundation Trust
Navigo
NHS England
NHS Improvement
North East Lincolnshire CCG
North East Lincolnshire Council
North Lincolnshire CCG
North Lincolnshire Council
North Yorkshire County Council
Northern Lincolnshire and Goole NHS Foundation Trust
Rotherham, Doncaster and South Humber NHS Foundation Trust
Scarborough and Ryedale CCG
Tees, Esk and Wear Valleys NHS Foundation Trust
Vale of York CCG
York Teaching Hospitals NHS Foundation Trust
Yorkshire Ambulance Service NHS Trust