Is it now time to revisit and refresh the Productive Ward: Releasing Time to Care programme?: An independent perspective from a study led by King's College London
Dr Sophie Sarre (King's College London), Professor Glenn Robert (King's College London), Professor Jill Maben (University of Surrey), Professor Peter Griffiths (University of Southampton) and Rosemary Chable (University Hospital Southampton NHS Foundation Trust)
Over the past year, NHS England's Sustainable Improvement Team has been reviewing the series of quality improvement programmes known as The Productive Series. Broadly based on lean-thinking and tools, 'the Productives' sought to help NHS staff to improve productivity and reduce waste, with the aim of providing better quality, safer care, and a better experience for patients and staff. By reducing time spent on wasteful tasks such as duplicate paperwork or fetching supplies, the intention was that nurses and other staff could spend more time with their patients.
The first in the series, Productive Ward, was launched in 2007 and consisted of a number of modules, a toolkit and guidance, which sought to enable frontline staff in acute hospitals to take ownership of their ward and improve the ways in which it worked.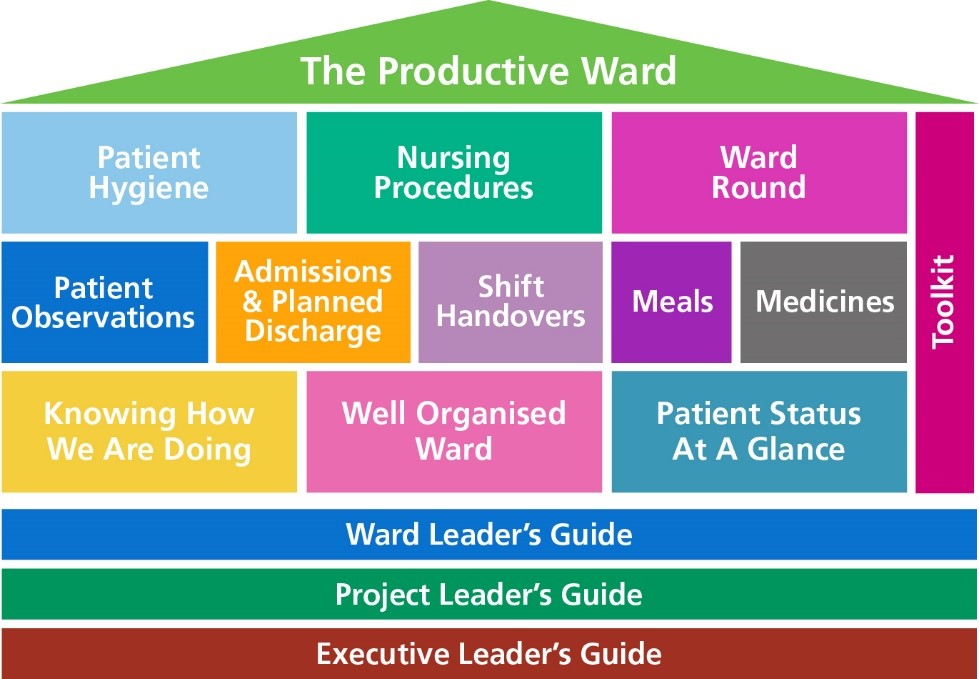 At King's College London, we have recently completed an independent study to find out whether Productive Ward and the way it was implemented has led to lasting improvements in English hospitals over the last
Due to be published later this year, the first part of the study consisted of an online survey to Directors of Nursing and Productive Ward programme leads in hospitals in England and interviewing additional former Productive Ward leads by phone. We then worked closely with six acute hospitals where we interviewed staff, looked at routinely collected data, and observed any evidence of legacies of Productive Ward.
Whilst we were unable to find any robust quantitative evidence of lasting improvements, we did find legacies of the Productive Ward still in place up to a decade after the programme had first been implemented, most commonly including the display of ward-level patient safety metrics and efficient storage systems, as well as aspects of some ward routines (such as mealtimes).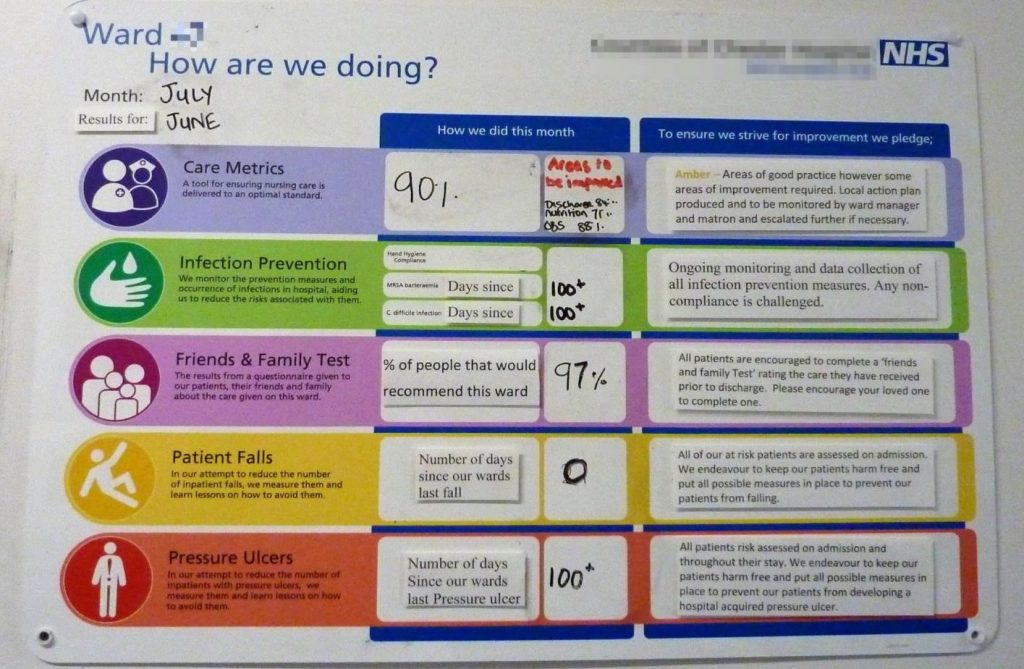 A legacy of Productive Ward: ward-level patient safety metrics on display: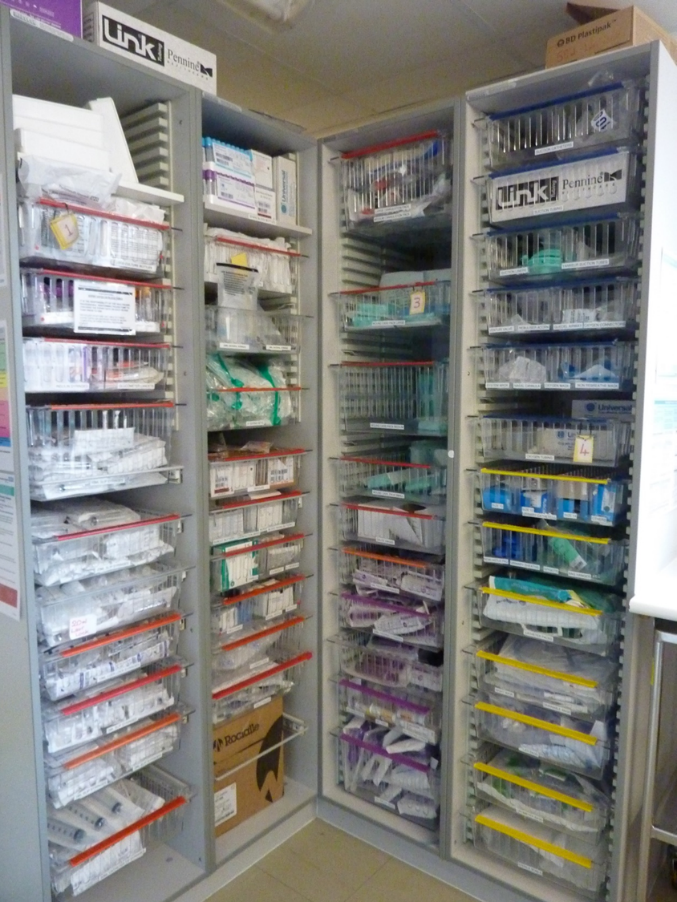 Labelled, colour-coded, like-with-like storage attributed to the Well-Organised Ward module
With a few exceptions, people who could recall Productive Ward generally spoke positively about it. We found that quality improvement strategies in many hospitals had been influenced to varying degrees by past experiences and lessons from implementing Productive Ward. Over half the former programme leads in our survey said they would like to see Productive Ward re-invigorated at their Trust – with many suggesting it could be usefully refreshed. One matron we spoke to said:
"I think the national picture where we are about productivity and getting the right people to do the right things … I think there'd be a lot of value in rethinking the advertising of it and I think the NHS would benefit from it right now."
But evidence suggests that adaptations would need to be made to Productive Ward to suit the contemporary context. As a Director of Nursing commented:
"This was a good initiative at the time, however things have moved on in terms of embedding assurance processes, change management, model hospital, regulation processes etc (for example CQC) so this doesn't have the same impact as it did at its initial launch."
If NHS England decide to refresh Productive Ward, our study suggests they take the following seven lessons into consideration to create a more wide-ranging legacy for the programme second-time around:
Think beyond the ward. Although many nurses identified with Productive Ward, other staff groups were seldom engaged. One identified weakness was that in focussing exclusively on ward and nursing processes, the original framing and format of Productive Ward would not meet current demands for multi-disciplinary team working and whole-system transformation.
Resourcing. It would require sufficient resourcing. Not only funding to release staff from ward duties to carry out task-driven activities related to Productive Ward (which those who had received it reported as a beneficial influence on implementation) but also experiential learning in relation to the underlying principles of the programme. A dedicated member of staff to co-ordinate activities and training within organisations was a further key factor in sustained impact.
A focus on quality not quantity. Wards often tended to rush through the eleven modules 'going through the list' or would simply miss some out altogether. As implementation progressed programme leads tended to run out of time and energy, and in later wards 'solutions' were imposed by programme leads and/or ward managers without giving other staff much opportunity to identify solutions. A subsequent 'sustainability tool' was criticised for measuring whether modules had been completed, rather than what outcomes had been achieved or lessons learned.
Less is more. Bearing in mind the above, Productive Ward would benefit from being slimmed down and more focussed. The modules that were by far the most useful, according to our survey and conversations with hospital staff, were (in order): the 'foundation modules' (Well Organised Ward; Patient Status at a Glance; Knowing How We are Doing); followed by three of the process modules (Medicines; Patient Observations; and Shift Handovers). The remaining four process modules were rarely implemented in any meaningful way and could be omitted in any re-launch.
Play the long game. Efficient systems for enabling robust measurement of impacts and costs (initial and over time) should be built in from the start. The reputation of the Productive Ward suffered to some degree from overclaiming benefits without a sufficiently longitudinal or robust evidence-base.
Adaptability. The programme needs to be able to absorb and adapt to changing organisational or NHS priorities so that relevant Productive Ward learning and resources can be applied to new priorities, rather than entirely new quality improvement programmes being designed to replace or run alongside Productive Ward. Having the guidance and tool kits available online so they can be revised and redirected, as opposed to relying on hard copies of modules, would better support this.
Involve patients and carers as partners. Although guidance suggested roles for patients, visitors and patient representatives at ward and hospital level, such involvement was generally low to non-existent. Recent interest in – and examples of – how co-production can underpin quality improvement work hold important lessons for meaningful and imaginative ways in which service users can and should be part of designing and evaluating programmes like the Productive Ward.Our independent findings indicate that these lessons would aid local implementation and long-term sustainability of the principles and potentially wide-ranging impacts of the Productive Ward.
The full report of the independent study, Sarre, S., Maben, S., Griffiths, P., Chable, R., Robert, G. Exploring the sustainability of quality improvement interventions in healthcare organisations: a multiple methods study of the ten year impact of the 'Productive Ward: Releasing Time to Care' programme in English acute hospitals will be published later in 2019 by the National Institute for Health Research Health Services and Delivery Research programme.
This blog draws on the findings from an independent research study funded by the National Institute for Health Research Health Services and Delivery Research programme (HS&DR – Project: 13/157/44) and based at the Florence Nightingale Faculty of Nursing, Midwifery and Palliative Care, King's College London. The views expressed here are those of the authors and do not necessarily reflect those of NHS England the NIHR, or the Department of Health.
To find out more, email Sophie at Sarre@kcl.ac.uk or follow Glenn on twitter: @gbrgsy
Read Reviewing the Productives – what we've learned by Maggie Morgan Cook, NHS England.