Reviewing the Productives – what we've learned
by Maggie Morgan-Cooke, Programme Lead, Improvement Directorate, NHS England
Over the past year it's been a real privilege, as part of NHS England's Sustainable Improvement team, to review the legacy of the much-loved NHS Productives series and find out from sites around the country how the series has made a difference to patients, both in the past and now.
At the same time, a research team lead by King's College, London have been studying the legacy of Productive Ward in their study 'Exploring the sustainability of quality improvement interventions in healthcare organisations: a multiple methods study of the ten year impact of the 'Productive Ward: Releasing Time to Care' programme in English acute hospitals', and it's been fascinating to get an early taste of their insights in the blog from Professors Dr Sophie Sarre, Professor Glenn Roberts, Professor Peter Griffiths and Rosemary Chable. I'm looking forward to seeing the full independent research when it's published later this year.
We've listened intently to the learning from the wider NHS and I've enjoyed the chance to reflect on what we've learned, how this links to the helpful recommendations from the team at King's College, and some of the progress we've already made.
Think beyond the ward: Many of you will be familiar with other publications in the NHS Productives series which cover a wide range of specialties and are listed below. You can get online access to any of these original materials by emailing us at england.si-communications@nhs.net.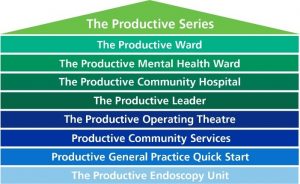 As the blog suggests, the Productives approach would need updating to focus on challenges the NHS faces today, particularly in relation to multi-disciplinary and integrated partnership working. We are currently curating our learning into an online resource that teams can use as part of an overall strategy to deliver system improvement across an organisation or multi-disciplinary teams. It will signpost tools and approaches that you can use to lead and implement changes for themselves and will be published later this year.
Resourcing: We all know the financial constraints and challenges that face the health and care system. The learning from the NHS has shown how many organisations are doing more with less by adapting some of the principles of the Productives into their daily work, which allows them to reduce variation and waste in their system. We plan to share this learning widely to inform future national improvement work that will support staff to deliver the NHS Long Term Plan. The lesson about needing resources to spread and sustain changes is well made and we encourage and support organisations to think about how they can build in sustainability from the outset.
A focus on quality not quantity: As you would expect, there was variation at the local level. The Productives approach was always about the board giving staff the headroom and support to identify, lead and implement changes for themselves. We recognise that in some organisations this was truer than in others, but we know that in many organisations the work was well supported and aligned with local and national priorities.
Less is more: This is such an important point and is a lesson we put into practice when we developed Productive General Practice Quick Start, which is an on-site, short term, hand's-on support package as part of the Time for Care programme for general practices. The modules are 'leaner and focus on 'the how not the what'. The roll out has been extended for another two years and over 2700 practices are involved with at least one element.  You can find out more about Time for Care on the NHS England website.
Playing the long game: As a national improvement team we continue to underpin everything we do with robust measurement and encourage organisations to do the same from the start. You can learn more about this by joining Improvement Fundamentals, our series of free online courses which you can complete from your home or desk. You can find out more and sign up at: https://www.england.nhs.uk/sustainableimprovement/improvement-fundamentals/
Adaptability: We're creating our new online resource with the present and future in mind, by applying the existing Productives principles to current challenges. One of my highlights of the past year has been engaging with over 90 organisations across England and overseas who are using the modules to support their service improvement efforts, and to see how they're still being used to make a difference to patients. You can read more in our case studies:  Leeds Teaching Hospitals NHS Foundation Trust, Portsmouth Hospitals NHS Trust, North West London NHS Foundation Trust
Involving patients and carers: There is always more we can do in this area and over the past year I've been really pleased to see more sites asking us for copies of the 15 Steps Challenge resources which were designed to help wards and teams engage their patients in the Productives approach. You can find the 15 Steps Challenge on the NHS England website.
Read the blog from Dr Sophie Sarre and colleagues from King's College, London.