South Yorkshire and Bassetlaw Integrated Care System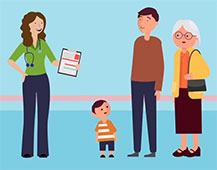 Health and Care Working Together in South Yorkshire and Bassetlaw is a partnership of 25 organisations responsible for the health and care of 1.6 million people living in Barnsley, Bassetlaw, Doncaster, Rotherham and Sheffield.
The integrated care system is made up of 18 NHS organisations, six local authorities and key voluntary sector and independent partners. It faces significant health inequalities, with healthy life expectancy differing by more than 20 years across the area. Where deprivation is high, access to services is variable and outcomes can be worse than in other areas. There are higher than average deaths in people aged under 75 from cancer, heart disease and serious mental illness. Levels of childhood poverty are significantly higher than the national average and the gap is widening, and there are more teenage conceptions and mums smoking during pregnancy than average.
The integrated care system covers the following area:
The vision
By working together as an integrated care system, the partners want to better join up GPs and hospitals, physical and mental health and social care to give patients seamless care. Health and care services also want to support people to prevent illness by making different lifestyle choices and keeping a check on their health. In this way, together all partners will support real and long-lasting improvements to the health of local people.
Watch a video explaining more about South Yorkshire and Bassetlaw Integrated Care System five year plan.
What this means for local people
The South Yorkshire and Bassetlaw Sustainability and Transformation Plan describes how the partners will make improvements to health and care services. The aims include:
Making it easier to see a GP and speeding up access to appointments, so that people will benefit from early diagnosis and faster help for mental health problems;
Making it easier for local people to get expert advice and access free healthy living schemes;
Helping to build trust and understanding across communities by supporting people to connect with and develop local links and networks in their neighbourhoods;
Helping everyone to have a great start in life, with support to stay healthy and live longer – improving their chances of having a better education, finding employment and staying employed.
The changes being made
Case study
My Best Life prescribing
The My Best Life project helps the most vulnerable people in society to flourish, with social prescribers putting clients in touch with services that offer support with issues such as isolation or debt.
Rob, 57, was referred to My Best Life by his community matron. Rob had been helped medically but he was depressed, lonely, and suffered with anxiety.
Rob said: "I've got COPD, I'm in and out of hospital with infections, I started getting down, and then Darren started coming to help. I wasn't seeing anyone; I wasn't touching my music… but getting a new bungalow with help from Darren and all these services coming round, it's got me back. I've still got some life left."
Darren, a social prescriber, said: "He's a really interesting person – when I got talking to him, the key thing was that he was lonely. I got social services to come in four times a day. He's come a long way and I'm so proud of him. He knew he needed help but didn't know where to go for it. Our service has made a big difference to his life."
Find out more about the changes being made locally to deliver their vision.
Looking ahead
Find out about the projects that will be happening in 2018/19 to help the integrated care system deliver on its ambitions.
Contact
You can get in touch with the integrated care system in the following ways: