Joined Up Care Derbyshire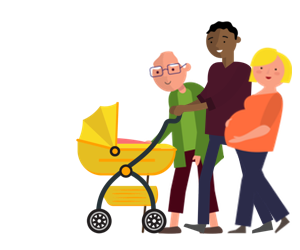 Region: Midlands
Population: 1 million
Find out more about Joined Up Care Derbyshire sustainability and transformation partnership (STP) including details of its population size, constituent organisations and priorities.
Priorities
Investing £6.5 million over the next five years in making sure people can access services when they need them, including evenings and weekends, and see a doctor,
advanced nurse practitioner or other appropriate clinician.
Giving patients who have lots of health needs the support they need to stay well at home so they recover fully and more quickly.
Working towards supporting 2,500 health and social care staff to focus more care out in communities, where it is needed, in GP practices, pharmacies, social care, mental health, opticians, and other providers.
Offering more support to approximately 50,000 people across the city and county who have the greatest health needs, so they get extra help from professionals.
Giving better care to approximately 150,000 patients who have ongoing issues such as high blood pressure, asthma and diabetes.
Reducing the number of people being unnecessarily treated in hospital, community or residential care when it is not best suited to their specific needs – instead giving them appropriate services, closer to home.
Which area does the STP cover?
The following map shows the area that Joined Up Care Derbyshire STP covers:

Constituent organisations
The following organisations are part of Joined Up Care Derbyshire STP. For individual contact details for these organisations, please see the NHS website.
Chesterfield Royal Hospital NHS Foundation Trust
Derby City Council
Derby Teaching Hospitals NHS Foundation Trust
Derbyshire Community Health Services NHS Foundation Trust
Derbyshire County Council
Derbyshire Health United
Derbyshire Healthcare NHS Foundation Trust
East Midlands Ambulance Service NHS Trust
Erewash CCG
Hardwick CCG
North Derbyshire CCG
Southern Derbyshire CCG
Contact Joined Up Care Derbyshire STP
STP leader (interim): Vikki Taylor (Derbyshire STP Director, Locality Director, NHS England)