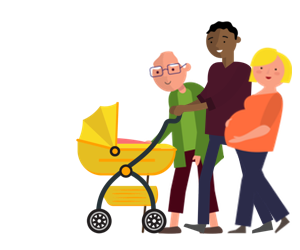 Region: North West
Population: 0.3 million
Find out more about North Cumbria sustainability and transformation partnership (STP) including details of its population size, constituent organisations and priorities.
Priorities
Implementing decisions made through the Healthcare For The Future consultation.
Developing eight integrated care communities to move care out of hospital and into the community.
Delivering financial efficiencies to get the system back to living within its means.
Developing co-production as the way to do things across the system, harnessing the energy, ideas and support of local communities.
Focusing on population health and mobilising local communities around prevention and self- care.
Improving links with, and supporting, the care sector, which is under pressure.
Developing links with tertiary centres in the North East of England, including in cancer and children's acute care
Which area does the STP cover?
The following map shows the area that North Cumbria STP covers:

Constituent organisations
The following organisations are part of North Cumbria STP. For individual contact details for these organisations, please see the NHS website.
Cumbria County Council
Cumbria Health On Call
Cumbria Partnership NHS Foundation Trust
Health Education England
Healthwatch Cumbria
NHS England
NHS Improvement
North Cumbria CCG
North Cumbria University Hospitals NHS Trust
North West Ambulance Service NHS Trust
Primary Care providers – GP Practices
Tertiary providers in the north east