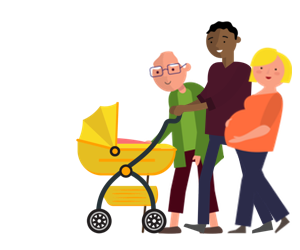 Region: London
Population: 1.5 million
Find out more about North London sustainability and transformation partnership (STP) including details of its population size, constituent organisations and priorities.
Priorities
Helping people stay healthy and well
Involving local people as partners in health and care
Building health and care services near to where people live
Services people can rely on in an emergency
Planning and delivering the care people need, when they need it, and in the right setting
Supporting people to stay mentally well and to recover from mental ill health and thrive
Helping people and families survive the impact of cancer
Giving mothers-to-be more choice and better support
Giving children and young people the best start in life
Creating a caring and compassionate health and care workforce
Making the best use of buildings owned by partners and making sure they are fit for purpose
Harnessing the power of technology
Balancing the books
Which area does the STP cover?
The following map shows the area that North London STP covers:

Constituent organisations
The following organisations are part of North London STP. For individual contact details for these organisations, please see the NHS website.
Barnet, Camden, Enfield, Haringey and Islington CCGs
Barnet, Camden, Enfield, Haringey and Islington Councils
Barnet, Enfield and Haringey Mental Health NHS Trust
Camden and Islington NHS Foundation Trust
Central and North West London NHS Trust
Central London Community Healthcare NHS Trust
Moorfields Eye Hospital NHS Foundation Trust
North Middlesex University Hospital NHS Trust
Royal Free NHS Foundation Trust
Royal National Orthopaedic Hospital NHS Trust
Tavistock and Portman NHS Foundation Trust
University College London Hospitals NHS Foundation Trust
Whittington Health NHS Trust
Contact North London STP
STP leader: Helen Pettersen, Chief Officer and Accountable Officer for the North Central London Clinical Commissioning Groups (Barnet, Camden, Enfield, Haringey and Islington).
Email: nclstppmo@nhs.net