Surrey Heartlands Health and Care Partnership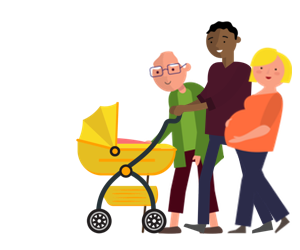 Region: South East
Population: 0.9 million
Surrey Heartlands is a HM government devolution area. Find out more about Surrey Heartlands including details of its population size, constituent organisations and priorities. This partnership is developing into an integrated care system.
Priorities
Creating of a Surrey Heartlands clinical academy to enable clinicians to work together and agree common standards so that all local residents have access to the same high quality standards of care.
Promoting self-care and encourage and support residents to take more responsibility for their own healthcare.
Improving the way we provide services, with more care in the community, and single centres for some of the most specialist hospital services (creating expertise and improving outcomes).
Working as one – moving towards one budget and one overall plan for the Surrey Heartlands area.
Which area does the STP cover?
The following map shows the area that Surrey Heartlands Health and Care STP covers:
Constituent organisations
The following organisations are part of Surrey Heartlands Health and Care STP. For individual contact details for these organisations, please see the NHS website.
Ashford and St Peter's Hospitals NHS Foundation Trust
CSH Surrey
Epsom and St Helier University Hospitals NHS Trust
Guildford and Waverley CCG
North West Surrey CCG
Royal Surrey County Hospital NHS Foundation Trust
South East Coast Ambulance NHS Foundation Trust
Surrey and Borders Partnership NHS Foundation Trust
Surrey County Council
Surrey Downs CCG
Contact Surrey Heartlands Health and Care Partnership STP
STP leader: Dr Claire Fuller, Senior Responsible Officer, Surrey Heartlands Health and Care Partnership
Email: comms.surreyheartlands@nhs.net