What is Integrated Personal Commissioning (IPC)?
Integrated Personal Commissioning (IPC) is a nationally led, locally delivered programme that is supporting healthcare empowerment and the better integration of services across health, social care and the voluntary and community sector.
The programme aims to ensure that services are tailored to people's individual needs, building on learning from personal budgets in social care and progress with personal health budgets. Through IPC, people, carers and families with a range of long-term conditions and disabilities are supported to take a more active role in their health and wellbeing, with better information and access to support in their local community, and greater choice and control over their care.
Who's benefitting from IPC?
All areas delivering IPC are working with one or more of the following groups of people, who typically have high levels of need, often across health and social care:
Children and young people with complex needs, including those eligible for education, health and care (EHC) plans
People with multiple long-term conditions, particularly older people with frailty
People with learning disabilities with high support needs, including those who are in institutional settings or at risk of being placed in these settings
People with significant mental health needs, such as those eligible for the Care Programme Approach (CPA), or those who use high levels of unplanned care.
How IPC is being delivered
IPC is characterised by 'five key shifts' in people's experience of care, made possible by a number of changes in how services are delivered: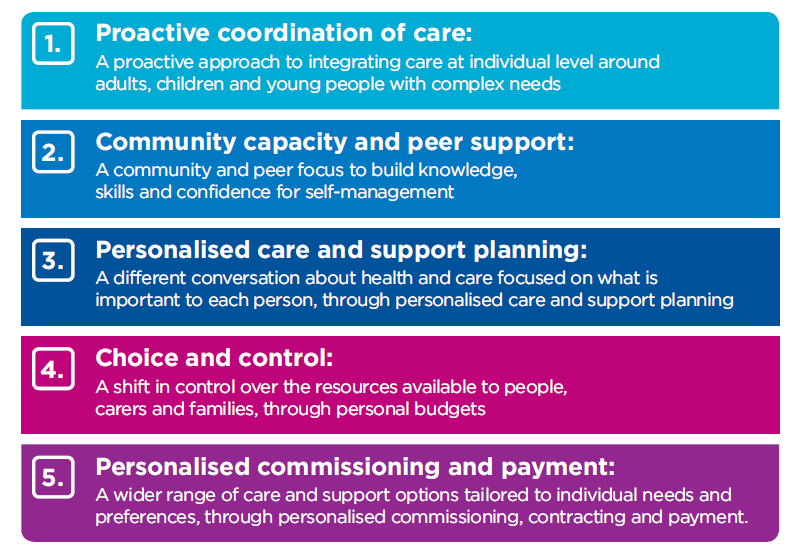 In May 2016, based on learning from the first year of the programme, the IPC Emerging Framework (PDF) was published, describing the five key shifts in more detail. This short introductory film has also been produced by the national team.
Watch this short video to learn more about Integrated Personal Commissioning
Areas implementing IPC
Following a rigorous shortlisting and interview process in 2015, a number of areas were selected to be IPC "demonstrators", and lead the way in designing this model of care for people with complex needs in England. These demonstrators were joined by additional "early adopters" in late 2016, representing the first stage of national roll-out.
Contact details
You can contact the national team by emailing England.integratedpersonalcommissioning@nhs.net.
Links