Lancashire and South Cumbria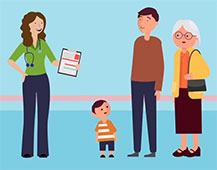 The Lancashire and South Cumbria system covers a region made up of five local areas (Central Lancashire, West Lancashire, Pennine Lancashire, Fylde Coast, and Morecambe Bay). These areas provide a way for organisations and groups involved in health and care to join up locally. Partners include:
CCGs: Greater Preston, Chorley and South Ribble, East Lancashire, West Lancashire, Blackpool, Fylde and Wyre, Morecambe Bay, Blackburn with Darwen;
Five acute and community trusts: Lancashire Teaching Hospitals NHS Foundation Trust, University Hospitals of Morecambe Bay NHS; Foundation Trust, East Lancashire Hospitals Trust, Blackpool Teaching Hospitals NHS Foundation Trust and Lancashire Care NHS Foundation Trust;
Two upper tier councils (Lancashire and Cumbria) and two unitary councils (Blackpool and Blackburn with Darwen).
The system covers a population of around 1.8 million and the region is diverse, with areas of differing geographies and local challenges. Some people experience ill health from an early age and die younger, especially where there are higher levels of deprivation. For most of the area, the quality of life for people with long term health conditions is worse than the average across England.
Watch a video explaining more about Lancashire and South Cumbria.
The vision
Through effective partnerships in Lancashire and South Cumbria, the system is working to invest in health and deliver high quality healthcare within the resources that all the partners have at their disposal. This will drive the health, wellbeing and cohesiveness of all its towns and communities, so that all of the diverse populations have the fairest access to good care and the best possible chance to have healthy fulfilling lives.
What this means for local people
A strong focus on improving health and wellbeing outcomes will enable people to stay well for longer and have greater control over their health and wellbeing;
Utilising new technologies will help reduce the demand on services and support both self-care and prevention of ill health;
Making the best use of resources will ensure the best quality outcomes and value for money;
The extension and improvement of community and primary care services will improve access for local people.
The changes being made
Case study
Community matron and specialist nurses hub
The community matron and specialist nurses hub in West Lancashire brings specialists from different areas together in one place to support people with respiratory conditions, including assessment of patients for oxygen. By working more closely they are able to improve the experience for patients and deliver the service direct to the community rather than patients having to go to hospital for assessments and support.
Mary has COPD and now receives regular home visits from a nurse. She says: "She makes my life worth living; she's so kind".
A short video about how community nursing is improving services for patients in West Lancashire is available.
Find out more about the changes being made locally to deliver their vision.
Looking ahead
Find out about the projects that will be happening in 2018/19 to help the integrated care system deliver on its ambitions.
Contact
You can get in touch with the integrated care system in the following ways: