Parents urged to continue vital childhood vaccinations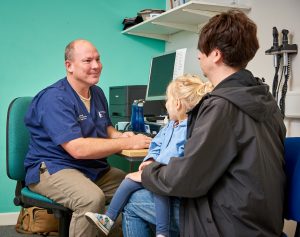 The NHS in London is urging parents in London to take young children for immunisation appointments to prevent outbreaks of serious diseases and reduce pressure on the health service.
Data from GP practices across the capital points to a 25% drop in the numbers of children having received vital immunisations compared to this time last year.
Vaccination schedules are carefully timed during early years to maximise protection and it is important that they are followed as closely as possible.
GP practices across the capital are stepping up services to make sure parents can access vaccinations in new ways that protect them and their children. Innovation includes 'drive through' vaccinations, reducing face-to-face time by carrying out parts of the appointment over the phone and increasing the gaps between appointments to make sure that parents and their children do not come into contact with other patients while they are at their appointment.
Vaccinations at this age protect against a range of very serious diseases, including meningococcal group B bacteria, which are a common cause of meningitis in young children in the UK. Meningitis is a highly contagious, extremely serious infection that can lead to death or permanent disability. The vaccine is recommended for babies aged 8 weeks, followed by a second dose at 16 weeks and a booster at 1 year. Vaccinations also protect against measles, mumps and rubella which has an 'R' number of 12 – 18 in a population with no immunity.
London's vaccination rates for young children are already among the lowest in the UK, typically 5 – 10% lower than the best performing parts of the country.
Dr Vin Diwakar, medical director for the NHS in London, said:
"GPs have innovated rapidly in London to provide vaccinations in ways that are designed to protect children and their families during this pandemic. NHS teams are here to help – I'm urging parents to continue to attend appointments.

"Young babies are vulnerable and need protection from a range of diseases. Social distancing will not protect young children from the risks of diseases such as meningitis.

"London already has lower vaccination rates compared to elsewhere in the UK, meaning we cannot afford to go backwards. The good news is that if we act now, it's not too late for us to catch up with the effects of the pandemic and protect children."
This new data snapshot from practice systems captures a moment in time – comparing the proportion of London children who have had their vaccinations on time in May 2020 to the same date last year. Any lasting fall in protection as a result of Coronavirus will not become clear until later this year when detailed data is published looking at rates over the remainder of the year. However, the current drop is significant enough at this stage to concern experts, who are calling on parents to return to appointments now in order to improve rates over coming months.
Some parts of the capital maintained steady childhood vaccination rates during the Coronavirus response. One of these areas, Tower Hamlets, has used a variety of techniques to ensure parents feel safe and comfortable, including increasing gaps between appointments to maintain social distancing and carry out key parts of the consultation with parents over the phone in advance of physically coming into the service.
Linda Aldous, Director of Nursing, Bromley by Bow Health and Maternity and Early Years Lead for Tower Hamlets CCG said:
"Our staff are acutely aware of infection control and prevention needs and we have been able to take the time to explain our approach to parents who have concerns. Our aim is to protect children as we know that if they do not receive these vital vaccinations, we could see a rise in other diseases like measles as well as dealing with Coronavirus.

"Parents can feel reassured that practice teams are taking extra steps to protect people, and that they can attend appointments and keep vaccinations on track. The vaccination schedule is carefully timed and it's important that we act now to avoid any further delays."
With many people expressing concern and even fear about seeking help during the virus emergency, the NHS is running a nationwide campaign to encourage people to come forward for help when they need it.
As long as those attending vaccination appointments, including parents of babies or children, do not have symptoms or are not self-isolating because someone in the household is displaying symptoms, all scheduled vaccinations should go ahead as normal.
Essential, routine vaccinations like the MMR jab can save a child's life and are available through family doctors.