Understanding the lifetime allowance

If your pension is still growing and you're getting close to going over the lifetime allowance amount, you might be thinking about retiring soon to avoid paying a tax charge. However, even if you reach the lifetime allowance, it may be better to carry on building your pension as you could still receive a higher income amount, even after factoring in a higher pensions tax.
By staying, you can continue to build on your pension benefits, which means an increase to your annual income at retirement, as well as a larger lump sum. Staying in the Scheme means you are also covered for benefits like Life Assurance and other family benefits.
For some, particularly those also impacted by the annual allowance, the level of earnings within and outside the NHS may make this decision much more complicated. The British Medical Association (BMA) can provide provides more detailed guidance and information on pensions on their website, but not advice and provides assistance and representation to their members in relation to their pensions, however it is unable to provide independent financial advice. If you need to speak to an independent financial advisor, you may want assurance that they understand, in detail, how the NHS Pension Scheme works, the BMA or Money Advisory Service may be able to help.
The example below is of a protected member of the 1995 Section aged 60. Please note, the illustration is correct as at 19 November 2021 and will be updated to reflect any relevant changes effective from 1 April 2022.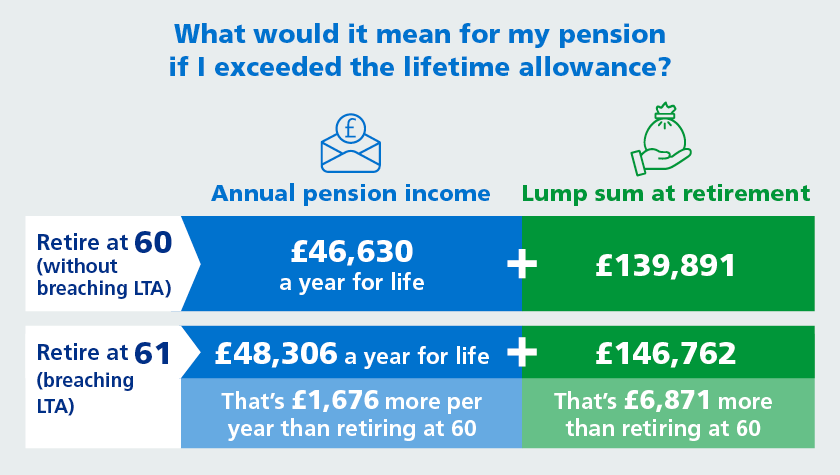 What would it mean for my pension if I exceeded the lifetime allowance?
Retire at 60 (without
breaching LTA):
£46,630 a year for life
Lump sum of £139,891
Retire at 61 breach LTA):
£48,306 a year for life: That's £1,676 more per year than retiring at 60
Lump sum of £146,762: That's £6,871 more than retiring at 60
Example assumptions
The member was protected from moving to the 2015 scheme on 1 April 2015 and so remained in the 1995 scheme beyond this date. If they continue working beyond 1 April 2022, all benefits built up from this date will be in the 2015 scheme.
Calculations based on the 2020/21 Standard lifetime allowance of £1,073,100
Assuming a 2% annual salary increase.
Assuming no reduction in benefits as a result of an annual allowance breach (e.g. member has sufficient funds in their pension to offset the tax charge), and no late retirement enhancement.
Figures quoted may incorporate a small degree of rounding.
All of the examples are illustrative only and are not designed to represent the particular circumstances of any one individual. Check your Special Class status, or your Mental Health Officer Status.
Find out which pension scheme you are a member of.
See below for more detail
Retire at 60 without breaching LTA:
| | | | |
| --- | --- | --- | --- |
| Service | Salary | Pension | Lump sum |
| 35 years 10 days | £106,500 | £46,630 p.a. | £139,891 |
LTA value (£46,630 x 20 + 139,891) = £1,072,495
Standard LTA = £1,073,100
Retire at 61 and breach LTA:
| | | | |
| --- | --- | --- | --- |
| Service | Salary | Pension | Lump sum |
| 36 years 10 days | £108,630 | £48,921 p.a. | £146,762 |
LTA value (£48,921 x 20 + 146,762) = £1,125,176
Standard LTA = £1,073,100
Excess above LTA
Tax to pay
Reduction to pension
Pension at 61
£52,076
£13,019
(25% x £52,076)
£615 p.a (£13,019 / 21.17)
£48,306
Talk to your manager to find out more about your flexible working options.