Dudley optical practices celebrate first year of new health check scheme
People visiting their optical practice in the West Midlands are to receive much more than an eye test following the successful introduction of a unique scheme to help provide advice and support on quitting smoking and losing weight.
The country's first and only Healthy Living Optician was launched in Dudley, West Midlands 12 months ago and has successfully supported residents to tackle health issues as well their eye sight by offering a Health Check when people attend an eye test.
Backed by NHS England (West Midlands), the programme was introduced as a joint venture by Dudley Local Optical Committee and Dudley Council. Following its first year's success, NHS England is keen to see the service expand and introduce more Healthy Living Opticians across the West Midlands.
The free and convenient scheme offers health checks and advice to help raise and manage health concerns such as diabetes, obesity, alcohol consumption, smoking and much more.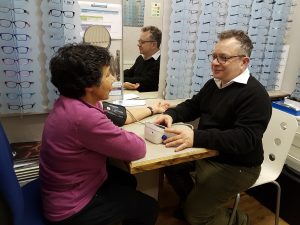 The Healthy Living Optician carries out free health checks which involve measuring your weight, height and waist, checking your blood pressure, checking glucose and cholesterol levels and asking questions to help see where risk can be reduced to keep people fit and healthy. Results are passed on to their GP and all conversations are kept confidential and conducted in private.
But the programme goes beyond health checks. Opticians involved can also provide Alcohol Brief Interventions to help motivate and support individuals to make a change in their drinking behaviour. In addition, they also offer smoking cessation advice to help give up smoking.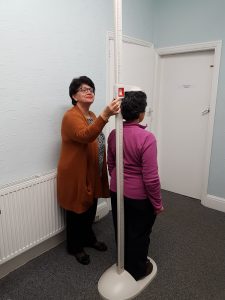 Gigis Cacoullis, who helps manage RT Knight Opticians on Dudley Street and Cacoullis Opticians on Halesowen Road, is one of eight opticians taking part in the scheme and said: "We all know how busy it gets and having time to visit the GP can be hard. But this scheme offers useful free support and has already helped many of our customers understand how they can improve their health and advice to help change things. Already some of our clients are seeing great results such as weight loss, better diet management, reducing stress levels and much more."
Shamina Asif, Chair of Dudley Local Optical Committee, added: "We have carried out over 200 health checks in Dudley and out of these around 30% have been referred to their GP. This scheme shows that optical practices are in a very good position to pick up those patients not seen by their GP's and Pharmacists."
Claire Roberts, Chair of the Local Eye Health Network for NHS England West Midlands, said: "From the moment this concept was came into being, we were excited and offered our support and backing. Now that we have come to the one year mark we know it has great potential to be rolled out further and we are now considering the next steps."